How to automate citizen questions in the public sector using chatbots
January 22nd, 2021 – 12:00 PM EST

At the beginning of this webinar, we will explore the traditional ways that customer support is implemented in the public sector. To ultimately land on the elephant in the room…
The problem:
Traditional customer support channels are unengaging and are not designed to scale.
Why can't they scale?
Quite simply, it all comes down to cost versus engagement. Call centers equal people, and while people are incredibly engaging, they are very costly to scale. There are considerable time requirements to hire and train even a single employee in the first place.
Don't get me wrong people are irreplaceable in the customer support role, but their time should be spent on critical tasks and not answering the same ten questions each day. Scaling your employees is a matter of reducing unnecessary tasks and streamlining their processes.
Conversely, websites and other digital channels provide passive customer support that is cheap but unengaging. Static websites are often confusing, presenting a lot of information, conditions, and exceptions that the citizen must parse through without much guidance. This experience alone is driving a large amount of traffic back to your call centers and other human-centric channels.
So my question is: What happens when you apply the scalability of digital channels with an engaging experience?
Join us, Friday, Jan 22nd at 12 pm EST to find out!
About the speaker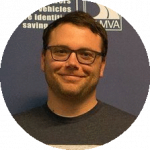 Like all good love stories, Levi's tryst with chatbot creation began in the most romantic setting on earth: the DMV. In 2017, while working for the Montana Department of Justice, Levi created an extensive chatbot customer support system for the DMV that dropped call volumes by 15%, cut average wait times by hours, and most importantly reduced the number of frustrated citizens venting their anger on overworked government employees.
2x Conversion Rates With Conversational Landing Pages
Free 14 day trial. No payment info needed.