How often have you heard of someone using a messenger application for their medium and large businesses? Very rarely. The idea seems almost preposterous when that messenger application is none other than WhatsApp.
In August 2018, Facebook introduced WhatsApp Business API- an easy way of connecting businesses with their customers all over the world.
Before we discuss the various features, how-to's and benefits related to WhatsApp Business API, we must start from the scratch and learn everything about the app.
What is WhatsApp?
WhatsApp Messenger, or simply WhatsApp, is an internationally available American freeware, cross-platform centralized instant messaging (IM) and voice-over-IP (VoIP) service owned by Meta Platforms. It allows users to send text messages and voice messages, make voice and video calls, and share images, documents, user locations, and other content.
Is WhatsApp that good?
First things first, WhatsApp has more than 2 billion users worldwide, as of 2021. Be honest and admit that you don't even know how many figures are there in 2 billion.
Apart from this, there are some other facts about the app:
It has more than 5 billion installs from Google Play Store.
It has a market value of over $50.6 billion, a lot more than the GDPs of some countries.
In 109 countries, WhatsApp is preferred over SMS.
It is free of cost, though, before 2016, there was a nominal fee required to use it.
WhatsApp groups can accommodate more than 256 people, making it easier to communicate with a larger audience.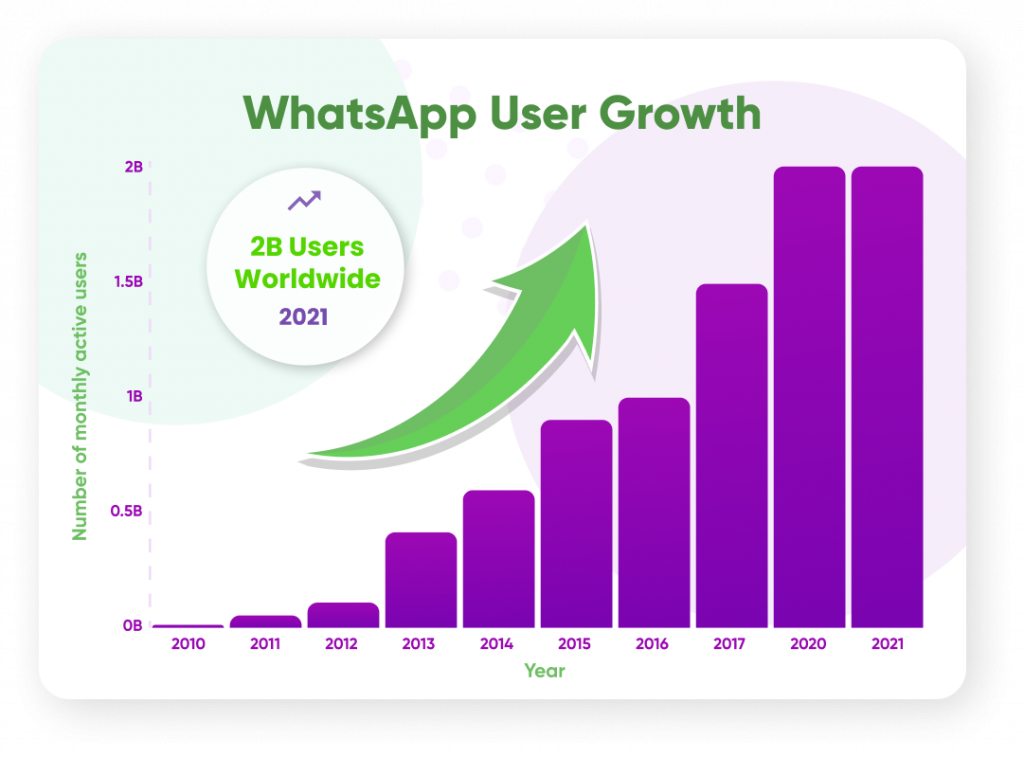 When compared to other social platforms and apps, WhatsApp is only behind Facebook. Don't believe my words, but believe the studies.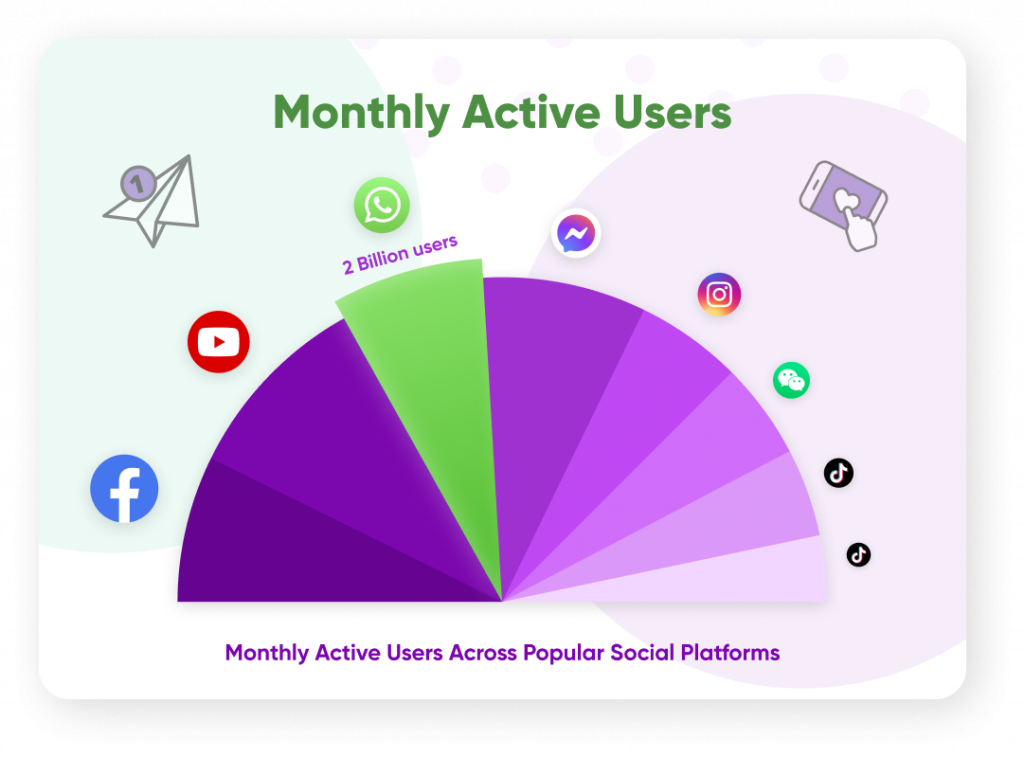 According to an article written by CNET, Facebook CEO Mark Zuckerberg himself said,
WhatsApp is the only widely used app we've ever seen that has more engagement and a higher percentage of people using it daily than Facebook itself.
The statistics presented above, along with the fact that WhatsApp is an app for private communication, increase users' inclination towards using WhatsApp for business. In the 20 to 39 age group, 37% of those who were surveyed in Switzerland said they would like to be able to communicate with companies or brands via WhatsApp.
How would it help your business?
By now you might have had a rough idea of how incredible WhatsApp can be. You must now be thinking about how it can benefit your business, or if it does, how to go about the right procedure.
So, without further ado, we come to the most important part of the article, those 5 ways in which WhatsApp marketing can prove to be a boon for your retail and e-commerce business.
1. Instantaneous Service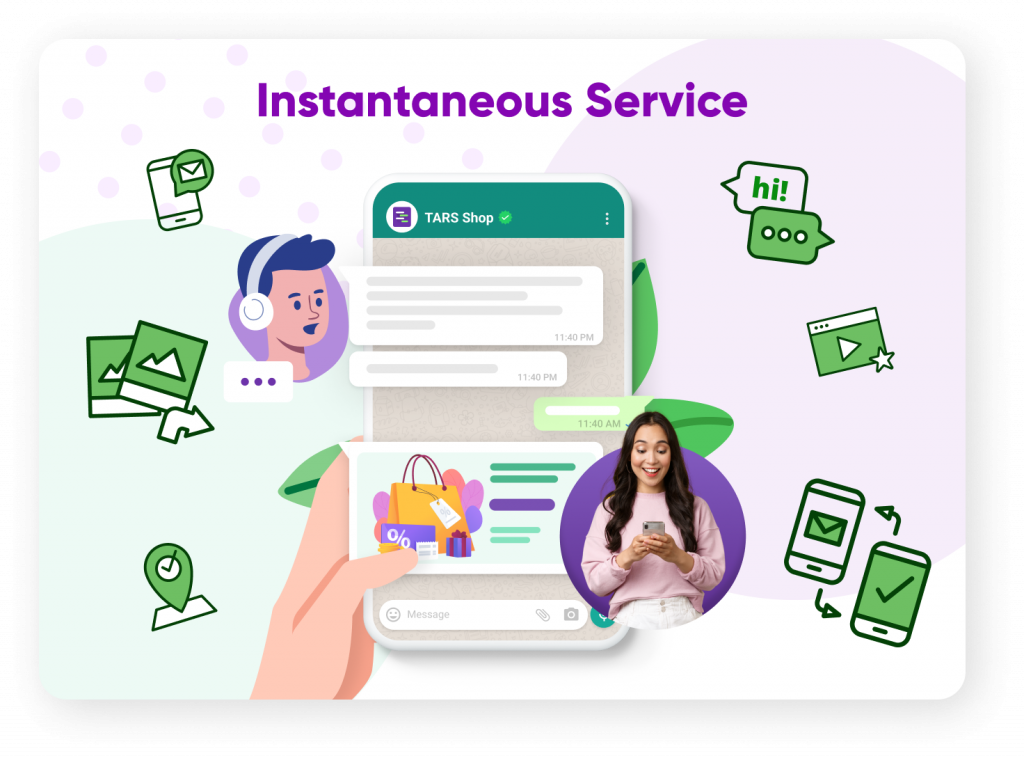 WhatsApp has so many features which can be used to communicate with the customer easily. You can stay in touch with them through texting (which allows sending plain text, voice notes, videos, GIFs, locations, documents), voice call, or video call, whichever the customer prefers.
People can have queries related to your product/brand/service. The time spent waiting for their questions to be answered could test their waters, thus, they need something which can solve this issue in one click.
This will help you forge a relationship with your customer, one which is based on trust and honesty.
2. WhatsApp Groups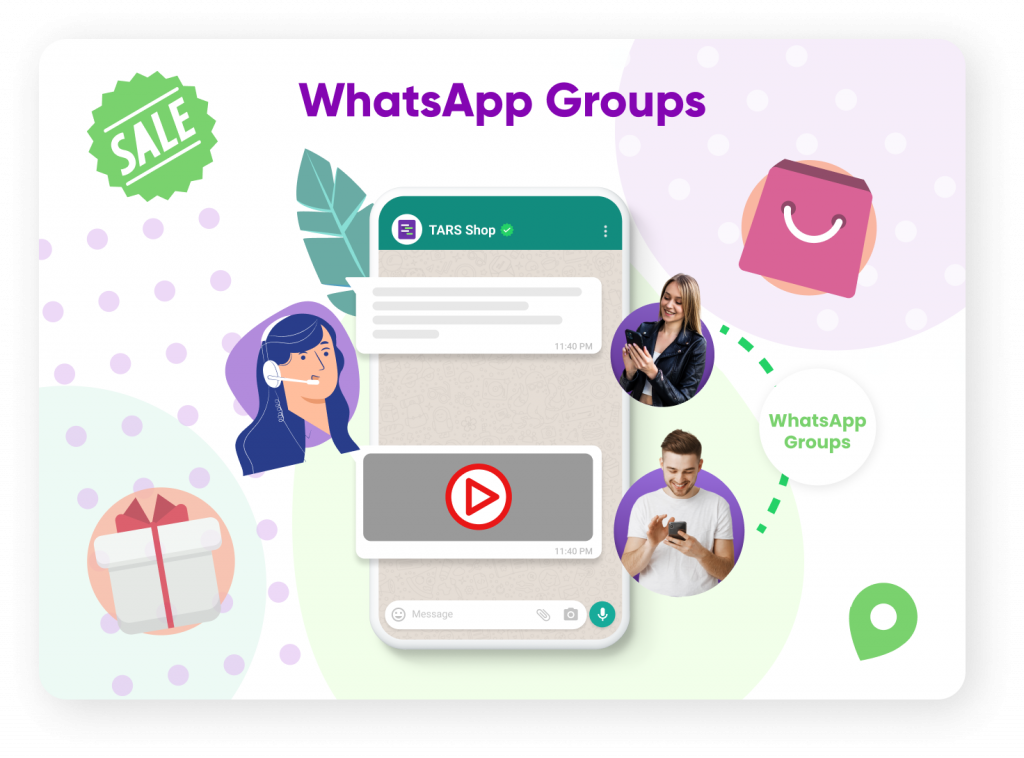 As you read much above in the article, WhatsApp allows you have 256 members at most in a group. Now, I feel that you haven't yet realized the power of the feature.
It reduces the hard work that you put behind marketing. It is a great way to inform your customers about any new detail that they must know in order to buy your product. You can warm them up to an upcoming sale.
It even enables the consumers to interact amongst themselves by sharing their opinions.
But before all this, you must keep in mind a few points:
For your customer to know about your WhatsApp details, you must mention it on your website or app. Something as simple as this widget can make your customer think twice before leaving your site/app without buying anything.
Assure them of confidentiality and security. Introduce yourself and your product/brand/service properly and give legitimate links to your web presence.
Do not load the chat box with frequent messages.
3. Cross-platform messaging app
You, as marketers, know how important it is to assuage the demands of your customers, even those who have a low web presence. After all, every one of them matters.
WhatsApp Analytics is the best way to go about it. It provides you with information about your audience, eg. the networks that are most popular amongst your target audience.
Based on this data, you can make changes in your marketing strategies for your ideal consumers.
4. Get Feedback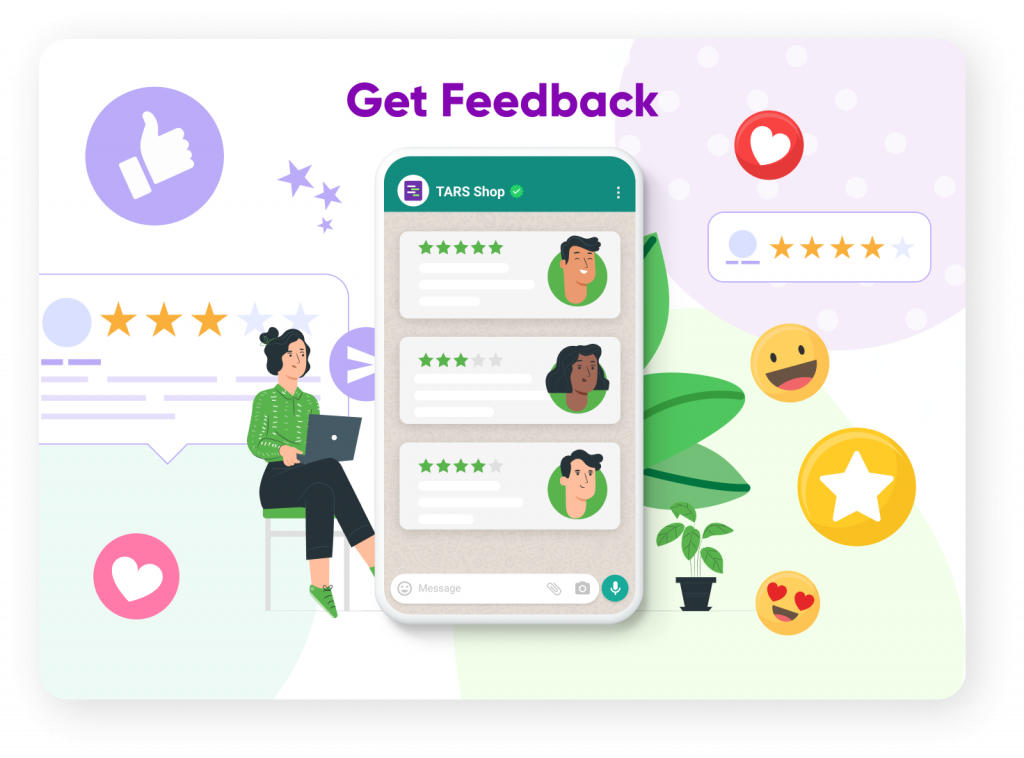 You get to promote your services, talk to your customers, fix a deal on the app. But what if you want to up your business in the market.
What could be better than asking your customers? Communicating with them, asking for their honest reviews, doubts, needs, expectations is enough for you and your colleagues to take the game up a little notch.
Doing this also creates a positive image in the user's mind.
5. Offer and Earn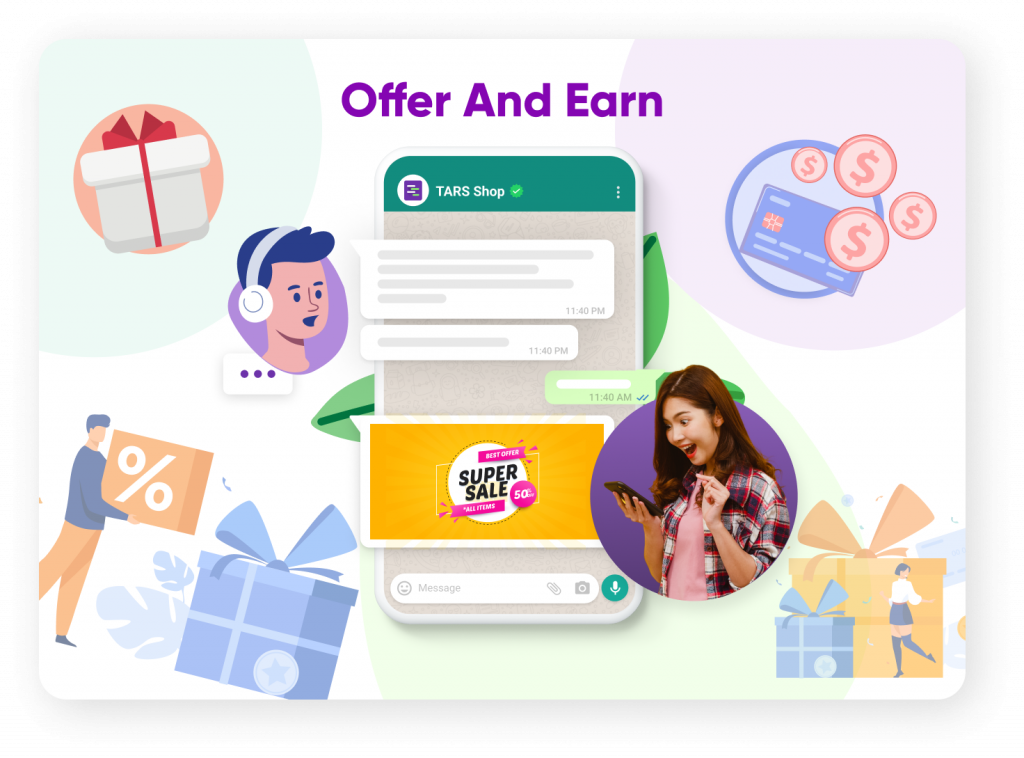 If you can't have anything special to offer to your consumer apart from the usual deals, there are chances that they would not like to make a purchase.
There is no way that a person sees a "50% off" tag and doesn't do a double-take.
In other words, your customer needs something more than what they see on the web, something that doesn't put a significant dent in their pockets.
Entice them to reach out to you through offers, discounts, gift vouchers, freebies, giveaways, etc.
WhatsApp Suite
WhatsApp provides three applications to users:
WhatsApp Consumer Application: This is the application that sits on our mobile phones using which we can do day to day communication. Along with communicating over chat, we can share media files, links etc.
WhatsApp Business Application: This is somewhat similar to WhatsApp Consumer App but there are some added features on top of the consumer App:

It shows in the chat window explicitly that the account is a WhatsApp business account.
You can enter business details business vertical, working hours, catalogs, email, website, and address.
The business account can be used simultaneously on 4 devices.

WhatsApp Business API:

The WhatsApp API or WABA enables businesses to send messages from the business using API triggers. This allows the businesses to:

Send messages in certain triggers e.g. form fill, deal stage changed in API, time-based triggers, etc.
Send bulk messages.
Official business account has a green tick and displays the business name instead of number.
Setting up a WhatsApp Business account
After knowing all of the great stuff about WhatsApp, you must be intrigued to learn how to begin marketing through the app. In order to do that you must first know how to set up an account meant for just that.
Sending a message meant for a friend to one of your customers can be awkward and unprofessional, right? Now, just to avoid something like this from happening, WhatsApp introduced WA Business app, for small businesses, available for both Android and IOS.
This one is different and advantageous from the usual one. How, you ask? Follow through the given list to know.
In order to reply promptly to your customers, you can use the Quick Replies option to save and re-use a message that you use frequently.
It can be hard handling business when you're connecting with hundreds of people especially, those belonging to other countries. In such cases, you can set automated messages, like chatbots. Happy customer, happy you!
It's important to keep a track of your message activity, and you can do that through the statistics. You can see how many messages were sent, delivered, and read.
You can manage your chats as well as contacts by creating labels, which can help you find them easily. The default labels are New customer, New order, Pending payment, Paid Order complete.
You can create your business profile which can contain all the important information, almost like a website.
You can create a profile even through a regular landline.
What about medium and large businesses?
If you have a comparatively bigger company, don't worry, WhatsApp has something in store for you as well, and it's called WhatsApp Business API.
API is the acronym for Application Programming Interface, which is a software intermediary that allows two applications to talk to each other. Each time you use an app like Facebook, send an instant message, or check the weather on your phone, you're using an API.
What is WhatsApp Business API?
WhatsApp Business API makes it easy for medium and large businesses to personally connect with their customers, highlight their products and services, and answer their questions throughout their customer experience.
How to get access to WhatsApp Business API?
A business cannot directly access the APIs from WhatsApp. Imagine the amount of crowd it would incur crowd making user data vulnerable and prone to cyber attack than it already is.
In order to avoid such a spam, WhatsApp needed to create a Commerce Policy that could list the do's and don'ts of a WhatsApp Business profile. WhatsApp has about 150-200 business solutions providers (BSPs) who have partnered with Meta. The WhatsApp Business API account and WhatsApp APIs can be bought from them. You may go through this WhatsApp Business API BSP directory- Partner Directory: Optimize your Facebook Marketing using Partners | Facebook Business.
Even a BSP cannot help in getting an account if it does not follow the below checklist:
The business does not violate Meta's Commerce Policy.
The Facebook business manager is verified.
Complete Facebook Business Manager Verification
In order to start using WhatsApp Business API standard messaging tiers, you should have your Facebook business account verified.
To verify your business, you may require documents such as a certificate of incorporation or a business license. They'll also check that you have access to the business or website domain. Or, you can use the domain verification process as proof of access to your business.
Business verification is a process that can establish:
Business as a legal entity: Your business should be properly registered with official local authorities and have an official business phone number or postal address.
Proof of access to your business: You must be able to receive a verification code sent to your business's phone number or email address. Or, you can use the domain verification process to show proof of access to your business.
NOTE: You need to be an admin of the Facebook Business Manager Account to start verification.
1. Domain Verification
Domain verification helps you to get your business verified more quickly. You can get the domain verified in the following ways: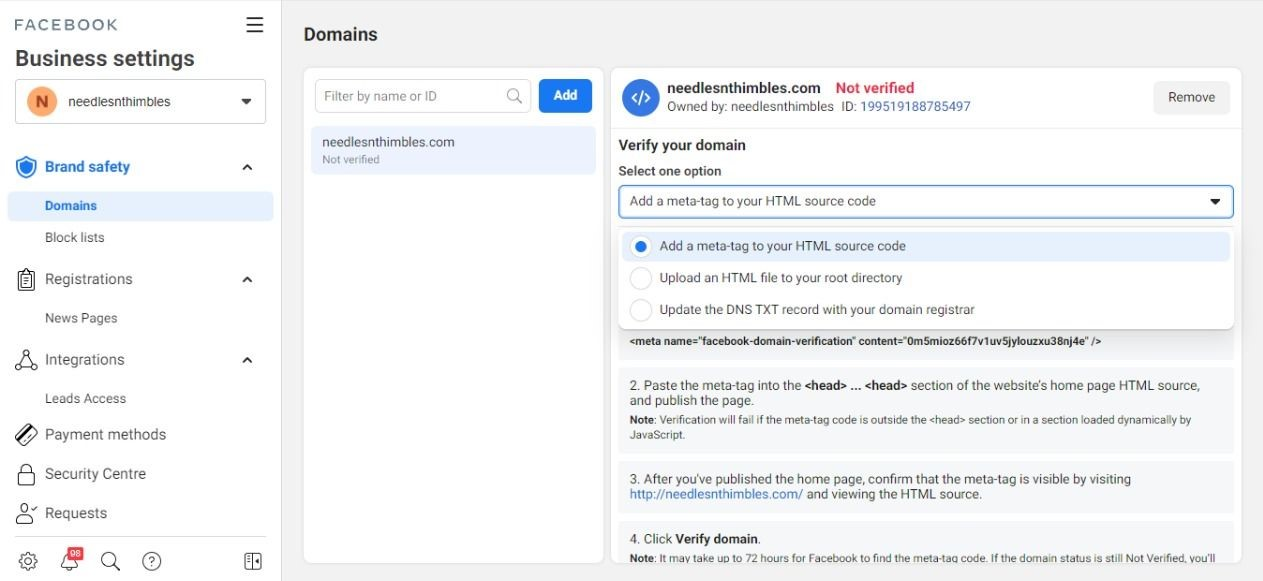 Add a meta-tag to your HTML source code: You will be provided with a meta-tag which you would need to paste in your <head> section of your HTML source code
Upload an HTML file to your root directory: You will be provided an HTML file that you would need to upload in your root directory.
Change DNS settings: You would need to add a txt record in your DNS settings.
2. Business Verification:
You can access the verify business button on the security center of your business manager account. The button may be disabled/grayed out. To get the button enabled you would need to:
Make sure you have completed your business information on the settings > About section of the business manager page.
Turn on 2-factor authorization for your admin users.
If the option still doesn't appear – go to the Facebook's developer page and create an app- https://developers.facebook.com/apps/
Associate it with your Facebook Business Page
Once done, you would be able to click the verify business button on the security center.
Steps to verify business:
1. Click Start verification.
2. Enter your business details and click Next. The business information that you provide during the business verification process will become publicly visible.
3. Select the correct business from the list or select None of these match if you can't see your business on the list.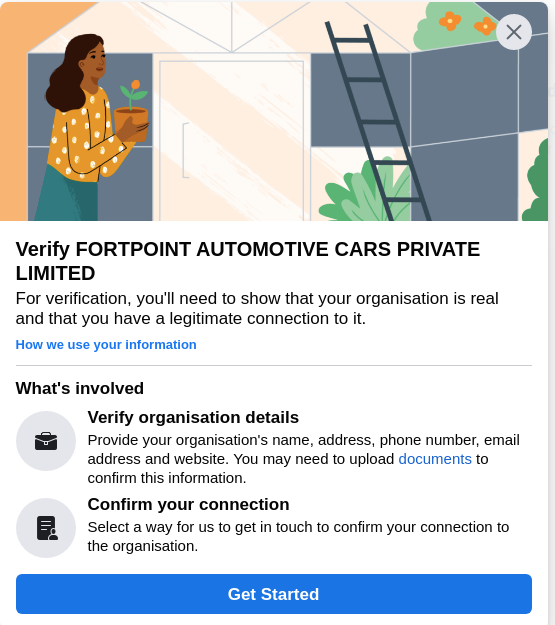 4. Confirm your business details (The business legal name and address should match the ones mentioned in the documents that you will need to upload in the next step).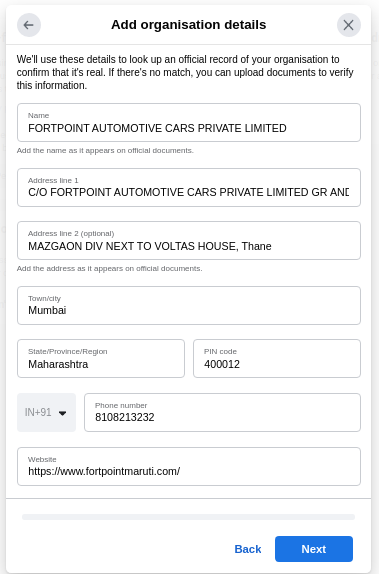 5. Verify your business legal name: Upload some documents issued by your local authority that proves that the address and legal name provided in the previous step are correct.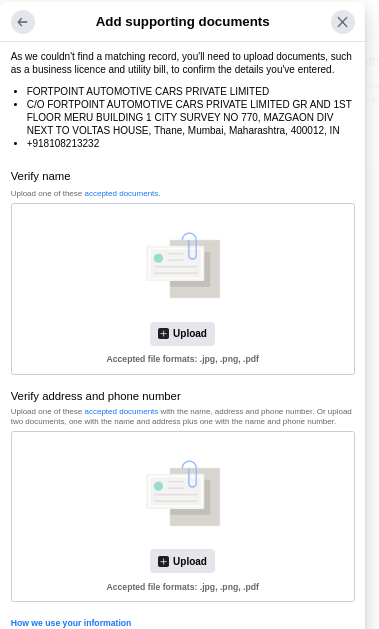 6. Verify your business address and phone number: In this step you would need to upload an address proof of your business and click NEXT. Documents accepted for address/phone:
Utility bill like electricity or phone
Bank statement with address
Business license with address or phone
7. Choose a verification method: You can choose verification method between email and domain
Email verification: Enter an email with the official domain where a verification code would be sent. Once sent you have to enter the code to get your business verified. (The email domain should match the domain verified in previous step)
Domain verification – This is the easiest if this step was completed in the previous step
Enter your verification code (not applicable if you use domain verification).
Click Submit
You will then receive a notification when the review is complete. You can also check your status in your Security Centre.
Tars' WhatsApp Business API provider
360 dialog is a BSP that Tars has partnered with. 360dialog only provides APIs and does not deal in conversation automation or campaigns, unlike other BSPs like Haptik, Yellow.ai, cm.com, Verloop etc.
Once the business is verified, we can start with the process of WABA account submission via 360Dialog. 360Dialog offers 2 forms which are to be used in different scenarios:
Classic Signup Form Process
We should go with this process only unless the business wants the number for a short time and in case the business is not verified in FB business manager
Form Link: https://hub.360dialog.com/lp/submit-waba/xNudDSPA
The fields of the form are:
1. Email: Use your own unique email if the customer is unaware of 360dialog and you don't want to confuse them with 2 different dashboards.
2. FB Business Manager ID: This can be found in the Business Info section of business settings. Share this article if the client faces difficulty in finding it: Where to find Facebook Business Manager ID.
3. Account Name: This is for internal use only
4. Business Name: This would be the display name of the business. This should be similar to FBBMID business name and also legal business name.
Steps to generate API Key:
Once the form has been submitted, you will receive an email to set password.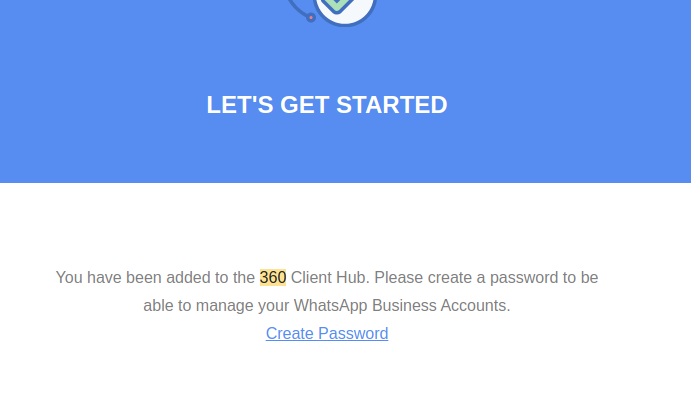 2. Once verification is done, you would see another button of trigger registration in the 360dialog hub:
3. Select SMS and hit trigger.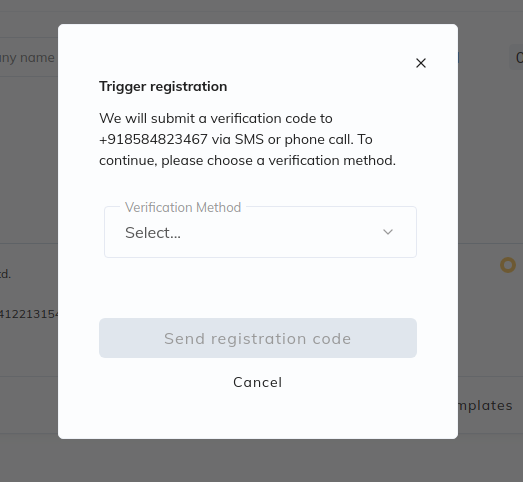 4. An SMS will be sent to the mobile number and you will now see a button of finish registration.

5. Once you have entered the OTP and verified the same, you'll now see a button of Generate API Key.

6. Once the API key is generated, save it somewhere safe along with the number
This method is only to be used in case a client is onboarded without their business not verified or in case the client wants to start with WA ASAP (within 24 hrs):
Once you're on the call with the customer, share the Embedded Form link with them and ask them to share their screen- https://hub.360dialog.com/lp/whatsapp/xNudDSPA
You will then see this page where the customer needs to fill in the details mentioned:

Email: This is the email address that will be associated with the customer's 360dialog acc credentials.

Full Name: Ask the customer to add their Full Name here.
Legal Company Name: This should be the Legal Business Name of the company and not any other aliases.
Password: This will be the password to log in to the customer's 360dialog acc.
Checkmark all the check boxes and click on "Accept Terms"
The customer will then be taken to this page where they will have to connect their FB Business acc.
After clicking on "Continue with FB" a pop-up will appear on the screen to login to the Facebook account. Make sure it has the FB Business Acc access.
Once you continue with the FB acc, click on "Get Started".
After this you will be prompted to select the FB Business acc that you want to continue forward with
Now select the FB Business acc that will be associated with the WhatsApp Business Account
Once the account setup is done, choose the WhatsApp Business Display Name.
Next choose the Category that best aligns with the services that the customer offers from the drop down option and add the Business Description (optional).
The last step to complete the registration is providing the number that the customer wants to use as their WhatsApp Business Number. Select the country and add the valid phone number here. Make sure the number is not associated with the a WhatsApp account. In case it is, ask them to Delete the account from WhatsApp settings menu.
This number will be then verified through a unique code that can be sent as a Text or Call. Ask the customer to select either one according to their preference and click on "Send Code".
A verification code will be sent to the number which has to be the input on this page and you're all set to start using the WhatsApp Business Number.
You will be automatically redirected to 360dialog Dashboard and it may take a couple of seconds to finish setting up the account. Once the account is setup, click on "Generate API Key".
Ask the customer to copy the API key and share it with you. Use this API key along with the WhatsApp Business Number while connecting the customer's account on our dashboard- https://admin.hellotars.com/home/#/settings/whatsapp/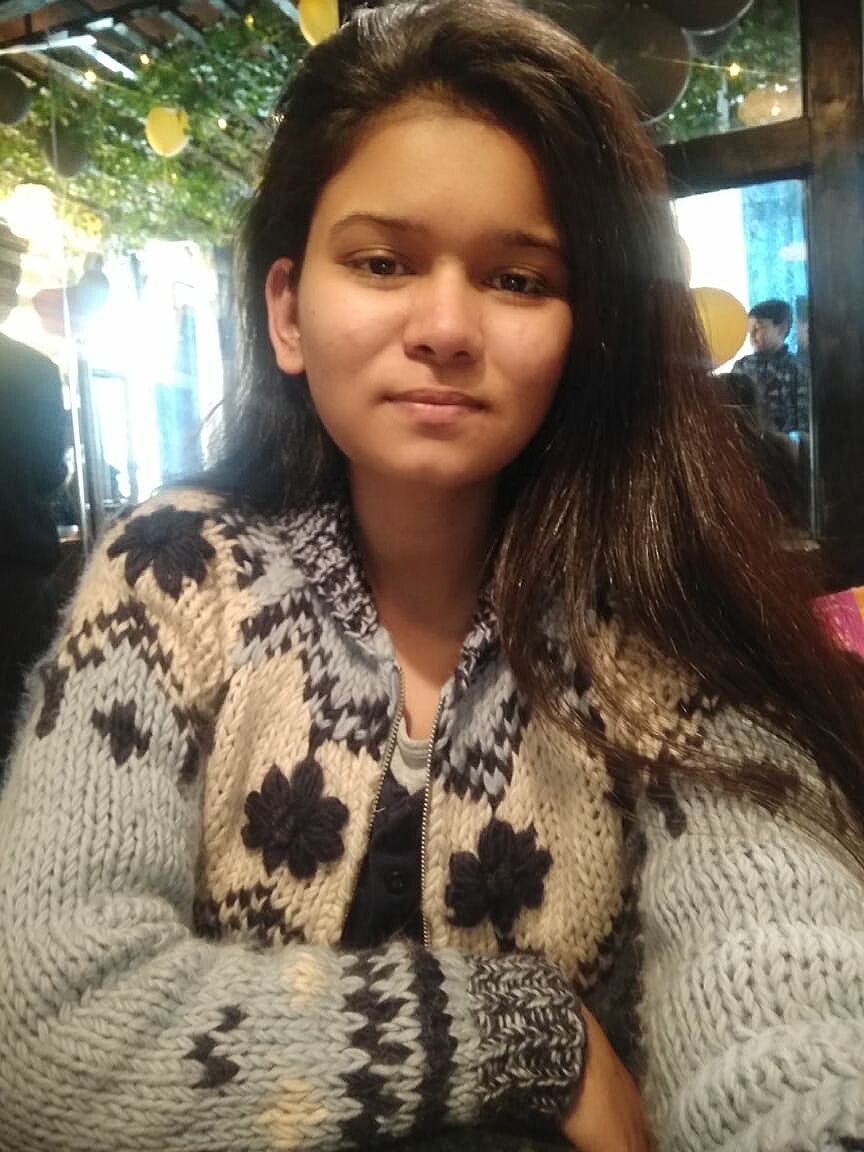 I am a content creator intern at Tars. Besides writing and reading for the most part of the day, I love listening to music. When I'm not doing any of these, I reinforce my quarter-life existential crisis.