Key Takeaways
BeeHuman is a French non-profit that helps underprivileged families get access to food, shelter, and employment.
In the wake of the COVID-19 crisis, they have seen an increase in demand for their services
They used Tars chatbots as an educational and lead capture tool to increase their donor and volunteer recruitment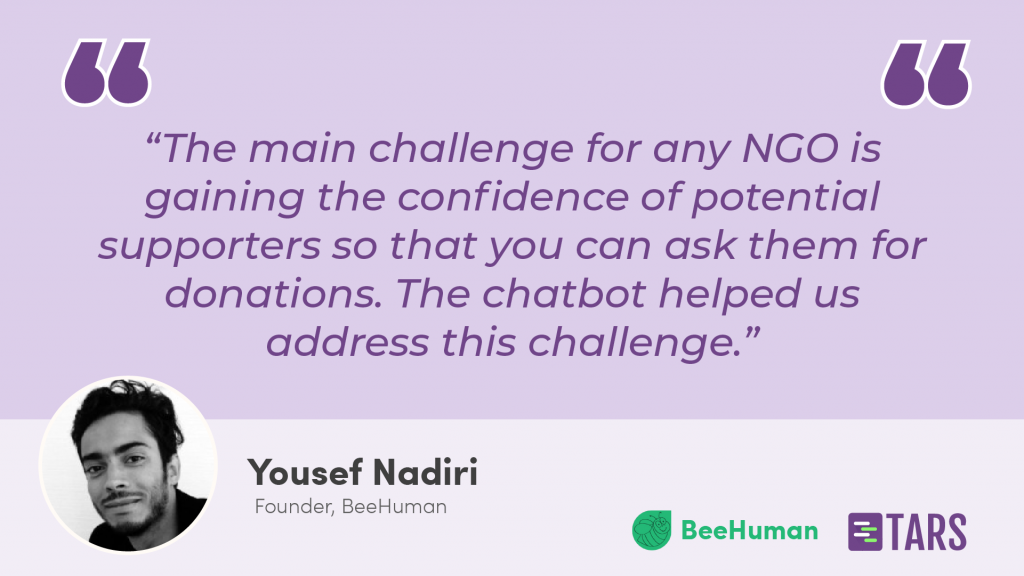 BeeHuman is a French non-profit that helps underprivileged families, primarily from Bordieu's undocumented immigrant population, get access to food, shelter, and employment. In the wake of the COVID-19 crisis, they have seen an increase in demand for their services and as such have had to ramp up their donor and volunteer recruiting efforts. We spoke with Yousef Nadiri, founder of BeeHuman, to understand how they have been using TARS chatbots to increase the number of donations they receive for their cause.
The BeeHuman Story
Well-before the COVID crisis was at its peak Nadiri noticed that underprivileged members of his local community were facing acute difficulties. They frequently approached his mosque for assistance in fulfilling their most basic necessities (e.g. employment and shelter).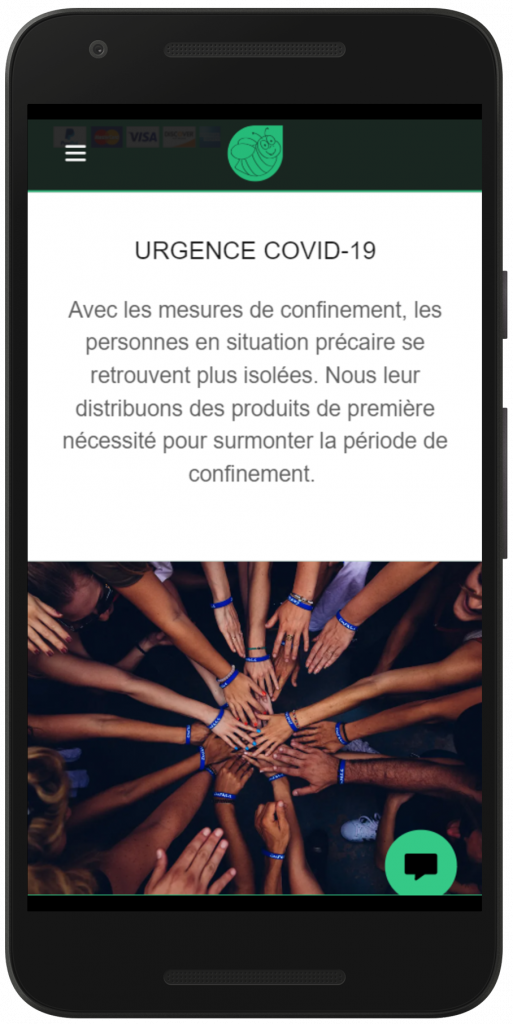 To make matters worse, the majority of these people belonged to Bordieu's undocumented migrant community whose plight was exacerbated by the fact that they were not eligible for aid from the state. To address the needs of these individuals, Nadiri and his co-founders started BeeHuman to help members of this community gain access to shelter and employment.
A couple of months after they began operations, the COVID-19 pandemic reached its peak and as expected it put an immense strain on the undocumented migrant community in Bordieu. What little work they could find before the crisis dried up and many families struggled to make ends meet. BeeHuman's clients literally could not afford to feed their children.
In response to this situation, Nadiri and his team began an initiative to deliver hot meals and groceries to these families.
How TARS works with BeeHuman
To sustain their increased efforts, BeeHuman has had to ramp up its volunteer and donor recruiting. To do this, they have employed TARS chatbots as a tool for educating potential supporters and to convert these supporters into donors/volunteers. The BeeHuman chatbot answers FAQs about what BeeHuman does, and within the chat, captures donation or volunteering intent from the users.'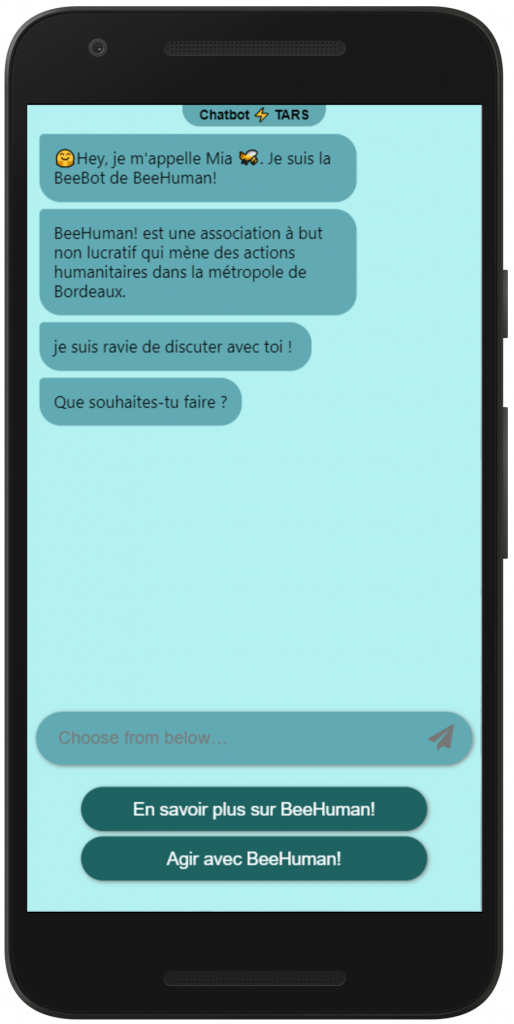 Nadiri tells us that this conversational approach has three advantages.
First, he found that when compared to traditional educational material (e.g. websites, emails, brochures), chatbots provided a more engaging experience. More specifically, since chat interactions are back-and-forth in nature, they deliver information in bite-sized chunks that are easily digestible.
Second, he found that the ability of chatbots to branch a conversation off into different directions based on the users' responses ensured that his audience was only given the most pertinent information for their individual preferences. For instance, if a user indicated that they were interested in volunteering but not donating, the chatbot can branch off into a part of the conversation that is optimized for volunteer information.
Third, and finally, as BeeHuman was forced to place greater emphasis on online donations (because of social distancing), the chatbot was able to recreate the sorts of in-person interactions they were having with supporters before the pandemic. This in turn helped Nadiri and his team gain the confidence of their supporters (who were unaccustomed to online asks) and drive more donations.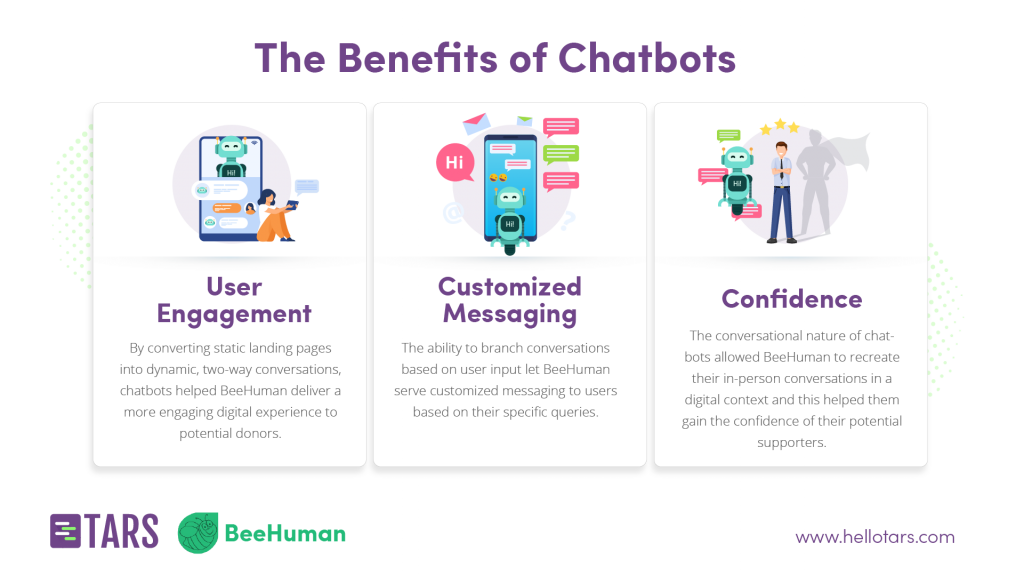 The culmination of these three advantages is that potential donors/volunteers were more likely to read the information that was sent to them, more likely to see the interaction through to the end, and most importantly, they were more likely to actually convert into a volunteer/donor.
Conclusion
In these case studies, we usually talk about how businesses are able to make more sales or improve their customer support efficiency and usually, the upshot is something along the lines of "use chatbots to make/save more money." This case study, though, is different. The stakes are considerably higher than hitting your sales or customer service goals. Using chatbots, BeeHuman has been able to engage its supporters more effectively, elicit more backing for their cause and deliver vital services to communities that have been most affected by the COVID-19 crisis.
If you're a non-profit interested in using chatbots to engage your supporters, book a demo with us today and we can help you get set up.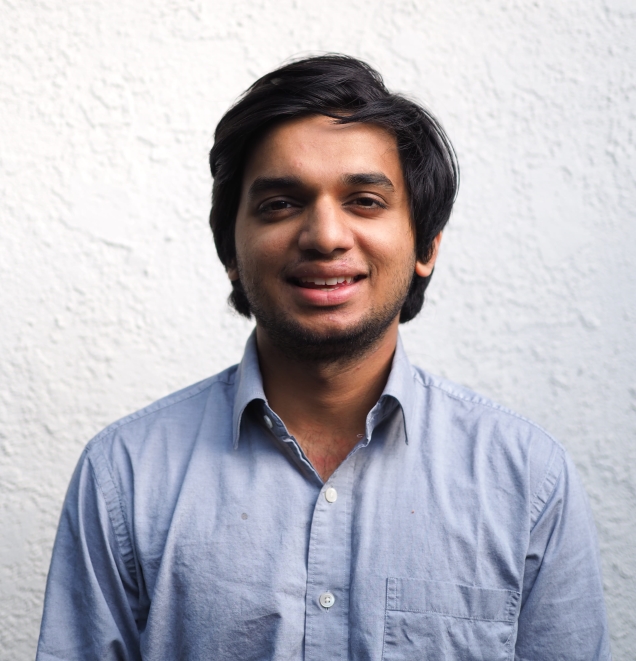 Arnav is the Director of Content Marketing at Tars. He spends most days building bots, writing about conversational design and scrolling through Giphy's trending section looking for the gifs that go into the Tars Newsletter.