Founded in 2001, Big Bazaar is one of the oldest and largest hypermarket chains of India, housing about 300+ stores in over 120 cities and towns across the country.
Over the years, the brand has become ubiquitous in the Indian retail space; despite competing in a hyper-competitive market with the likes of Amazon, Walmart-backed Flipkart and other traditional retailers.
So how does Big Bazaar remain competitive in this retail game where the volume of sales decides everything? By choosing technology.
Presenting to you the incredible story of how Big Bazaar revolutionized Retail Marketing with WhatsApp Automation 👇🏼
Why Did Big Bazaar Need WhatsApp Marketing ?
Big Bazaar, despite it's large brick and mortar footprint across the country, has often been an early adopter when it comes to retail-tech. One such example is WhatsApp, where Big Bazaar instinctively understood its core value proposition, even before automation arrived on the scene.
In their pre-Tars universe, Big Bazaar had a simple use-case for WhatsApp: broadcasting various store offers to their customer lists, in order to increase sales. Sounds rather straightforward right?
It wasn't.
For this to work, each store manager needed their own customer lists along with the added burden of manually broadcasting daily/weekly promotions, product catalogues, new announcements, etc.
Not only was this entire process time-inefficient and cumbersome, it also prevented Big Bazaar from centralizing their WhatsApp data and leveraging the same for customer insights.
That's when Big Bazaar realized that they needed an end-to-end WhatsApp Automation solution that could predictably engage & convert customer leads, while turbo charging their marketing stack.
Enter Tars WhatsApp Engagement Suite.
How did Big Bazaar Use WhatsApp Marketing ?
Step 1️⃣ : Using the One-Time Campaign feature in the Tars WhatsApp Engagement Suite; Big Bazaar sends a personalized WhatsApp Notification for their customer databases in different cities like Pune, Mumbai, Ahmedabad etc.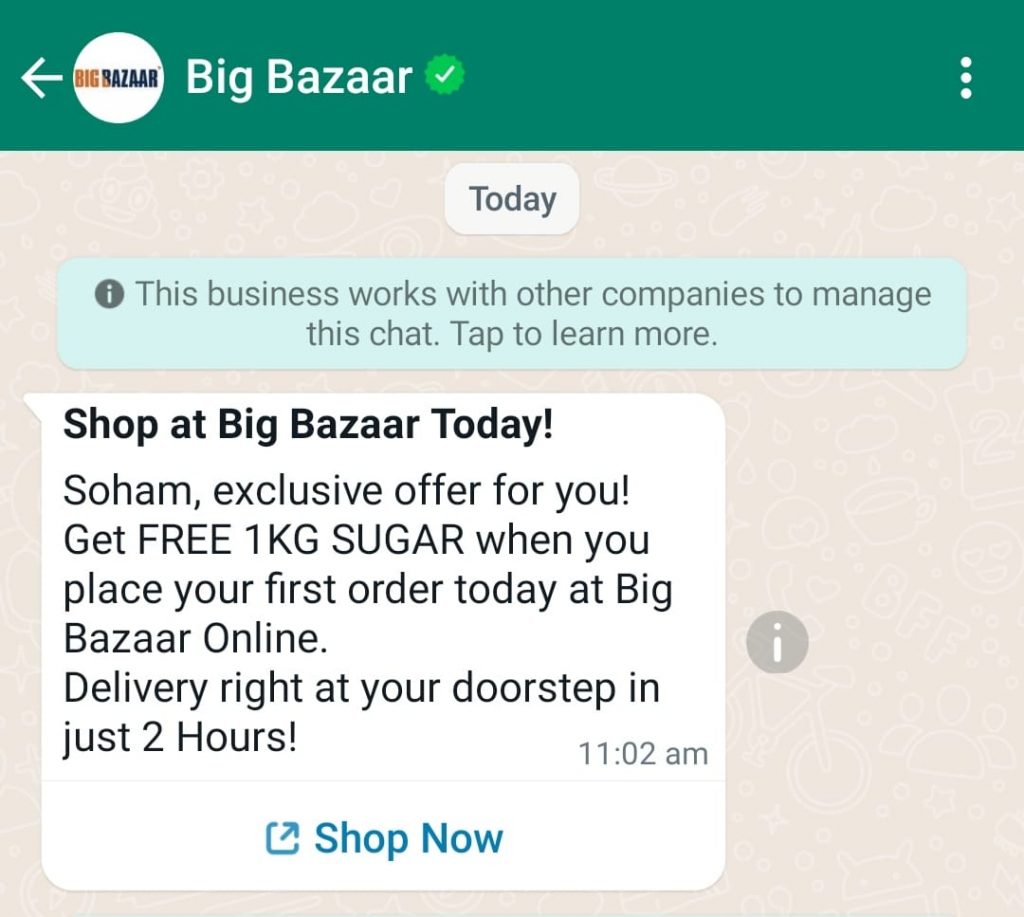 Using the Tars WhatsApp Engagement Suite, Big Bazaar has already run periodic offers like Night Online Sale, Sabse Saste Din, Wednesday Bazaar Exclusive etc. along with everyday offers like #EverydayLowestPrice at Big Bazaar, #HarDinLowestPrice at Big Bazaar, etc.
Step 2️⃣ The CTA ('Shop Now') of these campaigns will have unique, tracking enabled links that would take customers to shop.bigbazaar.com ⤵️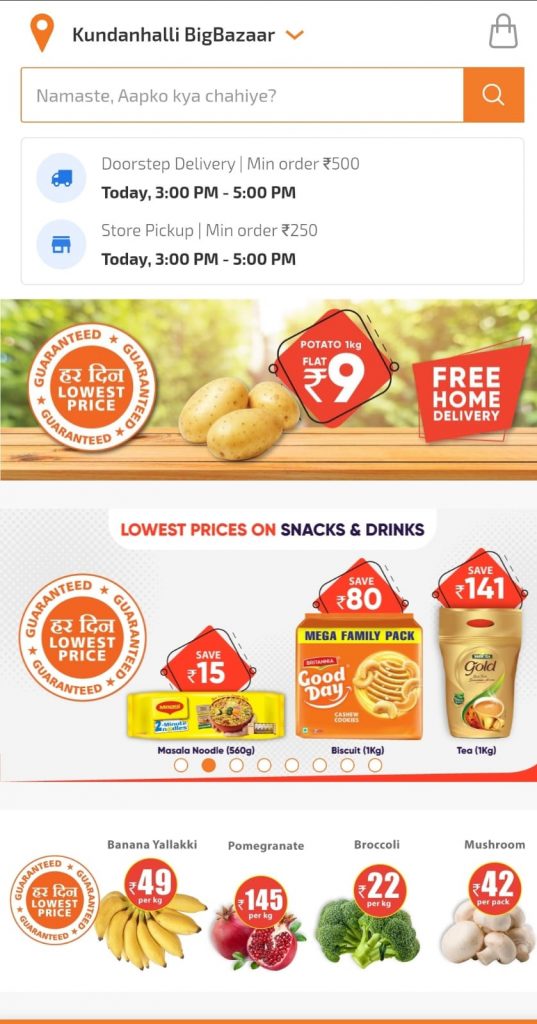 Step 3️⃣ : And that's not all! If the customer wishes to further initiate a conversation with the Big Bazaar Chatbot (be it to shop or report a query), all they need to do is send a simple "Hi"!
The chatbot will take care of the rest, based on the conversational flow predefined using our no-code builder ⤵️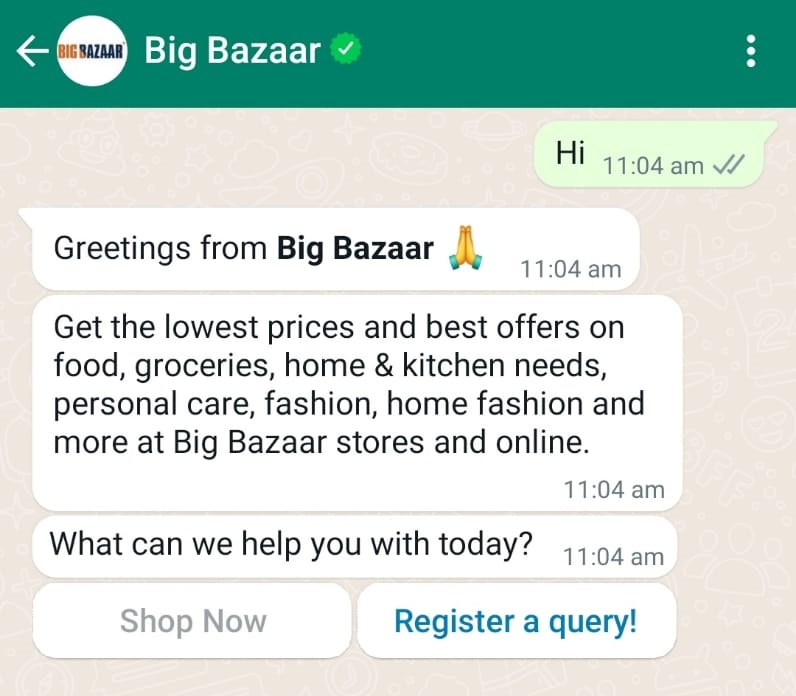 Step 4️⃣ : Two things can happen at this point⤵️
✅User selects to Shop Now ➡️ selects relevant category ➡️gets redirected to the relevant category page on shop.bigbazaar.com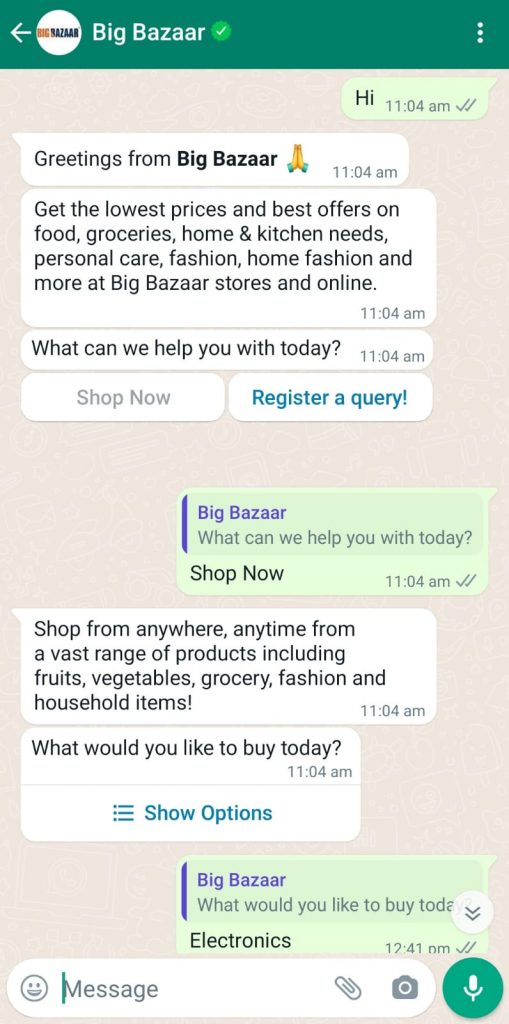 ✅User chooses to register a query ➡️ query gets directly passed to customer support ➡️ users are contacted for resolution.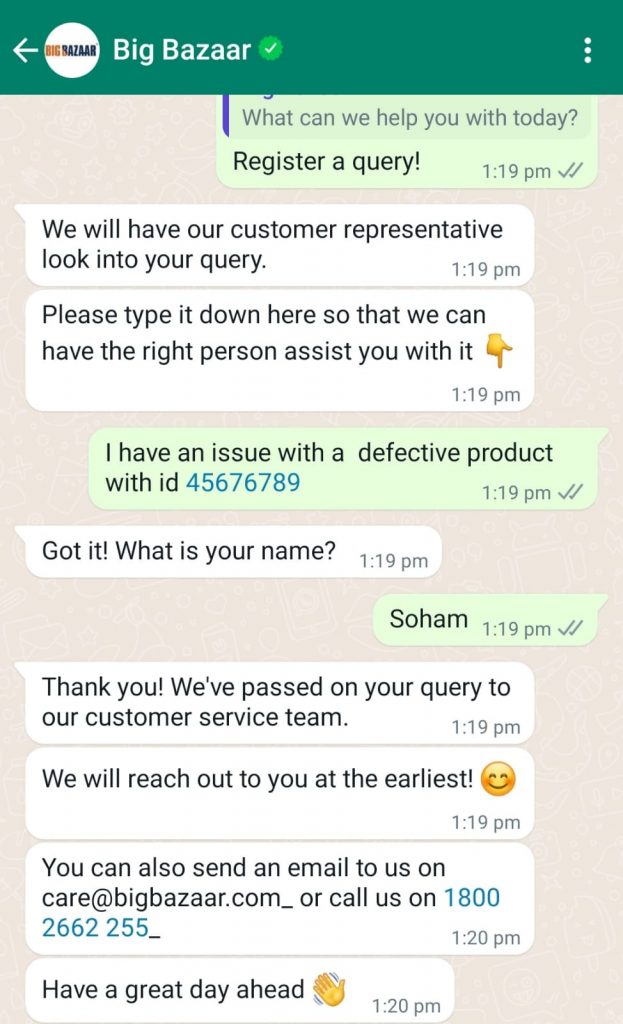 What Was The Impact ?
The response to Big Bazaar's WhatsApp Marketing was phenomenal! In an extremely short period, they managed to attract thousands of clicks on their CTAs with an industry-beating sales conversion rate of 14%.
These amazing conversion numbers were made possible by delivery rate of 99.19% and an incredible open rate of 82.59% — blowing every other marketing channel out of the water.
Understanding the WhatsApp Effect
While this impact might seem staggering, it is not uncommon in the world of WhatsApp Marketing.
While the process of filling out a form is cumbersome in the eyes of a potential customer, having a chat is not. Rather, when the interaction is reframed as a chat, it transforms the otherwise boring self-serve process into a personalized customer experience interaction.
With WhatsApp, this chatbot automation gets an extra edge as users typically tend to treat WhatsApp as a non-spam channel for communicating with their friends and family. WhatsApp Marketing successfully leverages this trust to increase the likelihood of lead conversion.
How To Get Started with WhatsApp Marketing?
Book a demo with us today and one of our in-house WhatsApp Marketing Experts will personally walk you through the entire process!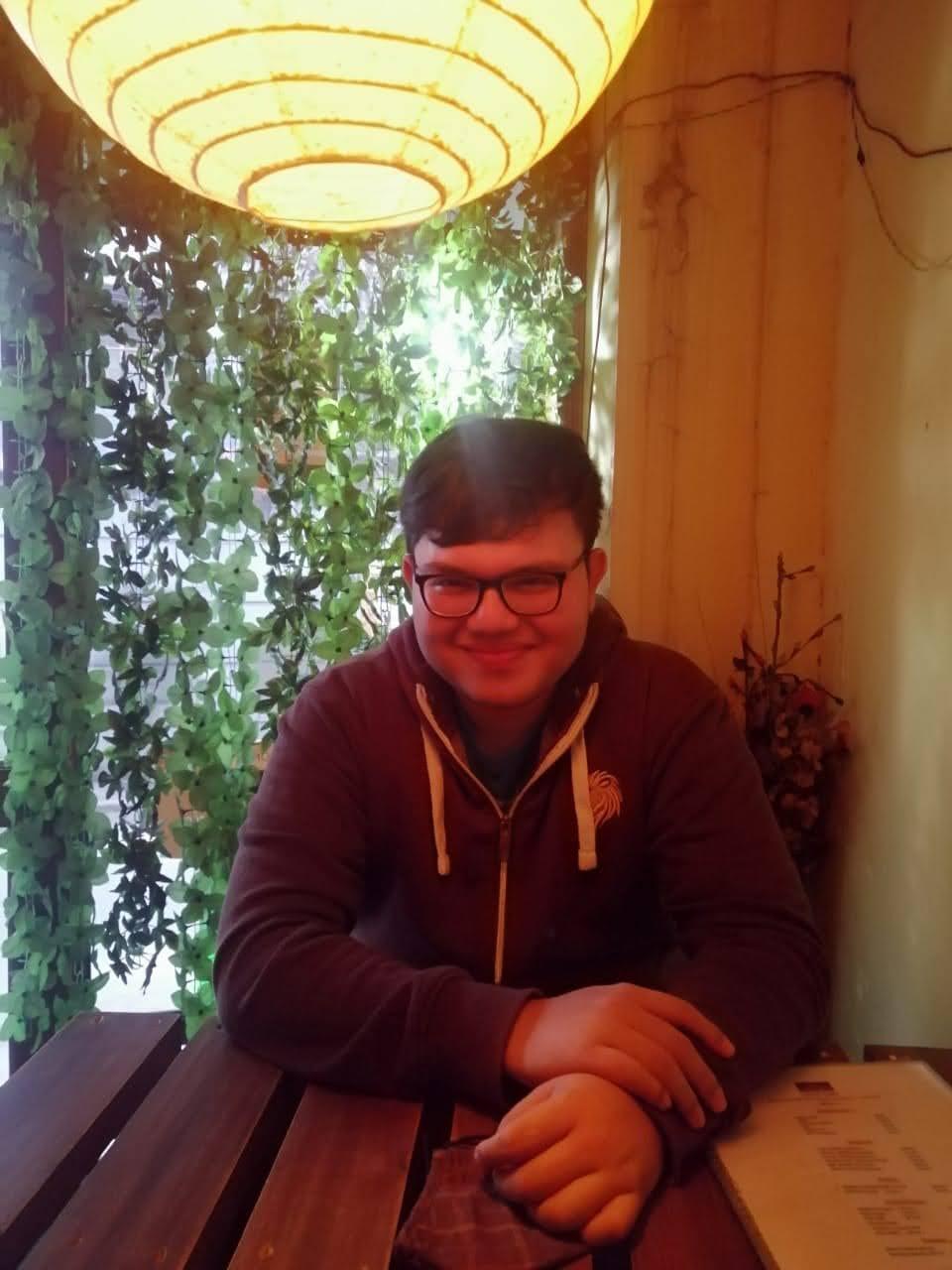 Soham is a content marketer on the Tars team. When he's not writing kickass blog posts like the one you just read he's reading obscure articles from history's foremost anti-enlightenment thinkers and writing treatises to send to his 3 substack subscribers.