Nestlé was born 150 years ago when a Swiss man named Henri Nestlé created an infant cereal that saved the life of a child. Today with more than 2000 brands like Maggi, Milkmaid & Nescafe under its belt, Nestlé has become the world's largest food & beverage company.
Though it has a substantial presence in 190+ countries, one of its fastest growing markets is India, where Nestlé has had a continuous presence since 1959. Like most successful multinationals, a key part of its brand strategy is customizing its marketing initiatives based on local preferences.
Come Diwali season, this inevitably means festive marketing in India. This year, as part of the same, Nestle India deployed a WhatsApp chatbot that auto-generated 1000s of Diwali greeting cards!

The Logic Behind Festive Marketing
If there's one annual moment when the great Indian consumer truly loosens his purse string, its festivals. During these festive seasons, every brand – big or small – competes for a chunk of that ginormous spending pie.
But beyond target numbers, there's another reason Festive Marketing is extremely effective in India. It generates brand trust and brand recall in a uniquely positive way: by creating an association in the consumer's mind between the festival and the company.
Festive Marketing is at its best when it immerses itself within the festive culture of gifting. In practical terms, this often translates to brands engaging customers by providing them with something of value, often for free.
Why Nestle Needed A WhatsApp Chatbot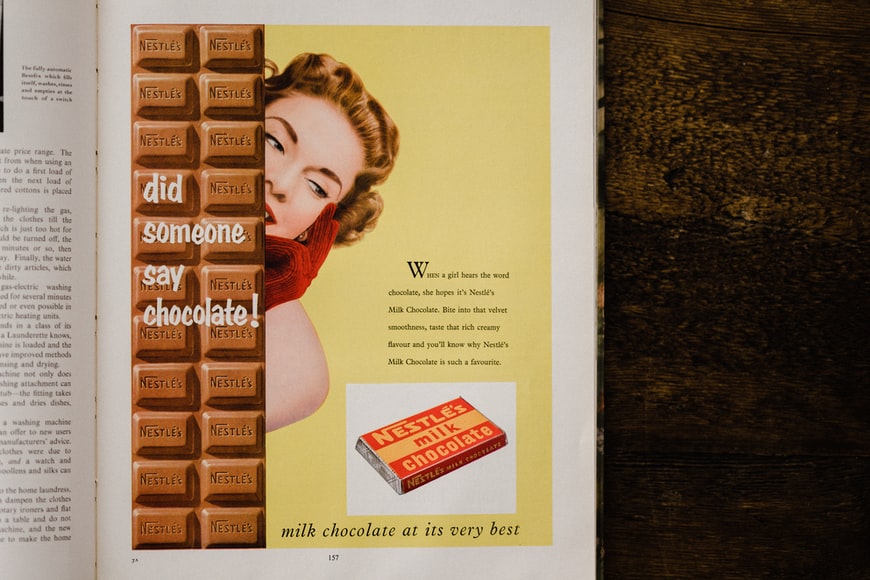 While Nestle was already running Facebook and Instagram campaigns for Diwali, they weren't interactive or personal enough to create the desired association between the festival and the brand. Why?
Because personalized marketing can't be run on impersonal platforms
Enter WhatsApp (and us).
Since WhatsApp is used primarily to communicate with friends and family, people instinctively trust WhatsApp Marketing Messages delivered straight to their inbox.
That's exactly why Nestle decided to use WhatsApp as a customer engagement channel for the very first time.
Using our no-code chatbot builder, Nestle deployed a simple WhatsApp chatbot that allows people to generate personalized greeting images for their friends and family on Diwali.
How Did The Chatbot Work?
Step 1: User sees a Diwali Ad on Facebook/Instagram with a clickable link for sending a personalized greeting.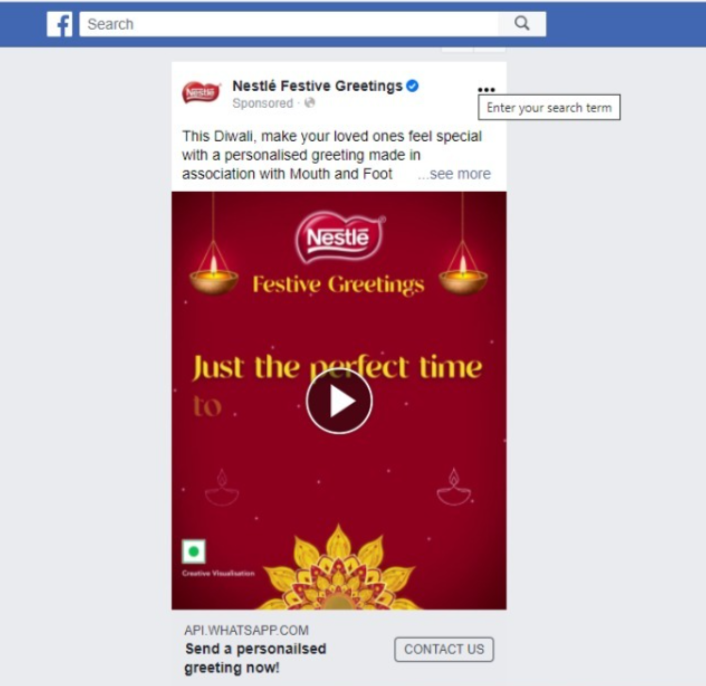 Step 2: User clicks on link, and is redirected to our WhatsApp Chatbot. All they need to do now is enter the name of the greeting card's recipient and the message they wish to send.
Step 3: A personalized greeting card is automatically generated! The user can now forward this to their loved one and earn some good karma points!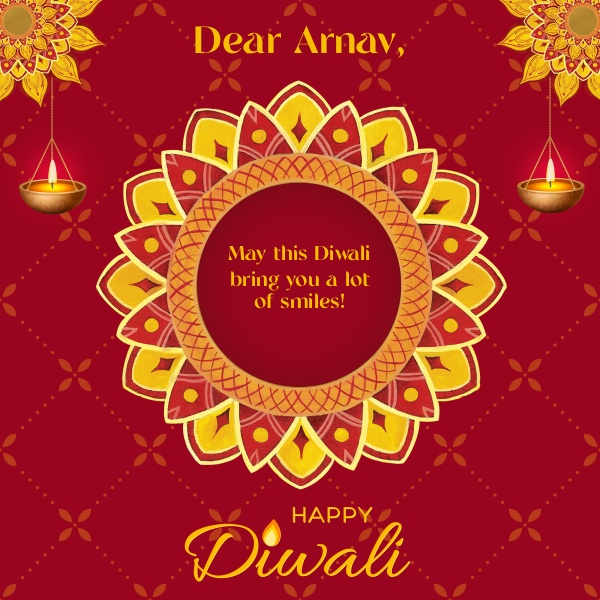 So What Was The Impact?
Phenomenal! Following a hybrid marketing approach, social media users were redirected from Nestle's Facebook and Instagram ads to our Diwali Marketing Chatbot on WhatsApp.
Result? 1000s of personalized greeting cards generated by users for their friends & family!
How To Get Started with WhatsApp Marketing?
Book a demo with us today and one of our in-house WhatsApp Marketing Experts will personally walk you through the entire process!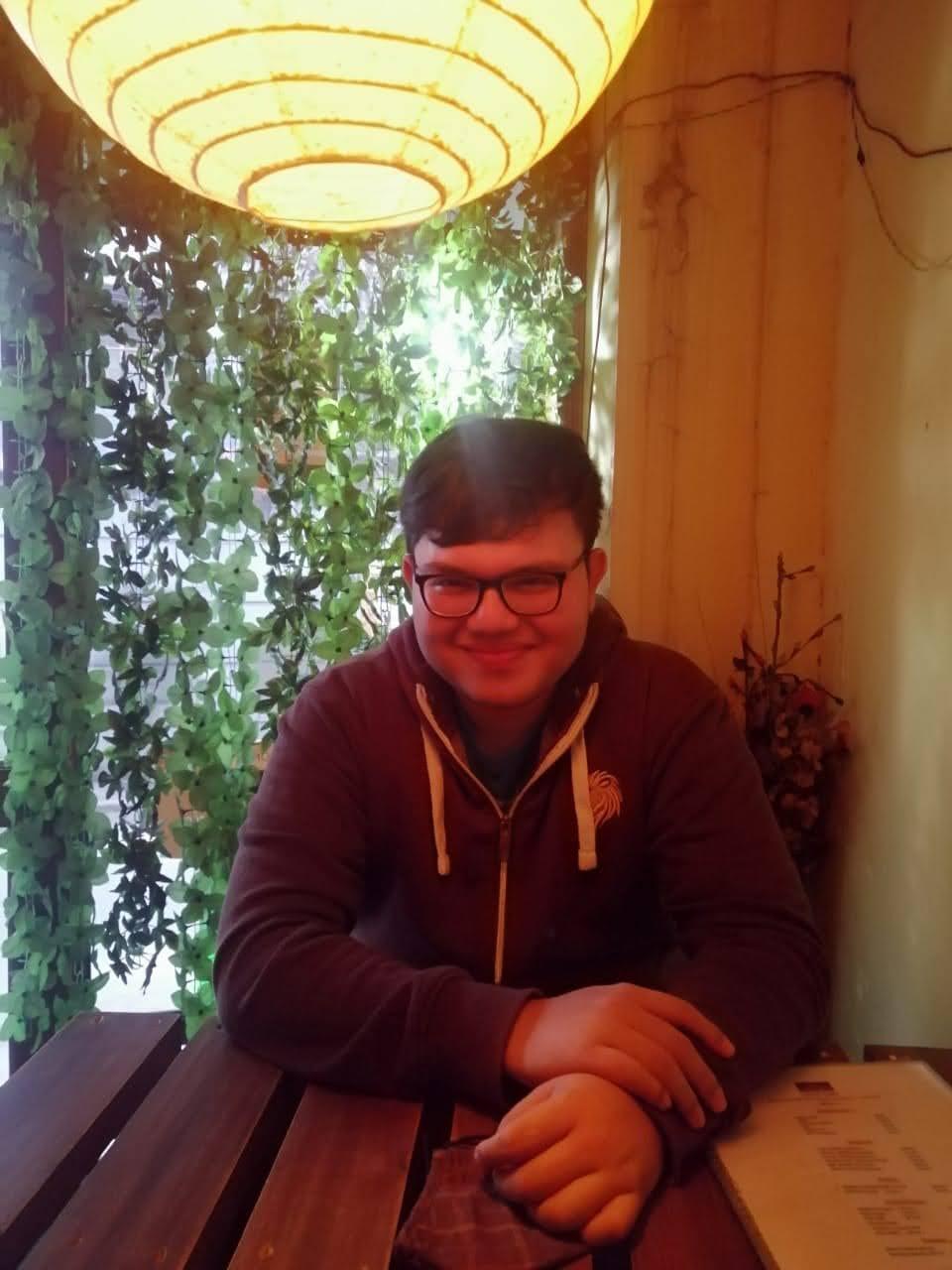 Soham is a content marketer on the Tars team. When he's not writing kickass blog posts like the one you just read he's reading obscure articles from history's foremost anti-enlightenment thinkers and writing treatises to send to his 3 substack subscribers.