Amamos sus Servicios!
That's not a Hogwarts incantation, but a Spanish phrase that translates to "we love your services"– something that our customer, Quantum Talent, had to say after testing and implementing our solution.
Have you ever used an HR solution to get yourself that dream hire? If yes, then you've already experienced the magic brewing in the B2B HR space. A rising star of this exact space is Quantum Talent— who we're very proud to call a Tars Client.
Part of a giant wave of Latin American startups taking the world by storm, Quantum Talent is an AI-powered staffing platform based out of Peru — connecting recruiters to qualified employees through their SaaS-based HR solutions.
If there's one thing that Quantum Talent and Tars share, it's helping other businesses grow rapidly. In a world full of companies that see business as a zero-sum game, how rare is that!
No wonder they teamed up with Tars to create an entire suite of WhatsApp and Web-based Chatbots — one that could generate quality candidate leads and 🚀🚀 their conversion rate. Here's the full story👇🏼
About Quantum Talent
Quantum Talent's artificial intelligence software automates screening for high-volume hiring based on client requirements and sends over a vetted person who is ready to work in less than 24 hours. With its advanced AI analysing the variables quickly and objectively, Quantum can fill the job openings of other companies 5X faster.
And that's not all! As a cherry on top, Quantum even has integrations with various job listings sites across both North and South America, expanding their pool of hiring candidates even further.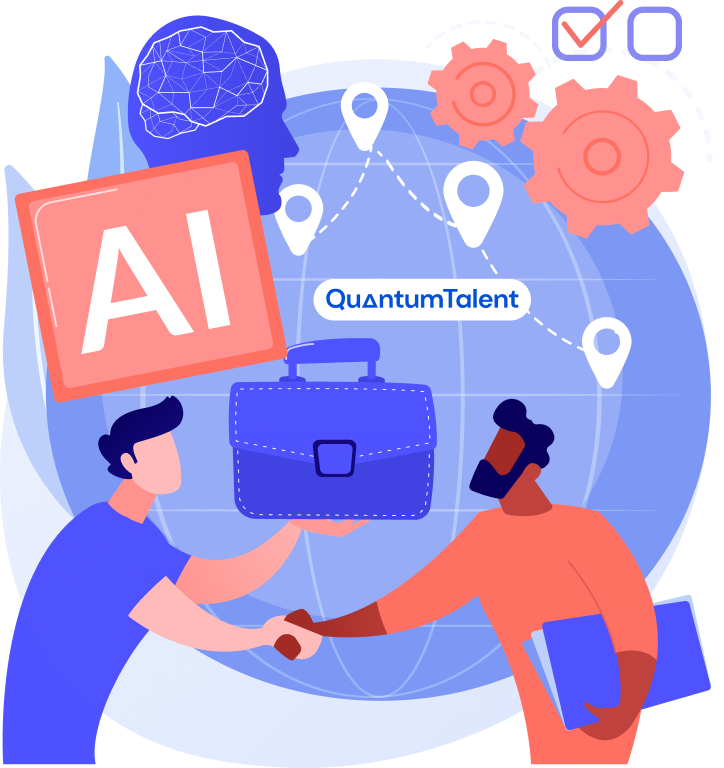 The Problem
In the B2B HR funnel, generating qualified leads for clients is the first and most challenging step. Because of the need to filter quality content from the plethora of incoming data, prequalifying leads becomes an imperative. As easy as it might sound to you, the process is extremely hectic and requires great deal of effort on part of the recruiting and staffing team, especially when they have to come up with something more effective than emails and SMSes.
Quantum knew that the twin dilemma of wanting eligible candidates and pre-selecting them would land them nowhere in the competitive B2B marketing space, if they don't follow a good plan of action. The amount of leads that the company were generating, for their clients, with their usual drab form-filling method put them back to square one.
Of course everything changed once they stumbled upon Tars Chatbots.
Enter Tars
Tars made life easier for Quantum Talent's HR staff, by automating their lead generation strategy on both their Website as well as on WhatsApp.
Additionally, Tars' no-code chatbot builder supports 25+ languages, and we incorporated this feature in the bots knowing well that they are a Latin American company— Spanish being the language of conversation for them.
Quantum used our chatbots which would ask questions specific to the task of prequalifying leads, e.g. Have the user completed their high school? Are they available to work on weekends?, and directing the information to the sales team for scheduling an appointment or taking the user to a login page.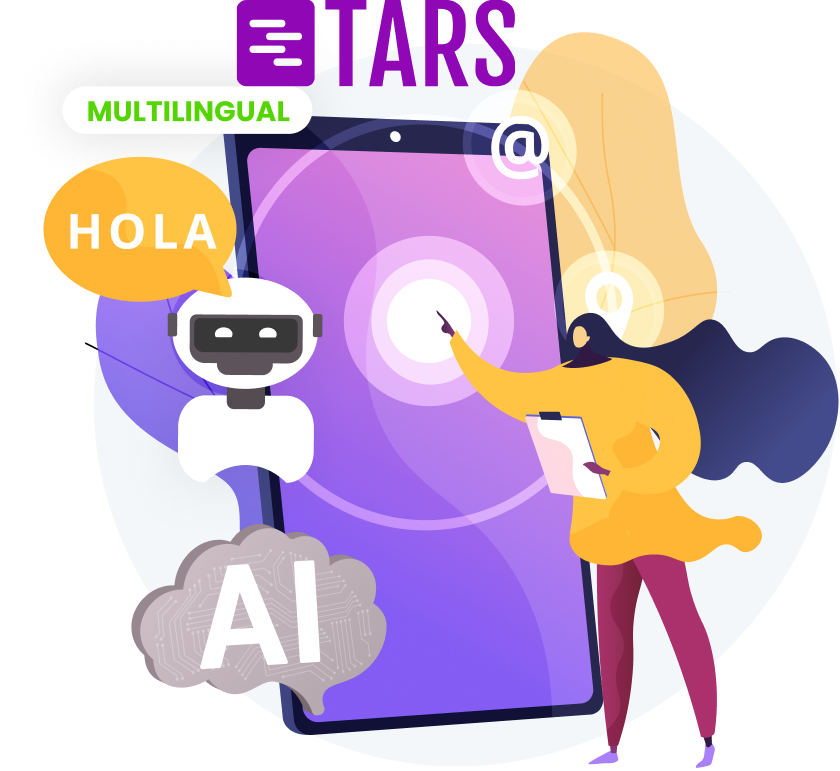 Channels Used For Deploying Chatbots
Quantum Talent made the customer experience with chatbot personalized in the sense that they dynamically populated data from their CSV Sheet into the chatbot template.
Keeping this strategy in mind, Quantum Talent deployed their chatbot through:
Website
WhatsApp
The reason behind using these two channels for chatbot deployment is pretty simple— across all the pages on the site, users have one-click access to the chatbot through a widget in the bottom right corner of the screen, resulting in reduced drop-off rates, and WhatsApp, as all of us know, is considered a go-to messaging app for friends and family, lending it a considerable level of trust and homeliness.
How did Quantum Talent use a Web-based Chatbot?
This one is simpler in terms of its accessibility, and the fact that it does not involve context switching for communication. Anyone can access it through Quantum Talent's website.
Another advantage of their website-based chatbot is that users interact with the help of quick reply buttons.
The bot gives users options like job description, salary, job schedule and redirecting them to the login page so that the information provided by the candidates can be evaluated by the clients. Those clients then evaluate all the profiles and choose to contact the relevant ones for an interview.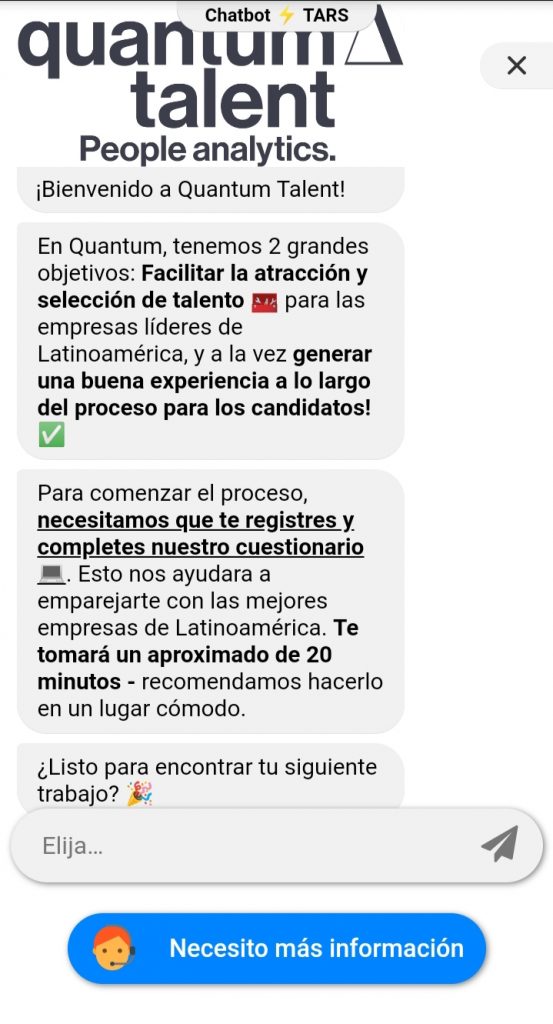 How did Quantum Talent use WhatsApp Automation?
When it comes to WhatsApp, Quantum Talent asked for two solutions— a business-initiated chatbot and a user-initiated chatbot.
Talking about the first one, they used the one-time campaign feature in the Tars WhatsApp Engagement Suite to send customized WhatsApp notifications to their customers. The data of the candidates was pulled out of their CSV sheet, fetching details of the candidates from there, hence making these notifications personalized.
As for the user-initiated chatbot, Quantum Talent struck a deal with Dportenis, a Mexican retail company known for its marketing of footwear, clothing, and sports accessories. The former was assigned the task of hiring eligible candidates for various job positions vacant at Dportenis.
Following are the steps in which the chatbot carried out the questionnaire:
Step 1️⃣: They use a WhatsApp Reactive chatbot, which is user-initiated and totally in the Spanish language, for lead generation use-case. The user has to send the message "Estoy interesado en la posicion de DPORTENIS" which translates to "I am interested in the position of DPORTENIS" (cue the Goggle translator) on their WhatsApp number (+525549155352).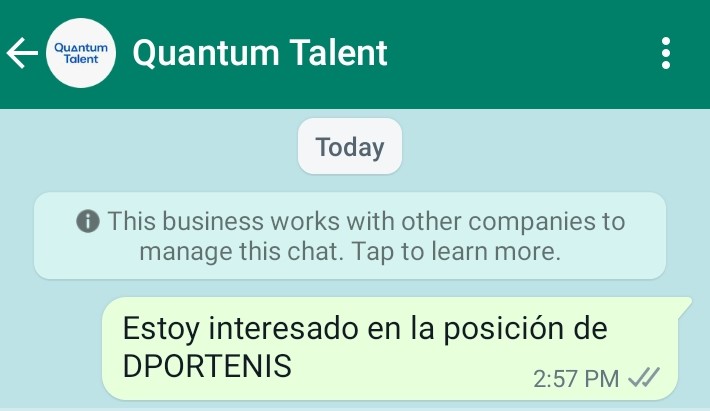 After this, users just have to type in numbers.
Step 2️⃣: The user would then be presented with the following options:
FLAT SELLER
CREDIT PROMOTER
BRANCH MANAGER
Based on their preference, they can choose any one and type the corresponding number, e.g. I was interested in the position of Flat Seller, so I chose 1.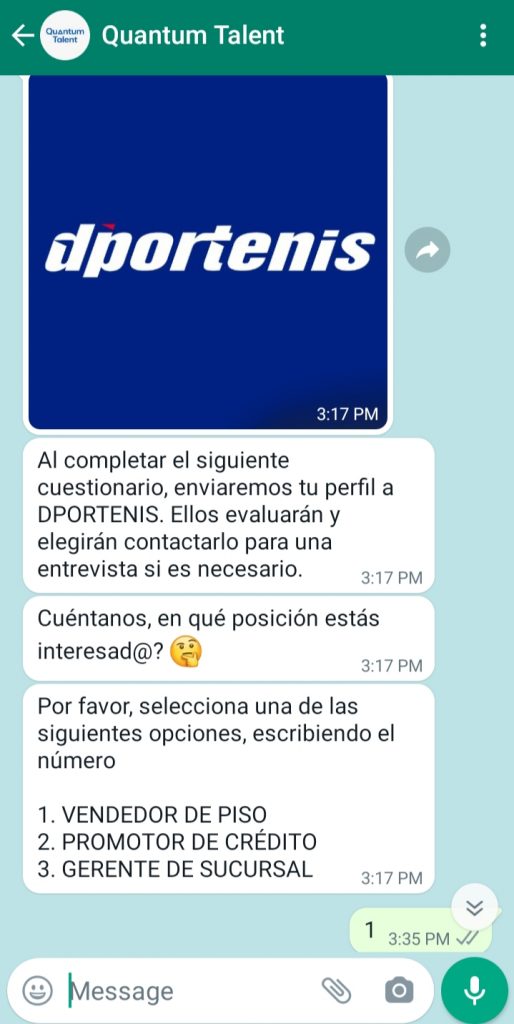 Step 3️⃣: Based on the user's choice, the bot asks a question to see if they fill in the requirements of the company.
e.g. the bot asked me, "Do you have high school completed and available to work on weekends?", and gave two options— 1. Yes, 2. No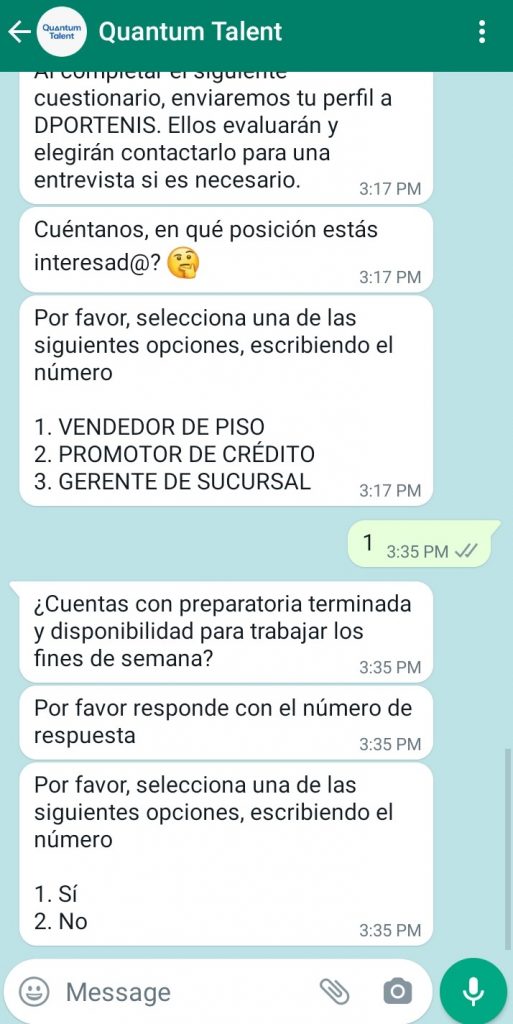 Step 4️⃣: If the user answers in the affirmative, the bot presents five more options:
I want to start the quiz
Salary and Benefits
Job Description
Schedule ️
Back to top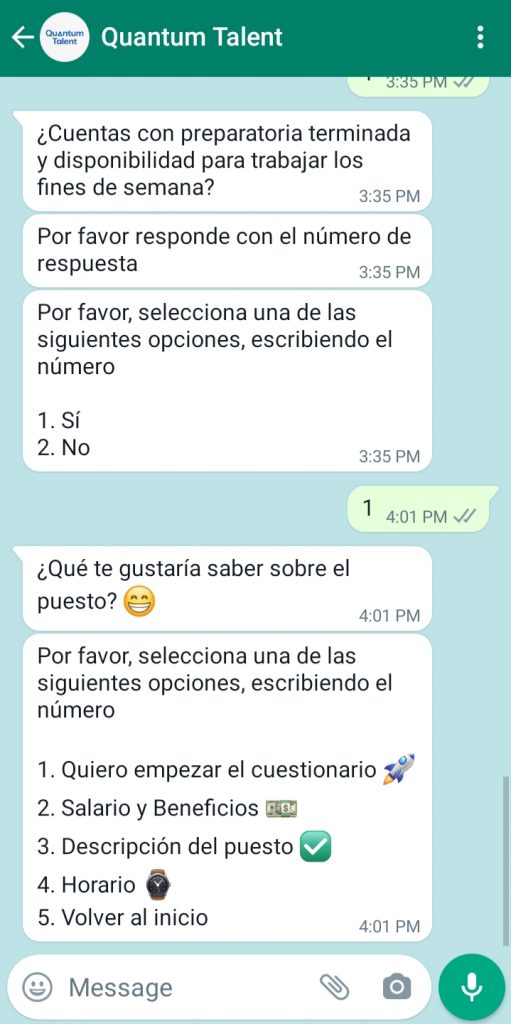 The quiz mentioned above takes the user to the application submission page which gets evaluated by the team.
Step 5️⃣: A lucid conversational flow and fewer efforts on the user's part is all that did the trick for Quantum Talent's lead generation.
The Impact
The overall impact of replacing their traditional and ineffective lead capturing and nurturing methods with a stratagem known as automation proved to be lucrative for Quantum Talent in more ways than one.
Talking about the web-based chatbot first, their sales graph showcased more than 9000 visits to the website out of which 36% users conversed with the chatbot, leaving the previous number of customer interactions far behind.
Coming to Tars WhatsApp Engagement Suite, Quantum saw a jaw-dropping spike in the company's ROI due to more than 100 campaigns sent through our one-time campaign feature. With more than 500 messages sent, they enjoyed an astonishing open rate of 92% and response rate of 46%.
The user-initiated WhatsApp chatbot also recorded more than 5000 conversations, something that was an unprecedented experience for Quantum Talent.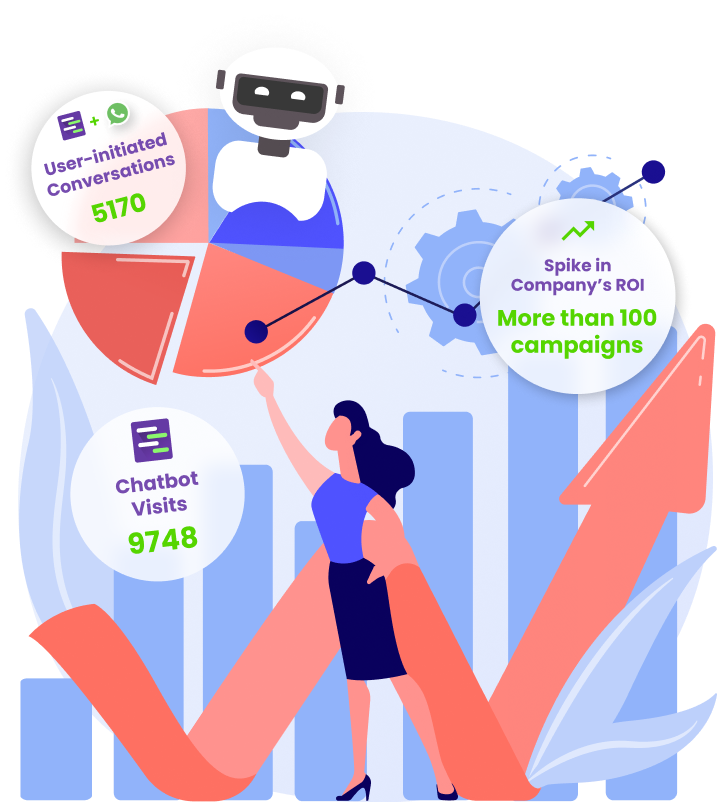 Want to get started with Tars for your business?
Seeing the astonishing results above, you might want the same for your business. Don't waste time and book a demo with us today. One of our in-house experts will personally explain the whole process to you step-by-step, right off the bat.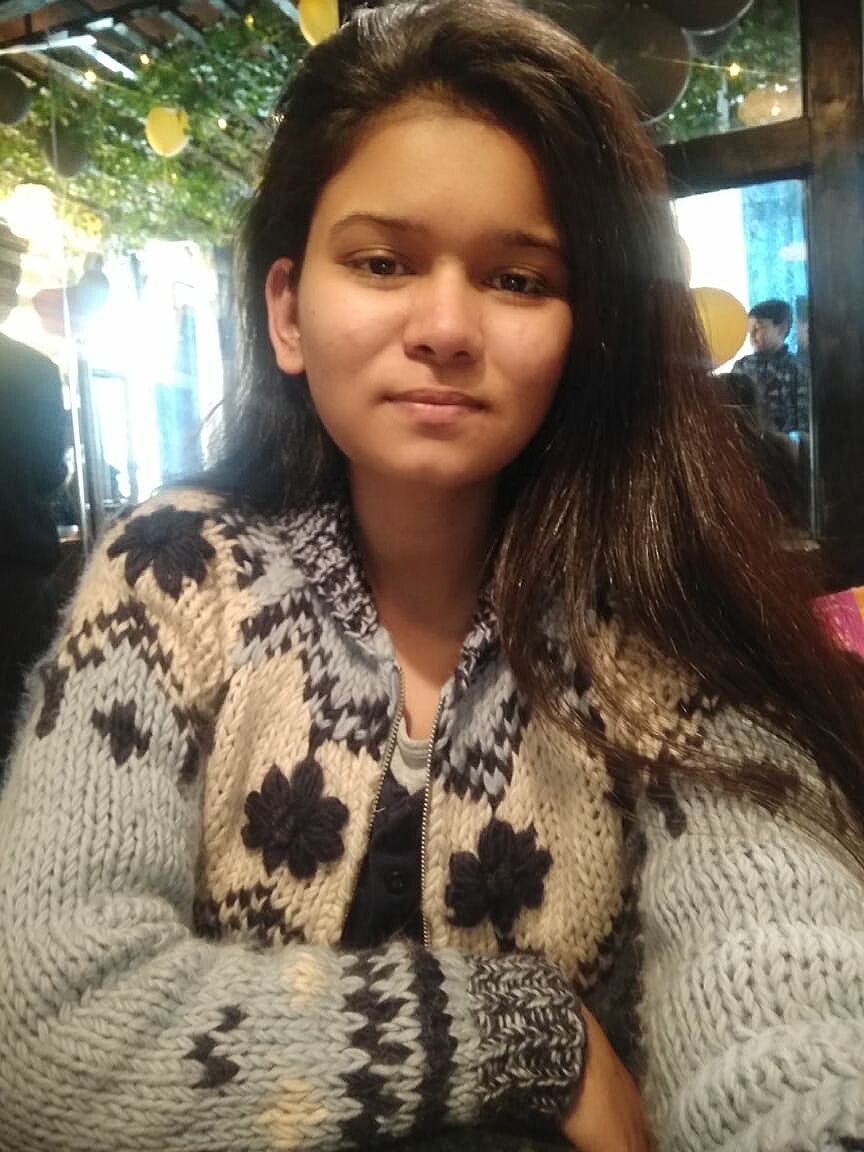 I am a content creator intern at Tars. Besides writing and reading for the most part of the day, I love listening to music. When I'm not doing any of these, I reinforce my quarter-life existential crisis.