Founded in 2009, Vodafone Qatar is a telecommunication giant, offering an impressive range of services — that include voice, messaging, data, fixed communications along with IoT & ICT managed services — to both consumers and businesses that form their 1.9 million strong customer-base in Qatar.
To capture the essence of Vodafone Qatar's operations, its crucial to understand their role as a key driver of innovation in the global telecommunications market. With a vision of "connecting today's ideas with the technologies of tomorrow", Vodafone Qatar is leading the way as one of the first operators in the world to go live with commercial 5G services for its customers
This spirit of industrial innovation isn't a recent phenomenon either. Vodafone Qatar's very roots are steeped in the headwinds of change. When in 2008, Vodafone was granted a public mobile networks and services license in the State of Qatar, they became only the second company in the country to be afforded this privilege. This signalled the end of a decades long monopoly, previously enjoyed by Qatar Telecom (Qtel) and opened up a new phase in Qatar's telecommunications and connectivity market.
Why do we mention all this? Because Vodafone Qatar excels at marketing itself as an innovative brand, often with futuristic adverts like this ⤵️
But in 2022, no matter how brilliant your advertising, you still have to effectively capture and convert your generated leads.
That's where Tars comes in. By deploying four lead generation chatbots on four different landing pages, Vodafone Qatar was able to automated 400,000+ conversations. Here's how 👇🏼
The Problem of Lead Generation
For years, Vodafone Qatar used the following two channels for lead generation on their official website ⤵️
✅Live Chat (with limited agent support)
✅Web Forms (that looked like this 👇🏼)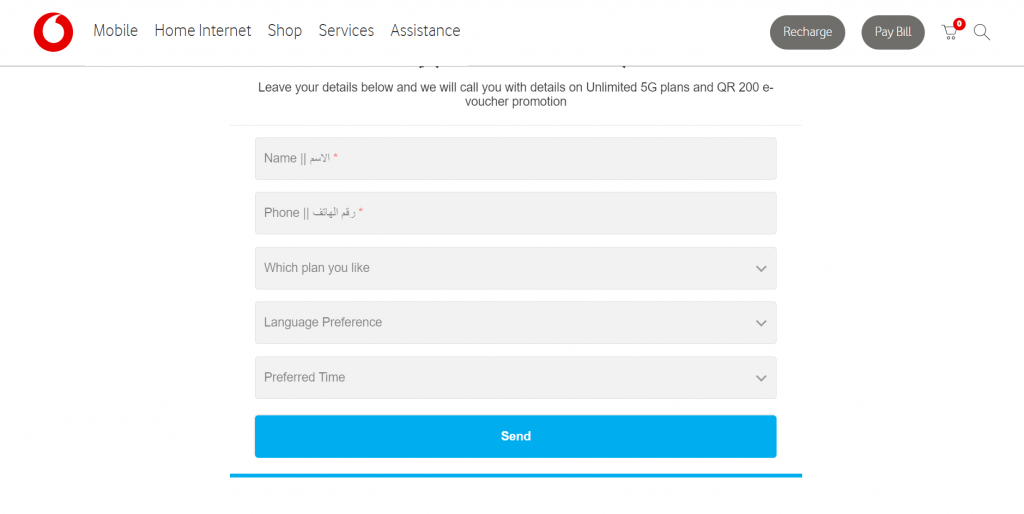 Lets start with the first option available to customers, which was Live Chat. While Live Chat is undoubtedly an excellent resource to resolve complex customer support queries, they are simply unscalable when it comes to managing all lead generation conversations. This is because human Live Chat agents are not only expensive to hire, but are also unavailable 24 x7.
When it comes to Web-Forms, the story is different but the conclusion's same. Although extremely affordable to install and maintain, web-forms are perceived by the vast majority of customers to be simply a chore, overwhelming users with a bunch a fields and offering few details themselves.
Predictably, this impersonal approach of collecting personal data wasn't a roaring success for Vodafone Qatar.
What Vodafone needed was a lead generation solution that could automate conversations effectively and incentivize customers to share their personal details over a friendly chat.
In other words, what Vodafone needed were Tars Lead Generation Chatbots.
How Did Vodafone Qatar Use Tars Lead Generation Chatbot
Step 1️⃣: Suppose you're a Qatari resident looking for a blazing fast home WiFi connection. You've seen Vodafone ads but are still undecided so you search for 'Vodafone Giga Home Qatar' and land on Vodafone Qatar's Giga Home Landing Page. This is what you'll see 👇🏼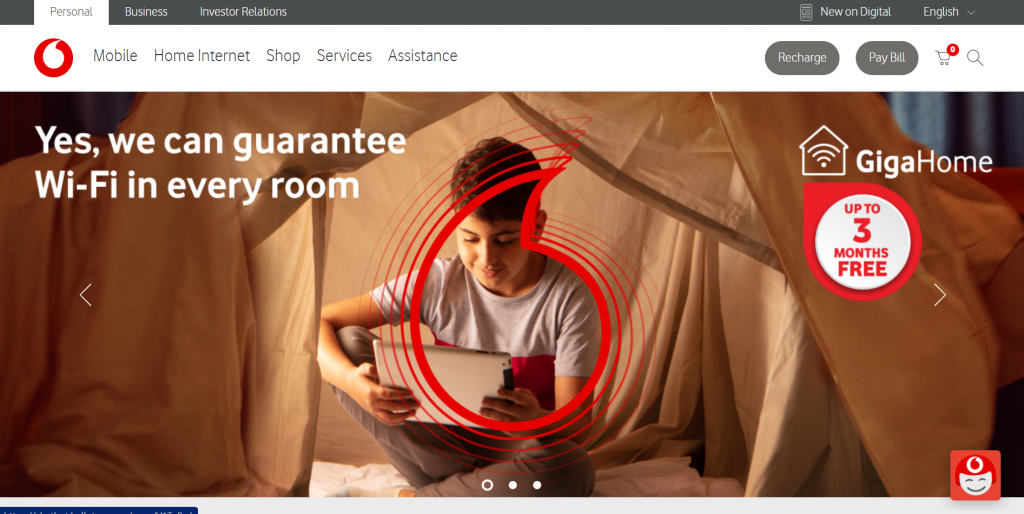 Step 2️⃣: Instead of searching through the website, you simply click on the widget on the bottom right, which opens into a chatbot, with an initial request for your name 👇🏼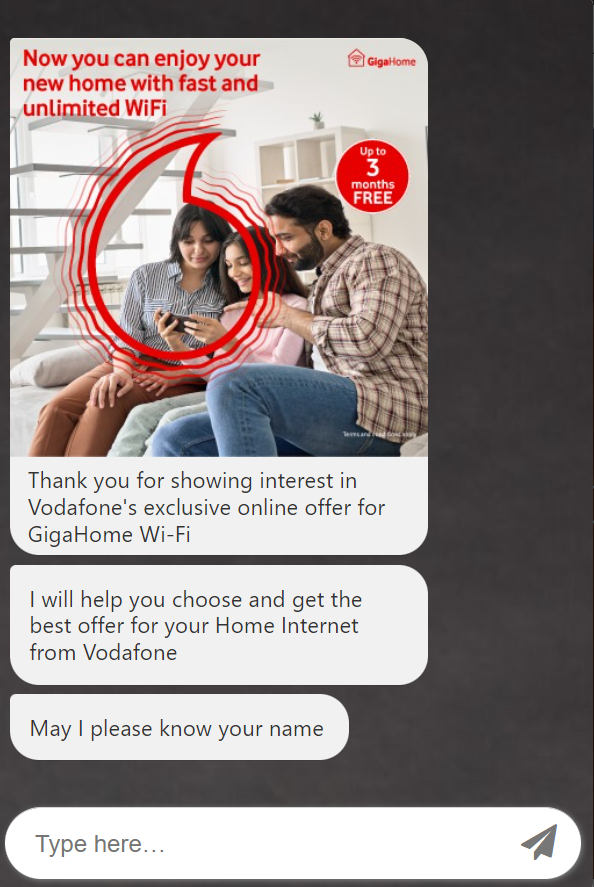 Step 3️⃣: Once you (i.e. the customer) fills in the name, the chatbot requests an 8-digit Qatari phone number so that they can contact you👇🏼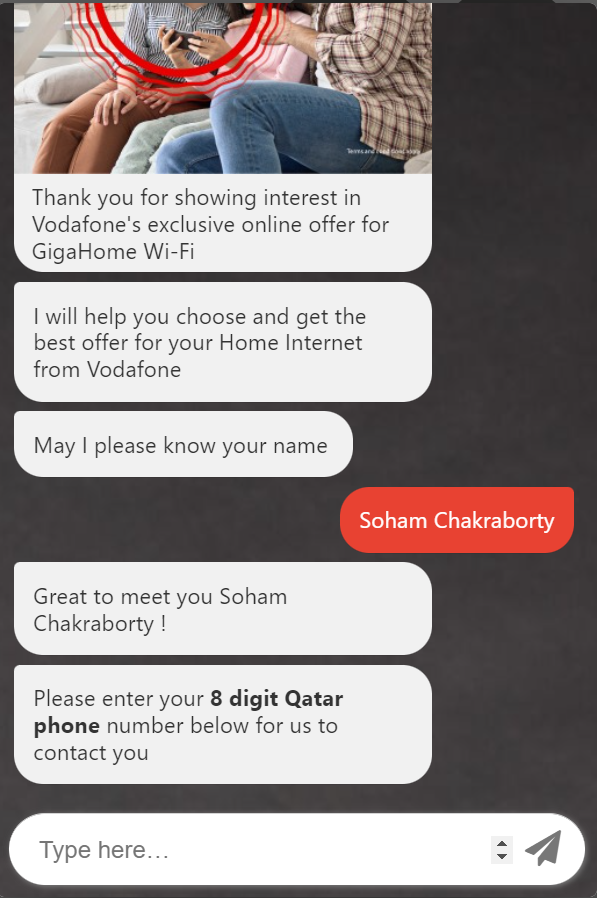 Step 4️⃣: Once the phone number is shared, the chatbot requests you to share your preferred language for a call with their Customer Champion 👇🏼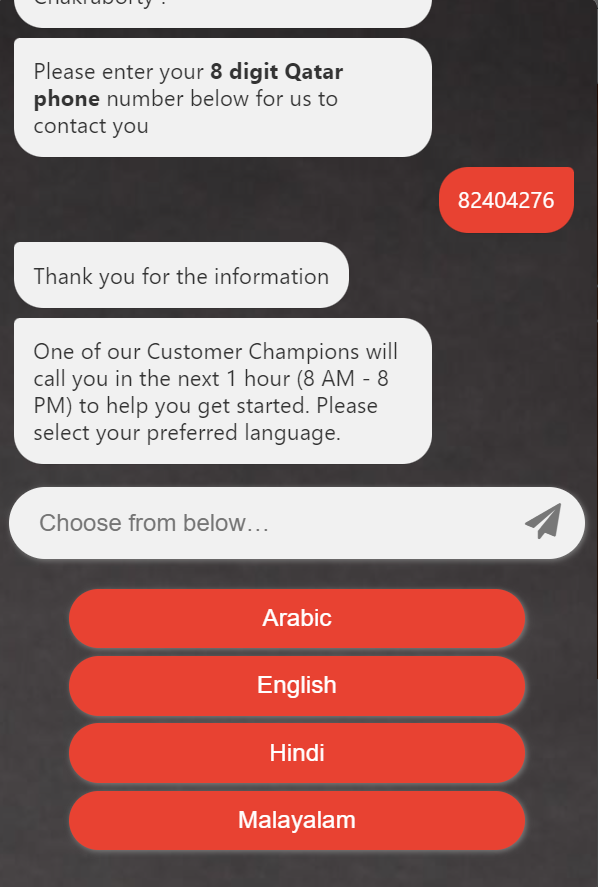 Step 5️⃣: Next, the chatbot asks whether you'd like to receive emails with new offers and updates from Vodafone 👇🏼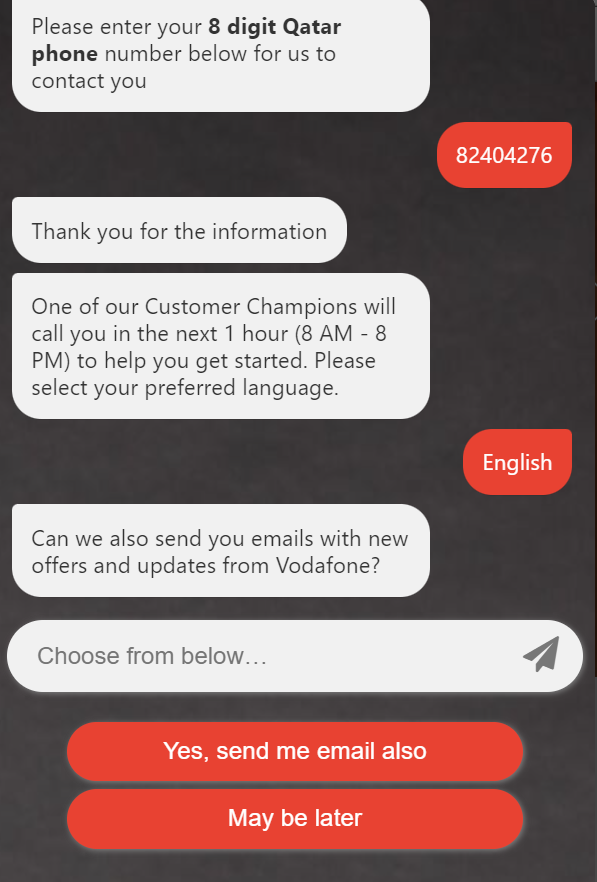 Step 6️⃣: If you choose to receive emails, then after asking you to share your email ID, the chatbot will show end-of-conversation options that include the following 👇🏼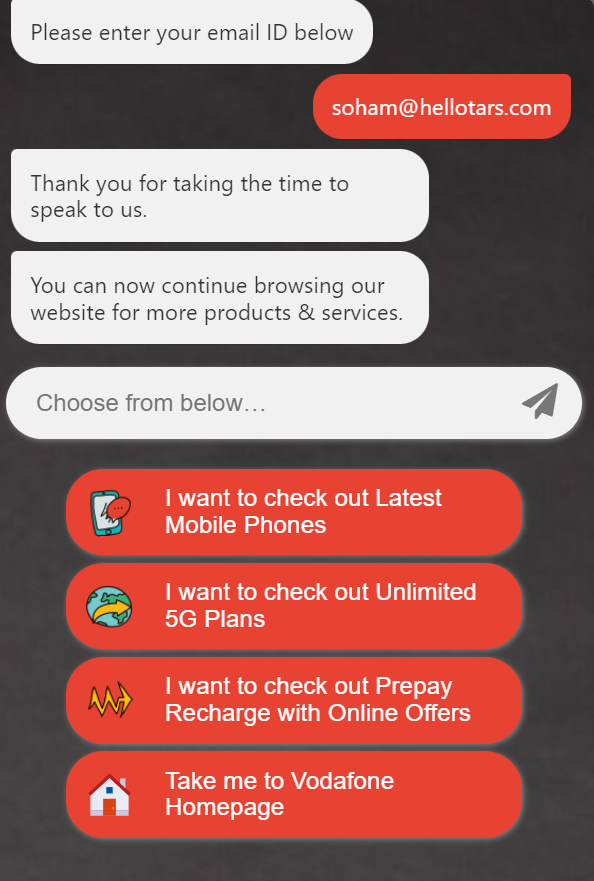 Step 7️⃣: Once this lead data is collected it goes straight into their CRM (Bittrix) through a seamless integration. Once a lead shows up on their CRM, call centre executives reach out to them over call, to convert them personally.
What Was The Impact
The impact was phenomenal! By deploying 4 lead generation chatbots across 4 different landing pages, Vodafone Qatar managed to automate an incredible 432,000+ conversations from nearly 896,000 chatbot visits!
This effectively translates into a 48.21 % response rate which simply blows every other customer communication channel out of the water 🤯
It's especially important to understand the impact of Tars Chatbots in the specific context of the Telecommunications industry, where according to the 2021 Salesforce Customer Service Benchmark Report 👇🏼
🕛 Only 53% of companies even had an easily accessible contact method (like an email address) and of these companies, 65% completely ignored customer emails.
🕛 Even when telecommunications respond, 55% provide a poor quality response as compared to only 19% that provided exceptional responses and achieved an Answer Quality Index of 100, the perfect score.
Given the state of customer engagement in the telecommunications industry, the impact of automating 432,000+ conversations from nearly 896,000 chatbot visits is obvious in the case of Vodafone Qatar,
How To Get Started
Book a demo with us today and one of our in-house chatbot experts will personally walk you through every feature of Tars!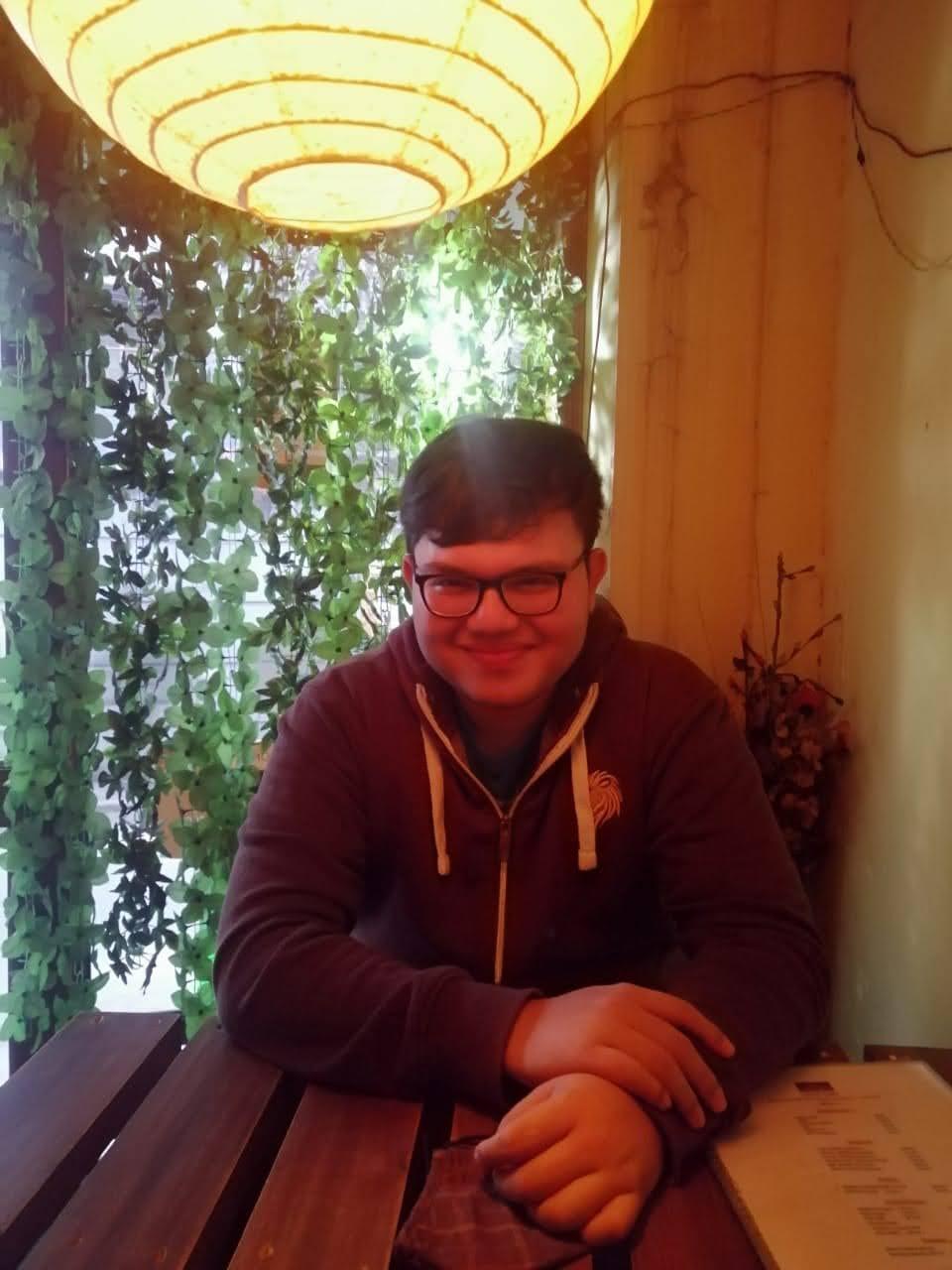 Soham is a content marketer on the Tars team. When he's not writing kickass blog posts like the one you just read he's reading obscure articles from history's foremost anti-enlightenment thinkers and writing treatises to send to his 3 substack subscribers.