When we started the chatbot game in 2016, most people had no idea what a chatbot was.
Every time we'd get onto a sales call, we'd spend at least the first 30 mins explaining what a chatbot was, let alone why anyone should get one. As if that weren't enough, in most cases, the customer would leave the call skeptical of the technology's value.
Fast forward to today, the chatbot space looks entirely different. In the years since we launched, chatbots have gone from being a niche technology to a mainstay in any marketer and customer service manager's toolkit.
As the demand for conversational tech has increased over the past 5 years, the number of chatbot service providers has exploded and this has been great for the industry. Service providers like us have been forced to compete with each other encouraging us to provide an ever-improving experience to our customers. What's even cooler is that this proliferation of companies has made chatbots a full-fledged category on the numerous software aggregators out there and those aggregators have given us the opportunity to show off how good our product is compared to the rest of the market. In fact, that's what we want to you about today. G2 one of those software aggregators has given us a bunch of recognition this spring that we want to show off today.
Check it out 👇
What is G2?
I figure that if the achievements below are going to mean something to you I should probably give you some context around what they mean and how they were awarded.
For the uninitiated, G2 is the largest and most trusted software marketplace, that helps you make smarter software decisions based on authentic peer reviews. For us whenever we buy a piece of software at Tars, we check its G2 reviews first! In technical terms, this what experts call social proof because make our decisions based on what others have experienced, but for the sake of simplicity, think of it as Yelp for Software.
When we onboard customers at Tars, we try our best to give them the best possible product and service that we can and when they're happy (and sometimes when they're not so happy), they let us know their thoughts on G2.
Using the reviews that customers have given us, G2 has identified us as industry leaders on several fronts.
Our Bragging Rights
In the bot platform category, which is our bread and butter, G2 recognizes us as a Momentum Leader, which in simple English means that we are one of the fastest-growing chatbot platforms on the market in terms of our employee count, web presence, and social presence and most importantly review growth. In the graph below, this performance is indicated by the fact that we're moving further into the top right corner (i.e. we have high and increasing market presence + high and increasing satisfaction).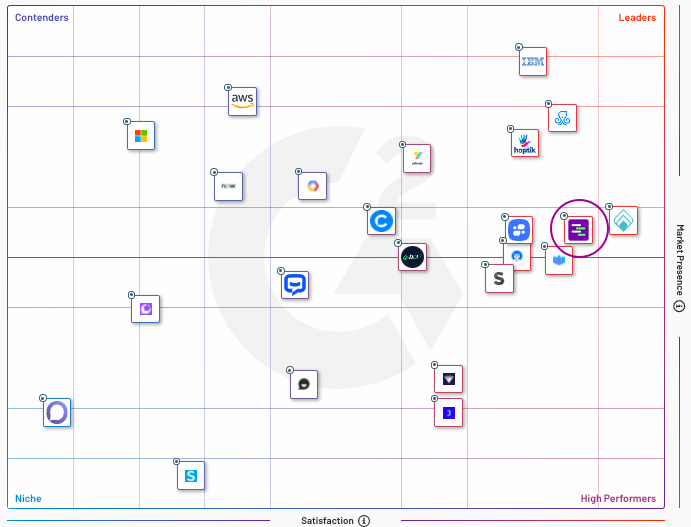 This growth has can be attributed in large part to our ability to deliver value to our customers through our product and our industry-leading customer success.
And the best part is that this was just one of the five badges that G2 gave us. For the Spring 2021 review period, G2 has also recognized us as the chatbot tool with the best relationship, best-estimated ROI, best customer support for small and medium enterprises, and the momentum leader.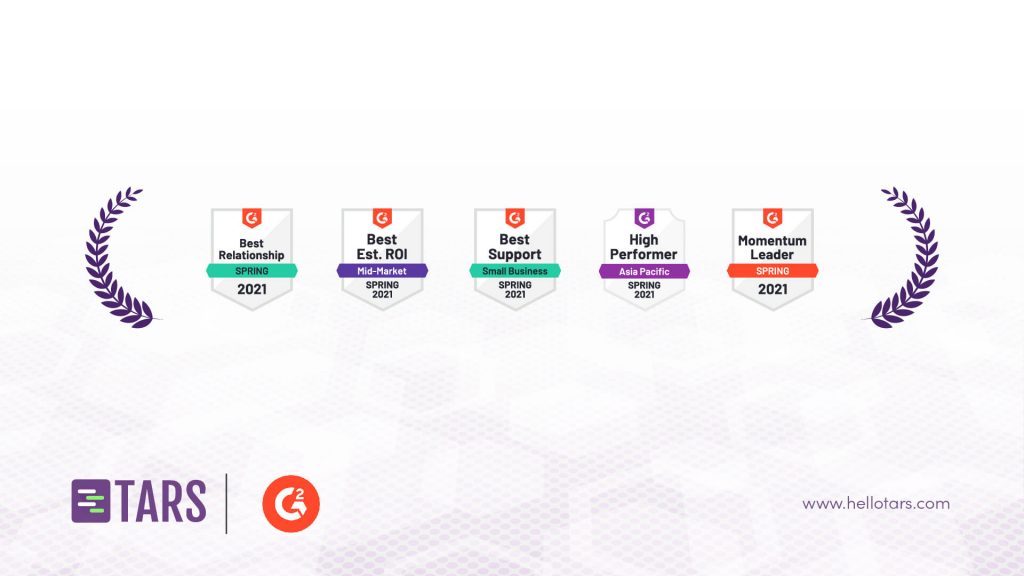 As if that weren't enough, we're also amongst the best-ranked software in the landing page builder and conversational marketing categories as well.
What our customers liked about us
In G2 reviews, verified customers speak not only to Tars chatbot builder but to the team. Some of our favorite opening lines:
Great conversational marketing and client support platform
Tars has raised the bar and surpassed our expectations
Excellent chatbot platform with an amazing customer success team
Advanced integrations, easy to use, very customizable. Fantastic team!
Great customer service and an easy-to-use chatbot builder. Highly recommendable!
The list goes on. But my personal favorite is this one:

It shows that at the core of our value is not only our product but also the people that make Tars what it is.
Of course, the badges, momentum grid and snippets that you've seen in this post just scratch the surface. To see all of the awesome stuff that our customers are saying about us, head over to G2 to find out.
If the reviews have you convinced, we have some valuable resources that will help you make your chatbot decisions faster:
And also, be sure to check out our coolest feature: our chatbot template library. We've got 950+ pre-build chatbot templates for you so that you don't have to create them from scratch and use one that fits your industry as well as the use case.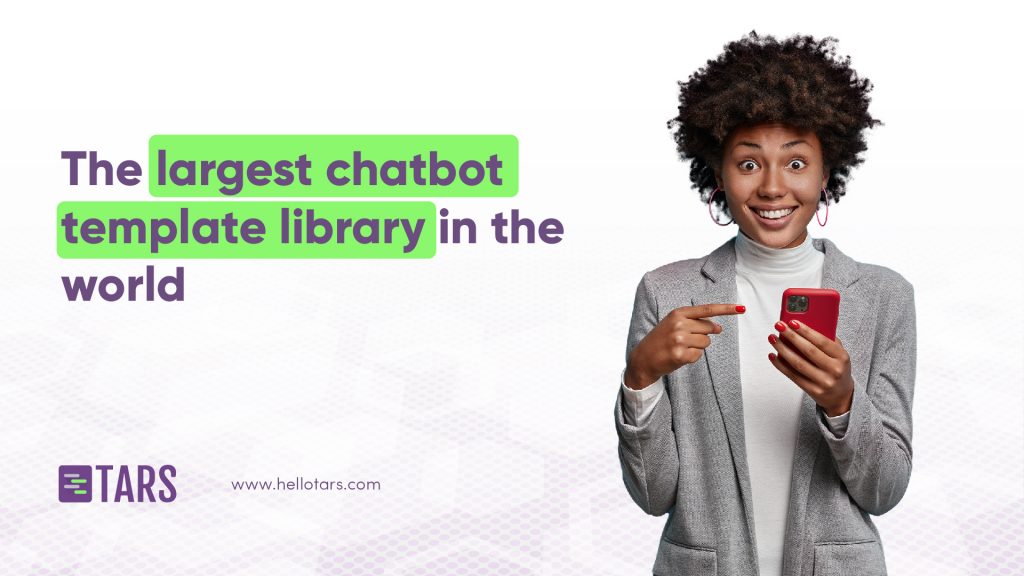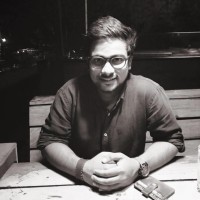 Abhilash loves writing, traveling, and having great food. He's an extrovert who loves to tell stories. At Tars, he takes care of growth marketing i.e. analyze market trends, craft campaign marketing strategies, and distribute content to the right audience.