What Is The Tars WhatsApp Engagement Suite?
Jonah Sachs, the famous marketer & storyteller had once famously declared:
"Your brand is a story unfolding across all customer touch points."
If that rings true to you, then you already know which customer touchpoints play a vital role in defining your brand. Be it lead capture and customer onboarding or transactional messages and customer support — each user interaction must be ⤵️
✅ Engaging
✅ Frictionless, and
✅ Scalable
Long story short, that's exactly what the Tars WhatsApp Engagement Suite delivers — combining the magic of conversational automation with the world's most popular messaging platform.
Think of our product suite as an Engagement Engine that runs on WhatsApp; empowering your business to reap the highest marketing & customer support RoI, by enabling a best-in-class conversational experience across every customer touchpoint.
Jonah Sachs would be proud of us.

What Are The Features Of Tars WhatsApp Engagement Suite?
🔐Key Features
1️⃣ Conversation Automation
At its core, Tars is an innovator in the Conversational Tech space. Naturally, we ought to begin by highlighting the role of Conversation Automation in the Tars WhatsApp Engagement Suite.
To start with, conversational automation engages your customers by simulating human conversations based on a predefined set of conditions that you are free to determine according to your use-case. Moreover, it does so at a fraction of the cost you would otherwise spend in hiring an army-sized team, for manually communicating with your customers.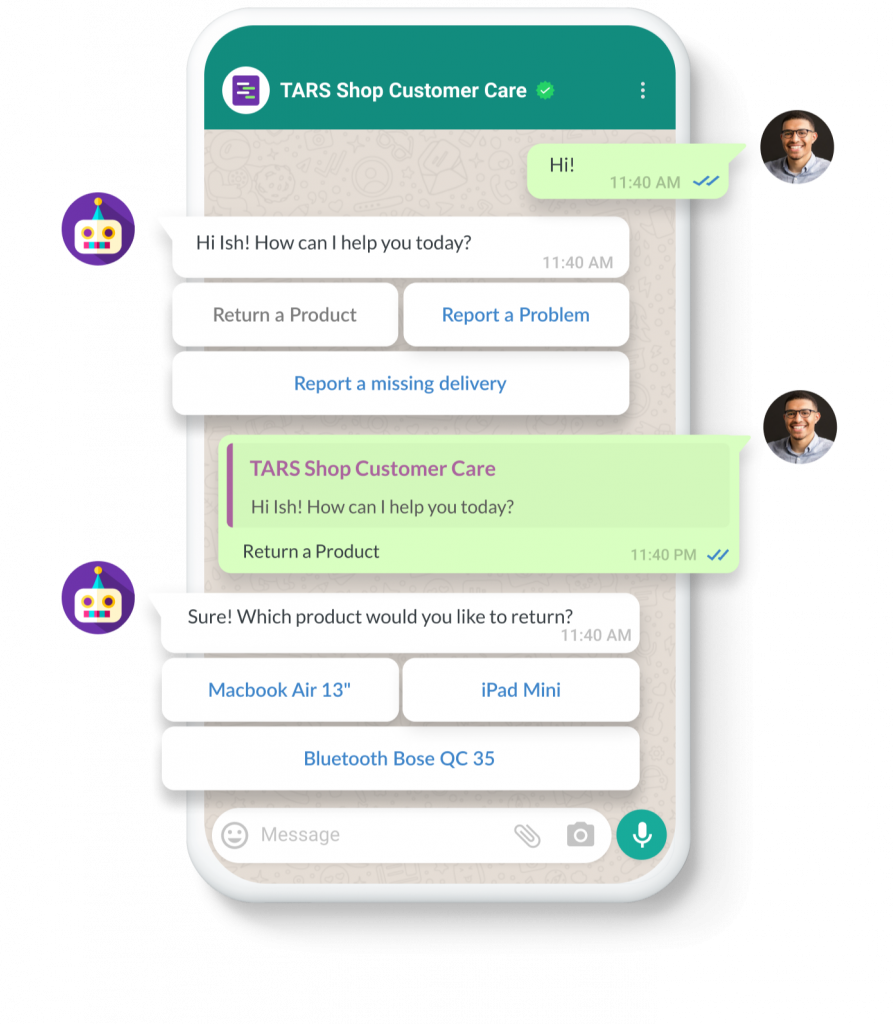 But what makes the combination of WhatsApp + Conversational Automation special is that it allows you to reimagine ANY customer touchpoint as an engaging conversational, which in turn 🚀🚀🚀 both your CSAT and Customer Experience.
2️⃣ No-Code Chatbot Builder
While the hype around no-code tools has been rather recent, we at Tars had recognized the immense potential of no-code from right when we started. That's why with the Tars No-Code Chatbot Builder, your marketing or customer success team can take chatbots from ideation to deployment to optimization without ever involving the IT department.
Isn't that awesome? Be it fixing a grammatical error in your chatbot copy or completely overhauling the chatbot, our builder will enable you to make and deploy changes to your conversational flow without ever meddling with even a line of pesky code.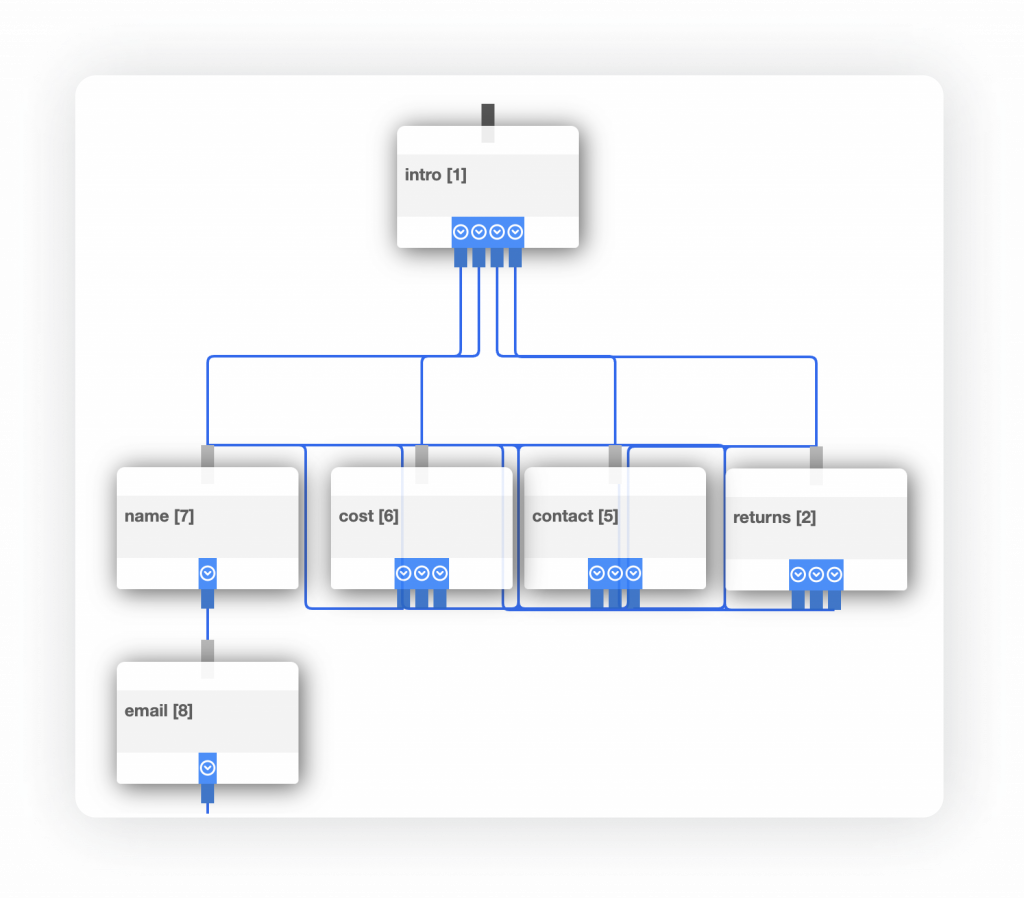 3️⃣ One-Time Campaigns
Using the One-Time Campaigns feature in the Tars WhatsApp Engagement Suite, businesses like yours can send customized template messages to segmented audience lists so as to drive more revenue from your existing customers through latest offers product launches; all while consistently hitting 80%+ open rates.
With One-Time Campaigns feature in your bag, you can finally bid a permanent farewell to low-engagement, one-size-fits-all message blasts to your whole list. Why? Because your business can now create custom audiences for each of yours campaigns in our campaign audience manager, thereby leveraging segmentation to achieve unparalleled open and response rates.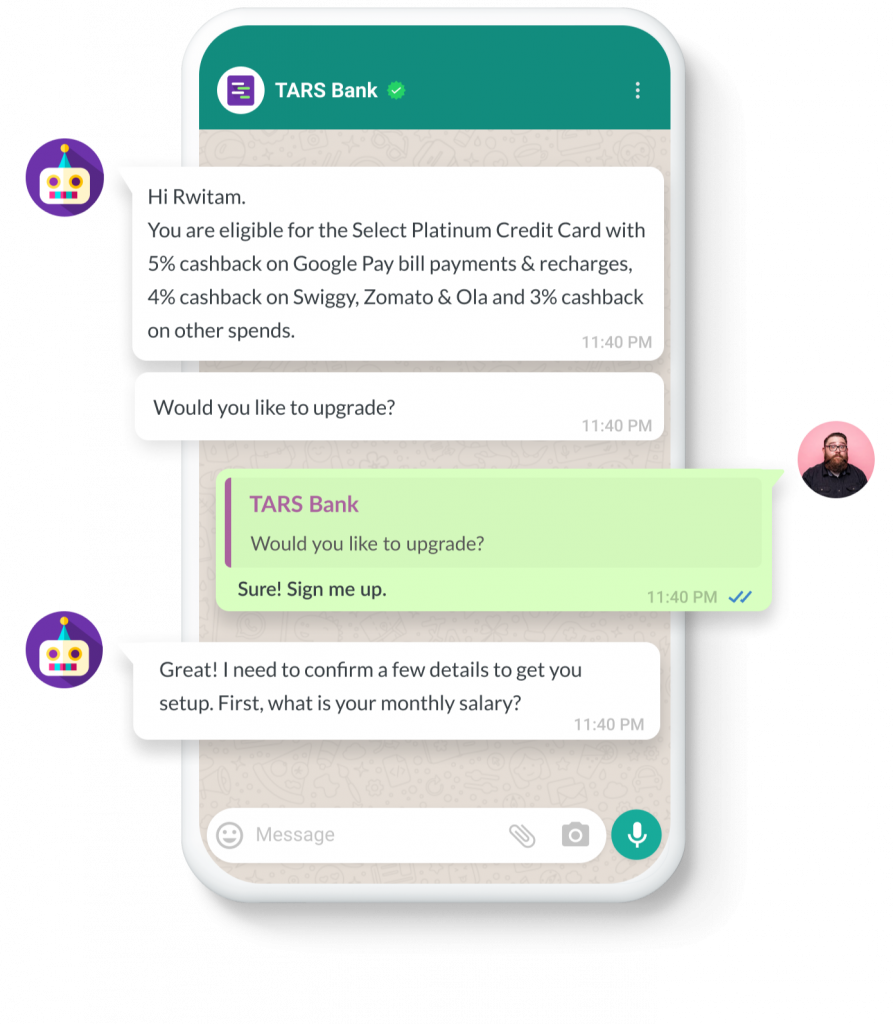 4️⃣ Ongoing Campaigns
Ever received a WhatsApp Notification confirming your flight/hotel bookings, along with the necessary attachments? If yes, then you have already experience the magic of Ongoing Campaigns.
WhatsApp Ongoing Campaigns feature lets businesses trigger automatic WhatsApp messages from their CRM, based on a set of predefined conditions and logic that determine the nature of conversational flow.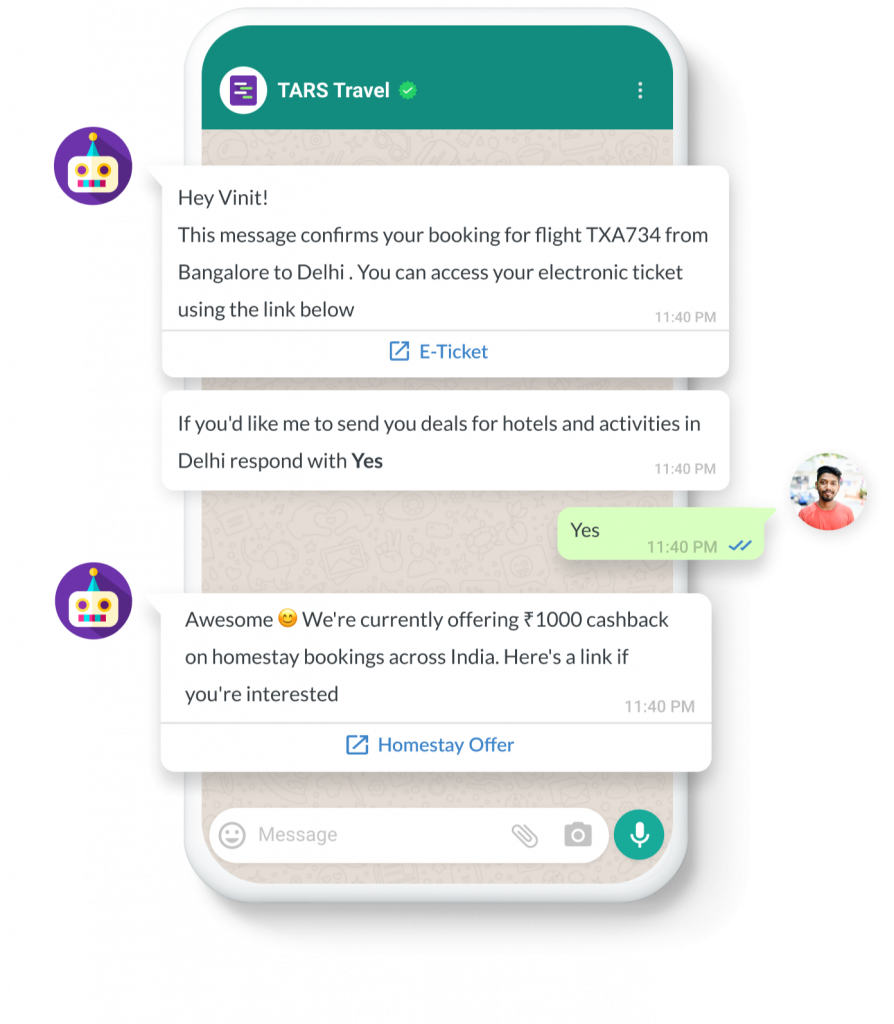 For example, if you run an e-commerce site and want to reduce incomplete orders at the payment stage, you can set up an Ongoing Campaign that will automatically send a notification to your customer the moment a failed payment order shows up as being delivered in your CRM.
How do you set this up? First, generate an ongoing campaign API endpoint in our campaign manager and embed it at key touchpoints of your customer journey. Then, when users reach that point of the journey, the API will be triggered and your notification will be sent.
For example, once the user responds to the previously mentioned 'payment failed' message, they can then be automatically guided through a conversational flow that leads to payment completion along with feedback collection.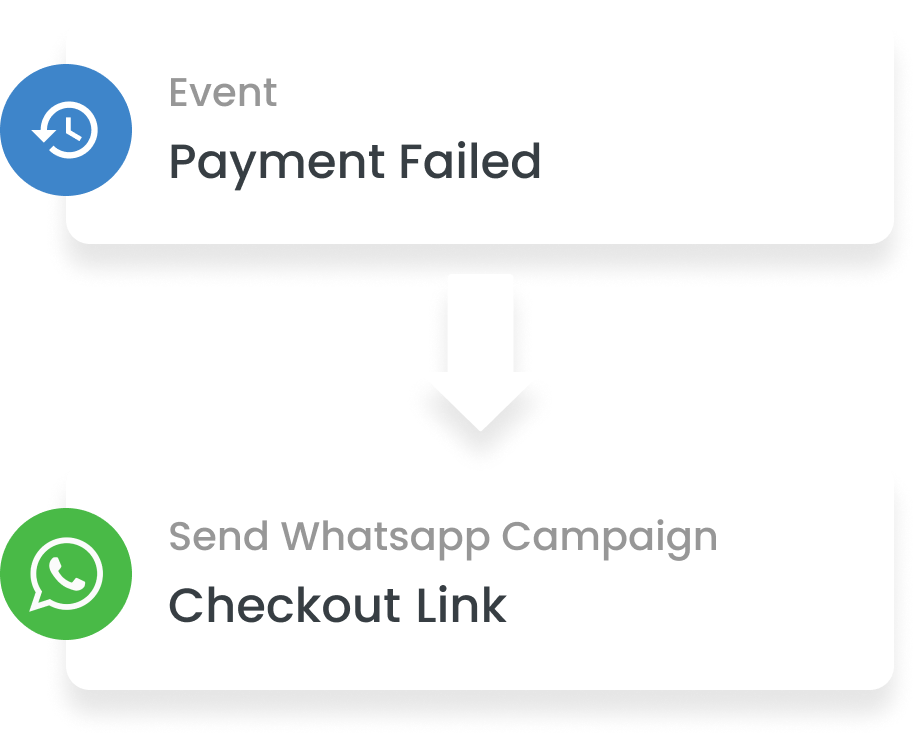 And that's just scratching the surface! Think about it this way. You already send these sorts of messages today over SMS and Email. WhatsApp Ongoing Campaigns lets you do the same thing, but instead of SMS or Email, these are smart messages going through WhatsApp, that your customers can actually interact with.
📱Other Features
1️⃣ Send Media Messages
In this attention economy, media messages are often key to creating compelling hooks that pull your leads / customers into an engaging conversation. That's why, with the Tars WhatsApp Engagement Suite, you can now send media messages like this ⤵️
2️⃣ Accept Media Uploads
How many of your business processes — from user verification to onboarding to report dispatch — require you to accept media uploads from your customers? With the Tars WhatsApp Engagement Suite, users can now upload and share media like audio, video, gifs, documents and images over WhatsApp itself. From KYC to Meme Challenges, the possibilities with this feature are endless.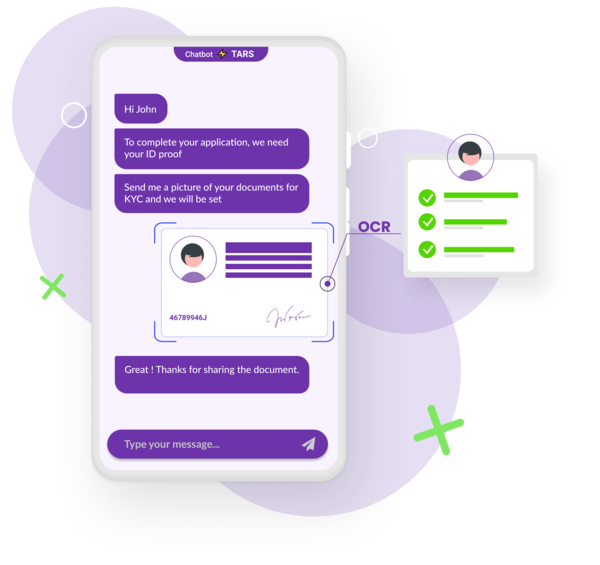 3️⃣Accept Geo Location
The Tars WhatsApp Engagement Suite is location aware! Businesses can collect geo-location data and use it to deliver a personalized lead gen experience to all their prospects, like this ⤵️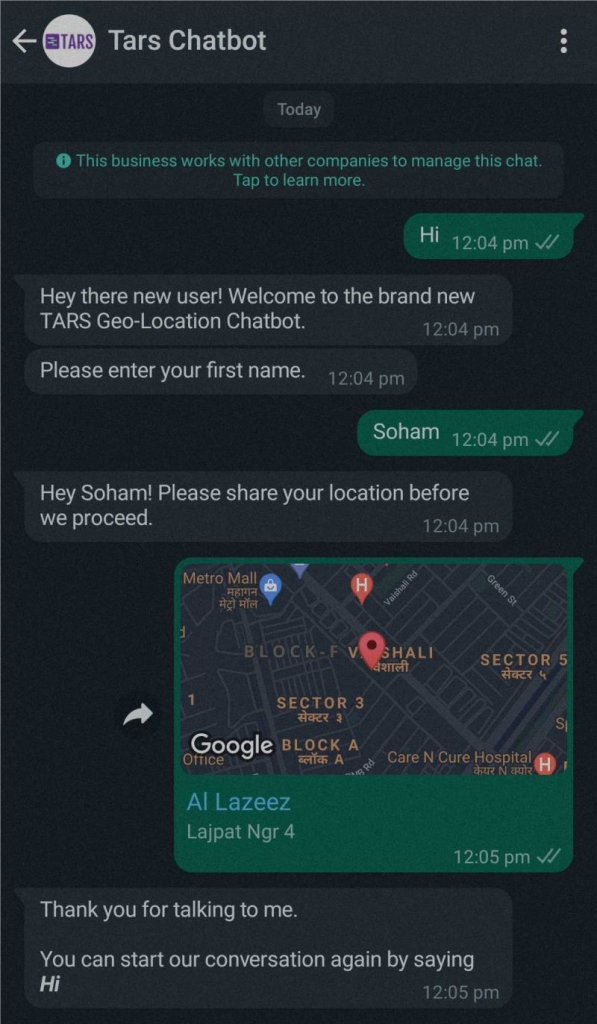 How To Get Started With Tars WhatsApp Engagement Suite?
For a lot of you this is the part of the guide you've been waiting for so let's jump right in.
There are two parts to getting started with Tars WhatsApp Engagement Suite
✅Part A: Getting WhatsApp Business API Access
✅Part B: Building A Conversational Flow
It is important to note that these two parts do not have to occur in a particular order. In fact, we recommend that you get both started at the same time.
With that, here is a breakdown of each part 👇🏼
Part A: Getting WhatsApp Business API Access
Before you can even start thinking about creating your WhatsApp chatbot you need to get access to the WhatsApp Business API.
Step 1: Verify your Business on Facebook.
Since WhatsApp is owned by Facebook, they handle their business verification through Facebook's business platform. You can find instructions on how to verify your business through Facebook [over here]
Note: If your company runs Facebook ads you probably have this step complete
Step 2: Apply for WhatsApp Business API Access
Fill-out our WABA Submission Form, verify your phone number with OTP and generate an API token.
Step 3: Add WhatsApp Business Number
In the admin dashboard, under the campaign menu on your left, choose 'Business Number' and then fill in the necessary details like Company Name, API Key etc.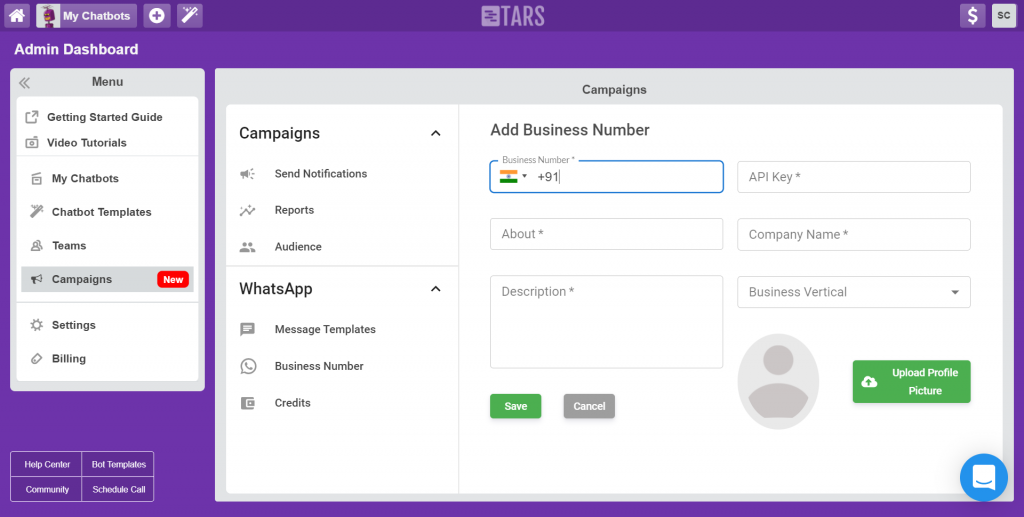 Step 4: Create Message Templates
Finally, depending on your use-case, create a message template for your first WhatsApp Campaign.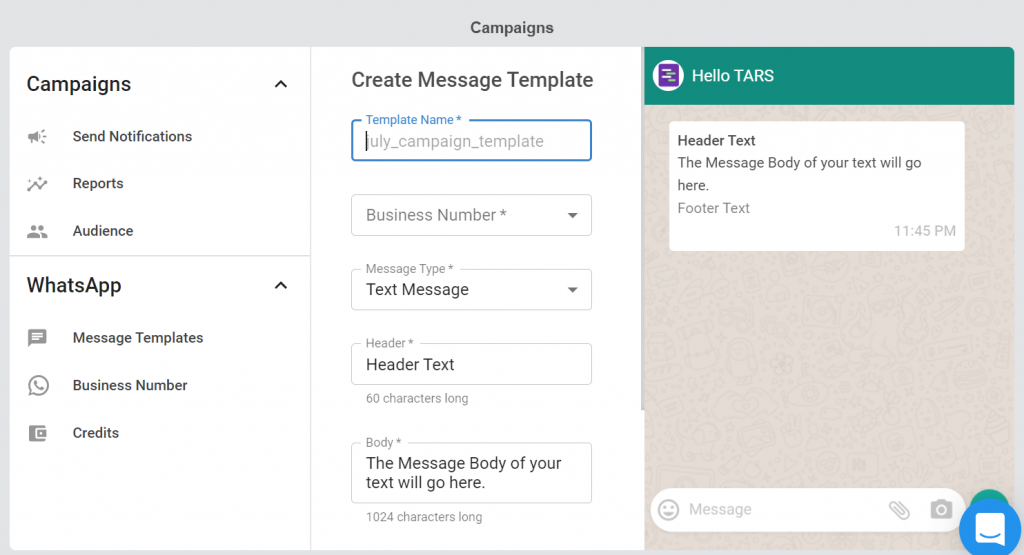 Part B: Building A Conversational Flow
Step 1: Signup for the TARS Chatbot Builder
The sign up process is super simple! All you have to do is go to https://admin.hellotars.com/, fill in a few details and signup for free!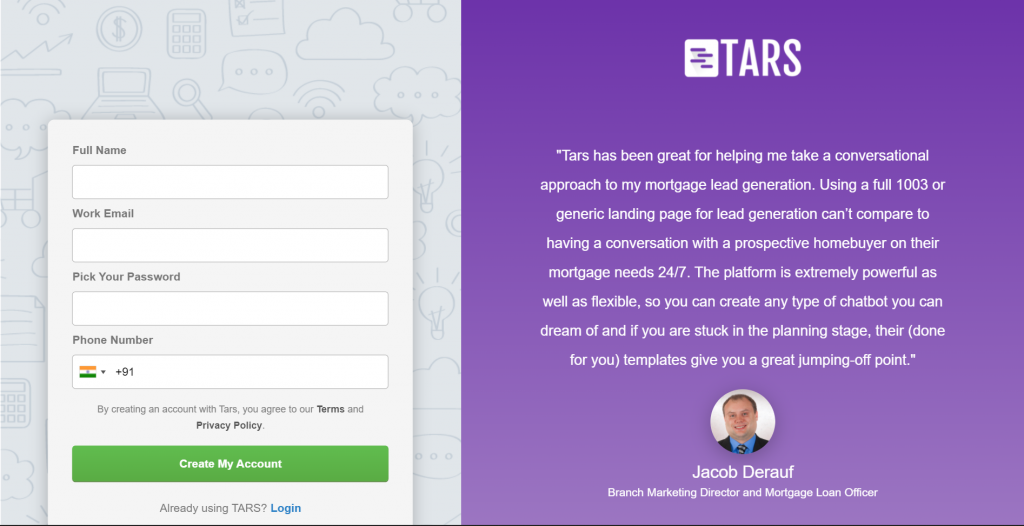 Step 2: Create A New Chatbot
When you first signup for the TARS builder you will be dropped into our templates library: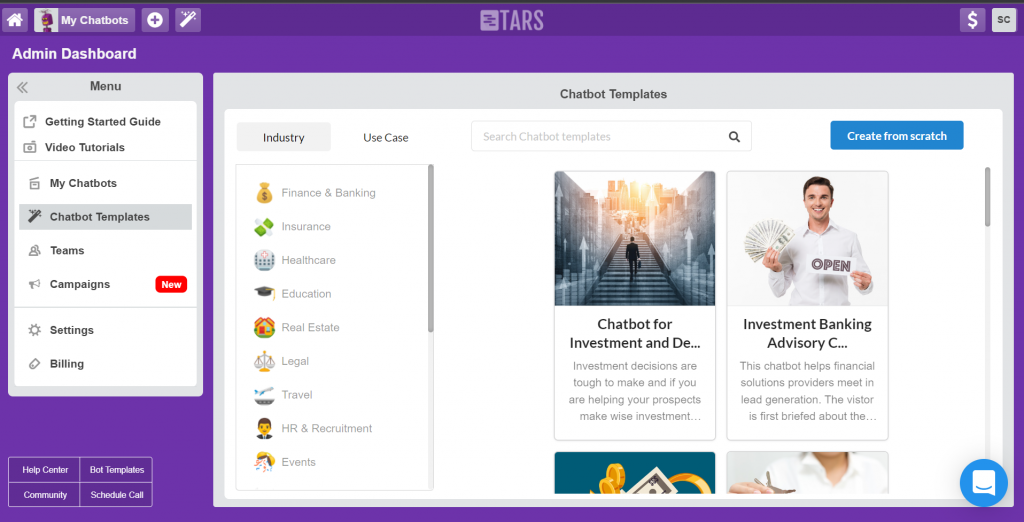 You can use any of the 950+ templates that we have as a base for your chatbot, but in this guide, we are going to build one from scratch so click the Create From Scratch button on the top-right corner of the screen:

Next, it's time to give your chatbot a cool name!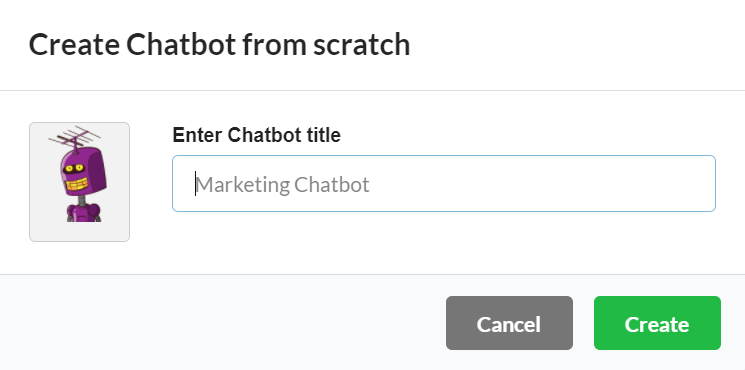 Once you hit 'create', you will be automatically taken to the 'Make Section':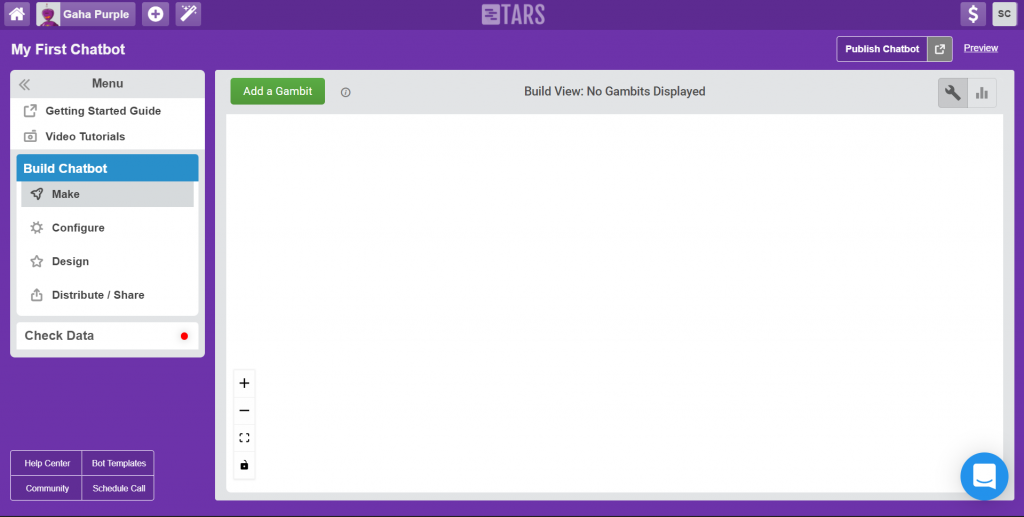 Step 3: Create A Gambit
To start creating your conversational flow, click the green 'Add a Gambit' button on the top left of the screen:

This will populate your canvas with a weird-looking object that looks like this: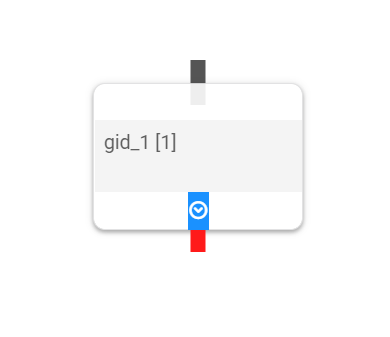 This object is called a Gambit, and it is the basic building block of any conversation. To understand how it works click on it to open up the Gambit Modal: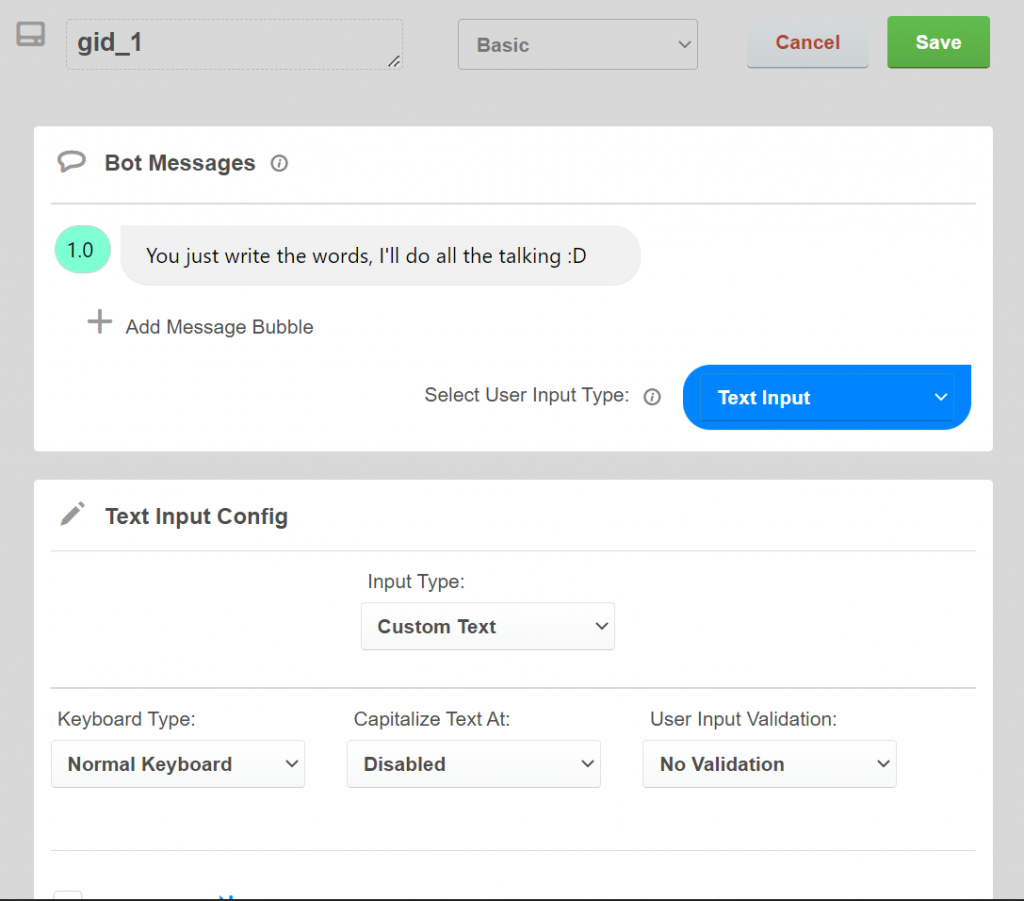 As you can see, each gambit is made up of two parts: Bot Messages and User Input. Using these two parts of the gambit modal you can define a single back-and-forth interaction between the bot and the user.
Since we're still on the first gambit, go ahead and write the messages in such a way that they welcome the user to the chatbot: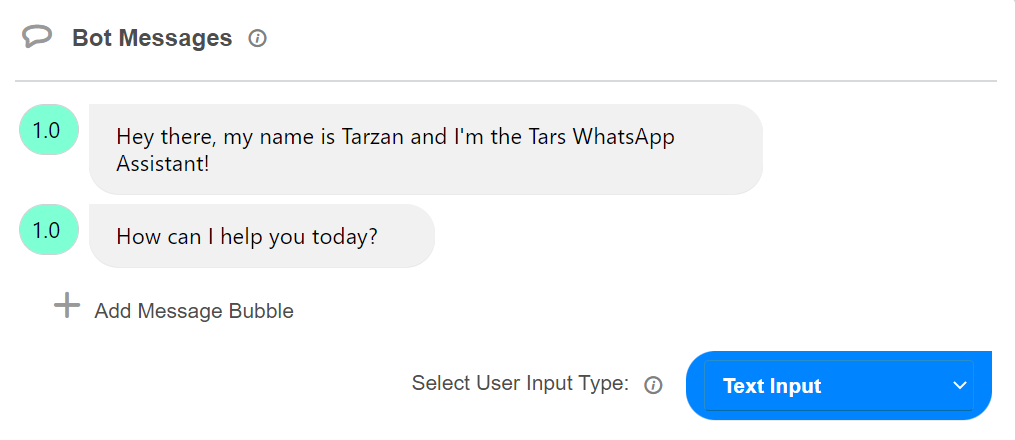 Once the messages are complete, you can specify how users can respond to these messages by clicking the Select User Input Type dropdown: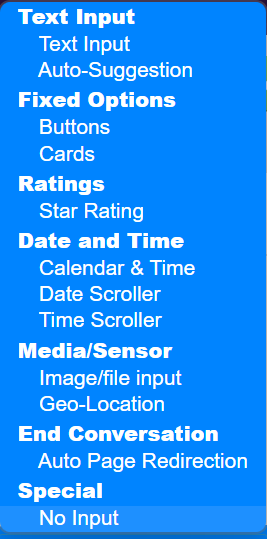 We have over a dozen user input options available in our builder, but for WhatsApp, only the text, button, image/file, geo-location, no input, and auto page redirection input UIs are compatible.
The most popular input UIs in the TARS builder are text and buttons, so we'll focus on those in this guide
But before that? Enable WhatsApp Native UI:

For the first gambit of the FAQ/Leadgen bot we are creating in this guide, select the Buttons option and type in all of the FAQs that you want the bot to answer in as buttons.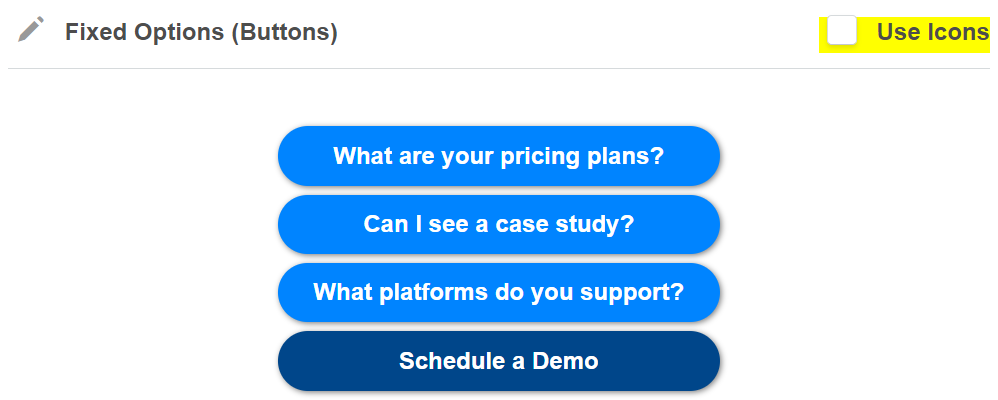 Since this is also going to be a leadgen chatbot, throw in an extra button for users to start the leadgen flow of the conversation. In this example, we're going to let people schedule a free demo.
Once the buttons are setup, rename the Gambit something descriptive (in this case intro), and hit the Save button. The result ought to be something like this: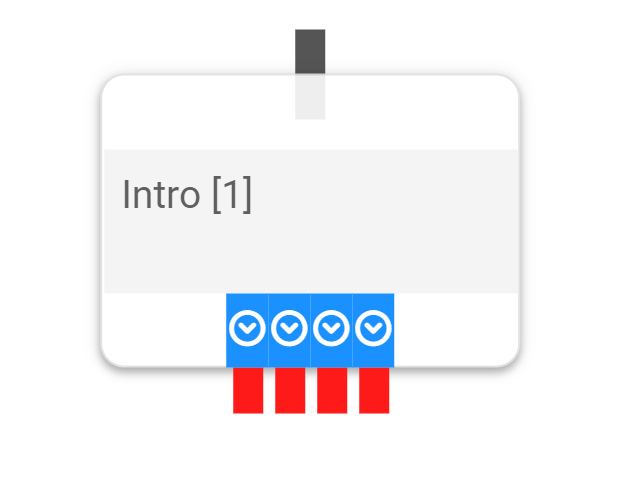 You will now notice that the Gambit now has four red sockets sticking out of the bottom. These sockets correspond to the button options we defined in the gambit. As you will see in the next step, they will allow you to branch the conversation off in different directions based on the user's input
Step 4: Create a second Gambit and connect it to the first
Next, create a second gambit and connect it to the first gambit, by dragging one end to the other, like this: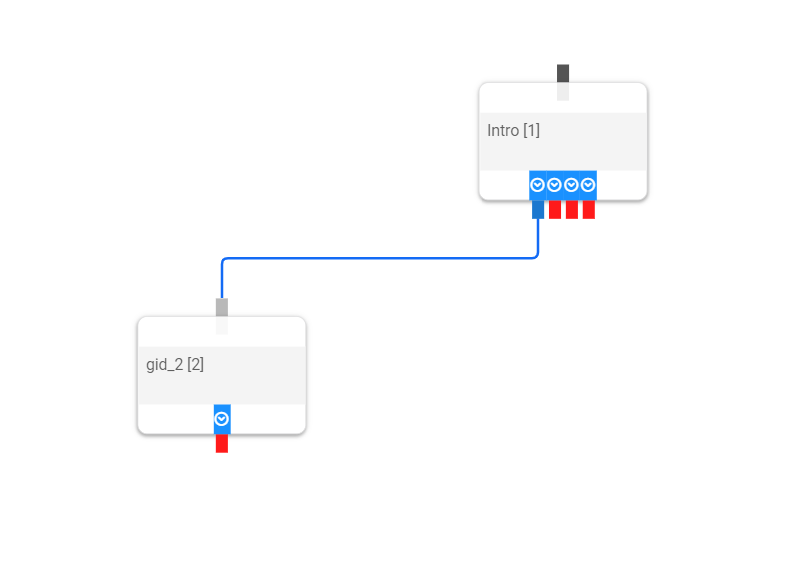 From here on, figuring out the rest of the conversational flow is pretty intuitive. For example: you should fill out the messages in the second gambit such that it responds to the corresponding question that we specified in the first gambit, and so on.
Step 5: Test Your Bot In Preview
Meticulously crafted your entire chatbot flow? Can't wait to test the conversational masterpiece you just created? All you must do then is click on:

And Voila! A preview window will immediately appear on the right side of your screen: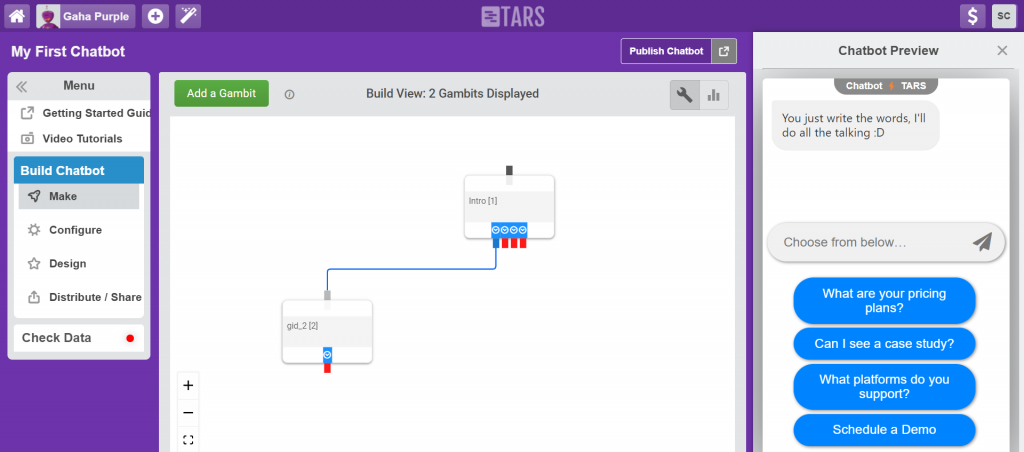 Step 6: Connect your bot to your WhatsApp Business API credentials (Ref: Part 1)
After you are done testing your conversational flow in Preview, click on the distribute section and select the WhatsApp number you want to connect your fresh new bot to. Lastly, hit 'Publish on WhatsApp'.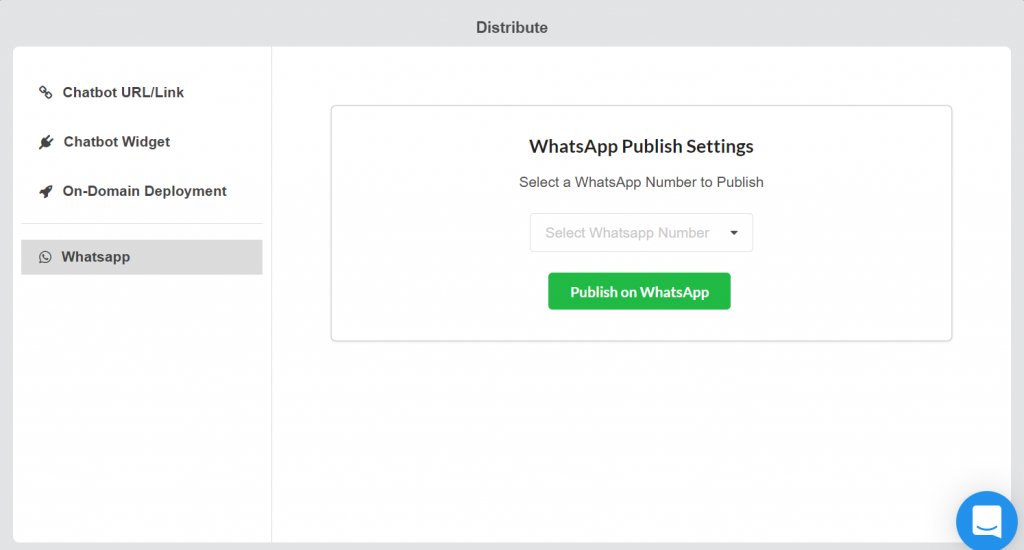 Curious To Learn More About WhatsApp Engagement?
Book a demo with us today and one of our in-house WhatsApp Engagement Experts will personally walk you through the entire process!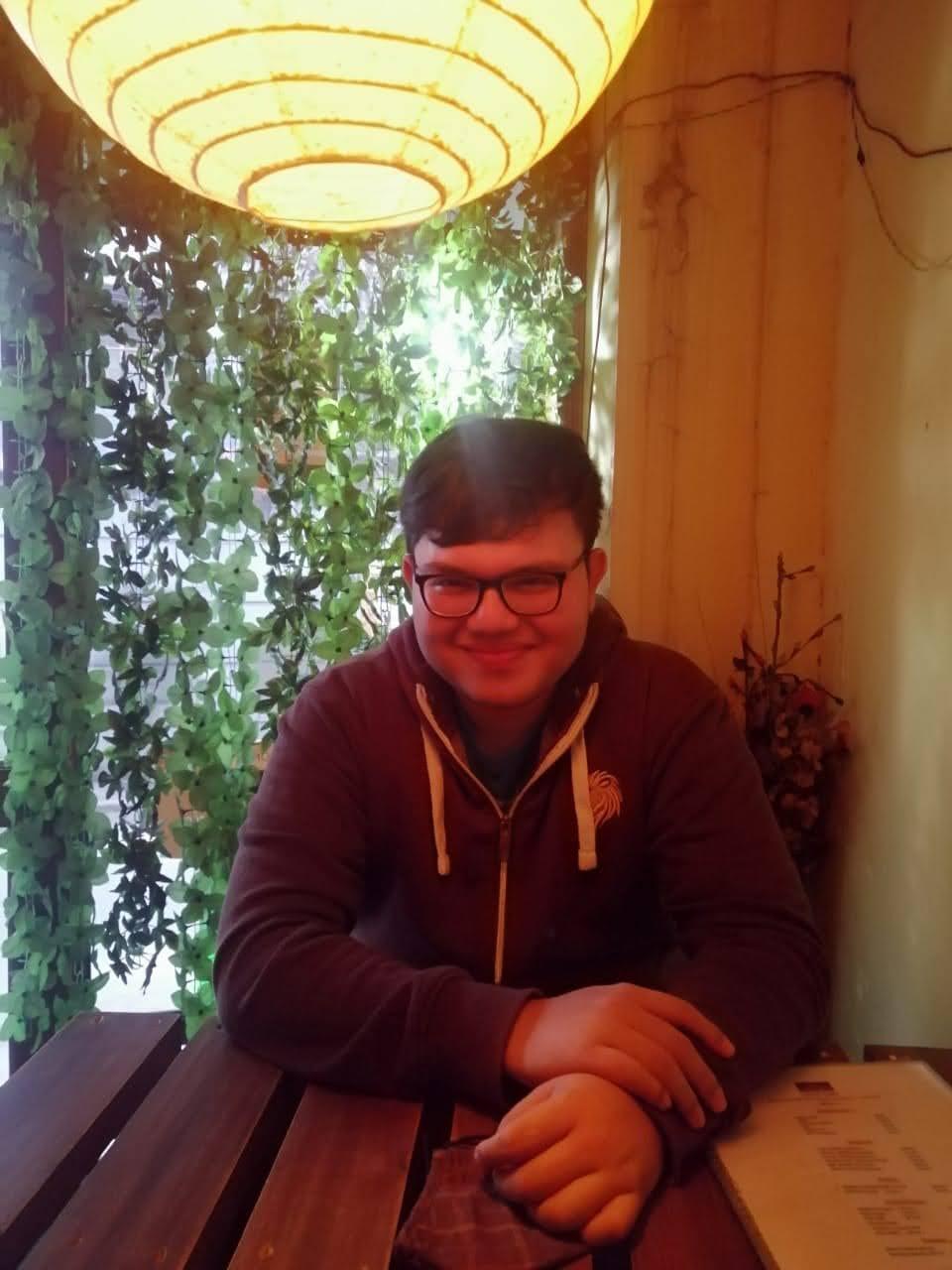 Soham is a content marketer on the Tars team. When he's not writing kickass blog posts like the one you just read he's reading obscure articles from history's foremost anti-enlightenment thinkers and writing treatises to send to his 3 substack subscribers.