As an Indian college student studying in the US, I lead a dual life on the internet. On one hand, I use WhatsApp to stay in touch with my family and friends in India and on the other I use Snapchat and Messenger to stay in touch with my college friends in the US. Working at a chatbot startup, this dichotomy has been a constant source of irritation for me. My phone is filled with so many messenger apps which essentially do the same thing but can't communicate with each other.
More often than not, WhatsApp has been on the receiving end of this annoyance. Why WhatsApp in particular? Well, it seems like a pretty pointless app to me. Messenger has the same functionality(calls, messages etc), Messenger has apps and bots, using messenger on the desktop is easier (your phone doesn't need to be on) and everyone whom I contact on WhatsApp has a Facebook account. To borrow from Telegram founder Pavel Durov, I genuinely believed that "WhatsApp sucks."
Never have I been so wrong about a piece of software in my life.
This past weekend I went for a short holiday with my family to Mysore, a small city a few hours away from Bangalore. On the way there, the cell connection was spotty to say the least. It routinely toggled 4G, 3G, 2G and no connection at all. Snapchat and Messenger struggled. Messenger took 5 seconds each time to send a simple text message. Snapchat? Ha! If Messenger found it hard sending text, forget about pictures and videos.
Both apps strained hard but had little success. I found myself spending way too much time incessantly tapping to resend failed snaps and messages. Using the two apps on Airtel's shitty (yes, shitty is the only word appropriate enough to describe Airtel's service) signal was simply unfeasible.
WhatsApp, on the other hand? Flawless. When the connection was at 1 or 2 bars and all else failed my WhatsApp notifications continued to buzz. No matter what Airtel threw at it, WhatsApp overcame.
The real kicker, though only came up once I reached the hotel. Upon reaching, I found that the hotel did not have free WiFi. I didn't think much of it. I had just recharged my phone with a gigabyte of data and I was all set to weather the WiFi free weekend that lay ahead. But, alas, I was wrong. Again.
My usage of all three apps (Messenger, WhatsApp and Snapchat) was more or less the same, but the disparity in data consumption was huge. Messenger and Snapchat burned through my data in no time. Snapchat used about 150 mb in the span of a day. Messenger used about 20mb. WhatsApp? A mere 2mb at the end of the first day.
Past messaging
A bit of further digging yielded that this discrepancy was not restricted to messaging. There is a whole ecosystem of apps which prizes data management over features, that people in the West have never heard of. The screenshots below are a telling sign of this difference. They show the top 5 apps on the the US play store (left) and the Indian play store (right). I have not bothered comparing iOS because their market share in India is negligible.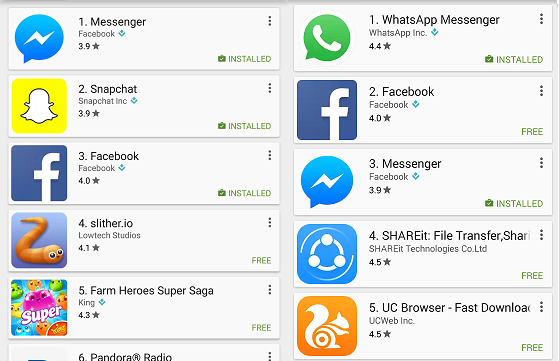 There are some key differences worth noting.
First, WhatsApp is nowhere close to the top 5 in the US, while it is number 1 in India. Similarly Snapchat is nowhere to be seen in the top 5 on the Indian top charts, while it is number 2 on the US store. Ironically, Messenger is one of two apps present on both stores. But this too is not necessarily a result of widespread popularity but rather necessity. For Indians who use a desktop or a laptop, Facebook is by far the preferred messenger because most Internet users have a Facebook account. Add the fact that Facebook makes it harder and harder to message people through means other than messenger on your phone and many users download messenger just in case. WhatsApp is still by far the most popular messaging platform in India.
But, two most notable apps listed are UC Browser and SHAREit. Neither are present on the US charts but figure prominently on the Indian charts.
UC browser is the most popular web browser in India, not chrome. The app has some built in features specifically geared to the Indian market, like a proprietary low impact, cricket score website, a notification widget for cricket scores, lock screen news in Hindi etc. But, its main claim to fame is that it sips data. The tabs do not reload in the background as much as Chrome and wherever possible the browser does not load unnecessary images.
SHAREit is, quite frankly, the closest thing I have seen to magic. It is a file sharing app that uses hotspot technology, which is standard in all modern day smartphones, to transfer files. Apps, photos, full length movies are transferred from one phone to another in a matter of seconds without the need for NFC, Bluetooth or, most importantly, the internet. Again the usefulness of this app is largely pertinent to the Indian market in particular. When you think about the process of watching a movie or listening to music in the US, you think of streaming services like Netflix or Spotify. These sorts of services are not feasible in India. Streaming is data-heavy work that and if Airtel's connections couldn't handle messenger imagine it trying to bear the brunt of Netflix. As such, people pirate content from the Internet. Now in this paradigm, sharing content is no easy task. You can't just suggest a TV show to a friend and have them look it up on their Netflix account. Sharing means letting them know that they have to torrent the file and then transfer to their phone. ShareIt solves this issue by making file sharing quick, and more importantly data-free.
Why this is important
It is abundantly clear that expensive data and slow connections dictate the consumer choices of millions of Indians. The question that developers need to answer is how do they need will address this difference. As developing markets surpass developed markets in Internet usage it grows increasingly hard to ignore this key difference. If you are a developer and want to tap into the immense potential of developing markets like India, you must realise that no matter how game changing your product is, if a consumer can't use your product because of bad Internet they are not going to care about it. Enhancing User Experience is no doubt the end goal of all developers, but the elements that make for a good UX differ by the context and in the Indian context that means being usable on bad Internet connections.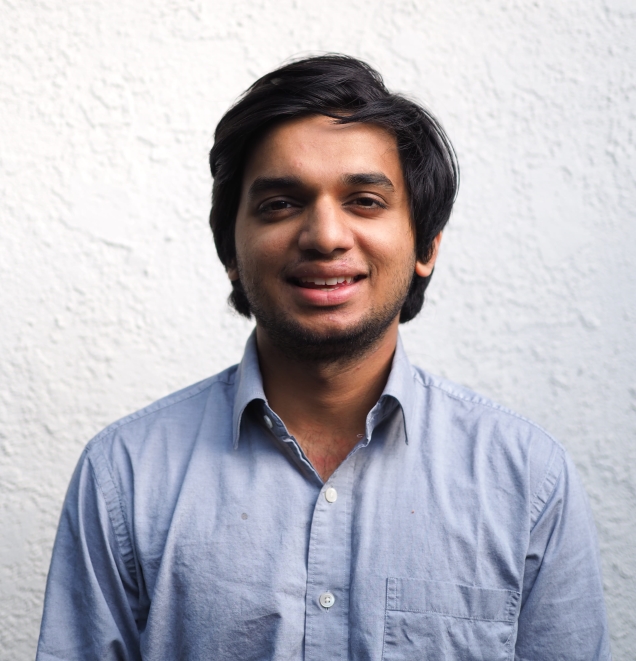 Arnav is the Director of Content Marketing at Tars. He spends most days building bots, writing about conversational design and scrolling through Giphy's trending section looking for the gifs that go into the Tars Newsletter.