How to create an automated hospital virtual assistant
January 28th, 2021 – 12:00 PM EST
Chatbots are here to make healthcare more frictionless.

Using chatbots hospitals can automate routine non-urgent patient interactions (e.g. schedule appointments, access reports, remind patients about appointments), and reallocate that time and effort to what they do best: delivering quality healthcare.
In this webinar, we'll give you a complete breakdown of the what, why and how of automated hospital virtual assistants so that you can create your own virtual assistant for your hospital (or medical practice), and start seeing immediate improvements in your staff's productivity.
About the speaker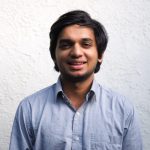 Arnav is the resident chatbot building expert at TARS. He has spent the last 4 years helping dozens of TARS customers improve brand awareness, boost conversion rate and drive more business through the power of conversational marketing. His true passion, however, is animal husbandry, and after completing a long (and fulfilling) career at TARS he hopes to start a first-of-its-kind alpaca farm in the foothills of the Himalayas.
2x Conversion Rates With Conversational Landing Pages
Free 14 day trial. No payment info needed.