How to conduct user engagement quizzes through a chatbot
December 12, 2019 – 1:00 PM EST / 10:00 AM PST
"Engagement" is perhaps the most valuable resource a business can tap into.
Prospects do not click on lead generation forms because they are long and boring🙄
Replacing the interface with that of a chatbot will make the process significantly more engaging, but nonetheless, filling out your email📧, name and phone number📞 into any interface is still a boring prospect for most.
Taking a quiz on the other hand offers the promise of a pleasurable experience to which you would willingly subject yourself😎
On this webinar, we'll tell you how to conduct user engagement quizzes using a chatbot🤖
Slide Deck
About the speaker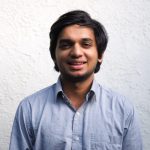 Arnav is the resident chatbot building expert at TARS. He has spent the last 4 years helping dozens of TARS customers improve brand awareness, boost conversion rate and drive more business through the power of conversational marketing. His true passion, however, is animal husbandry, and after completing a long (and fulfilling) career at TARS he hopes to start a first-of-its-kind alpaca farm in the foothills of the Himalayas.
2x Conversion Rates With Conversational Landing Pages
Free 14 day trial. No payment info needed.