Imagine having your customers dashing from one desk to another for hours on end, only to find more customers bee hiving one poor agent with their queries at the final desk. Banks usually don't realize how damaging such an image could be to their name and reputation. Moreover, it could also be a contributing factor to the aversion of their customers towards their services and the banks themselves.
If there's one fact that dissatisfying financial services have established then that is high client dropout rates and if not anything, such a drastic consequence has compelled banks and financial service providers to level up their marketing strategies.
So, what can be the first thing that banks can work upon in order to retain their customers as well as generate new customers?
Building strong relationships with customers, of course!
Now, there are multiple ways to nurture these interpersonal bonds— providing frictionless customer service at every customer touchpoint, creating an omnichannel customer experience for seamless interaction, introducing loyalty programs to customers, etc.
The most popular and convenient way out of those listed above is offering loyalty rewards. Financial institutions, nowadays, stick to ideas that lure customers into thinking that their banks can offer something more than what entails conventional banking.
Bank loyalty programs not only incentivize potential customers but also add a competitive edge to their marketing strategy, proving to be a differentiating factor in a cut-throat competition of financial institutes.
That is all hunky-dory as long as it's just a thought. The concern that now springs up is the process through which banks can put this plan of action into motion. So, they ask a rewards management company to shoulder the responsibility of getting these loyalty programs out into the universe.
But how do these companies help reach thousands of bank customers so easily?
In this story, we will see how Loylty Rewardz Management automated SBI and Union Bank's rewards campaigns with our WhatsApp automation solution.
How did Loylty help SBI and Union Bank?
Loylty Rewardz Mngt Pvt Ltd is India's Premier Loyalty & Rewards management company. They aim at helping the retail and banking industry acquire new consumers and manage the relationship with their existing consumers.
In this case, Loylty had the responsibility of managing SBI and Union Bank's rewards programs— intending to reach thousands of their customers. To get the most out of every resource available, Loylty chose the popular messaging platform, WhatsApp.
The Problem
Before striking a deal with Tars, Loylty ran rewards campaigns for their clients through SMS and Email marketing. Now, we all know how insufferable the results can be, considering the degrading legacy of these channels. No financial institute wants low open rates or low click rates for their campaigns.
The Solution
To raise their open rates and to get visibility for these rewards campaigns, Loylty decided to use WhatsApp marketing as a way to reach their customers and shook hands with Tars to create a fully automated rewards campaign WhatsApp chatbot.
Using Tars WhatsApp Engagement Suite, Loylty sent reward notifications to the customers through the respective WhatsApp Business numbers, for both the banks, in batches. They could not send the messages to such a vast audience in one go because of Meta's messaging limits condition for every business. After getting approval for these campaigns, they were able to reach an audience of six figures.
What's more interesting in all this is that Loylty could schedule these campaigns for any date and time, using our latest WhatsApp Campaign Scheduling feature.
How did Loylty use WhatsApp Marketing?
Loylty's WhatsApp messages for Union Bank looked like these ⤵️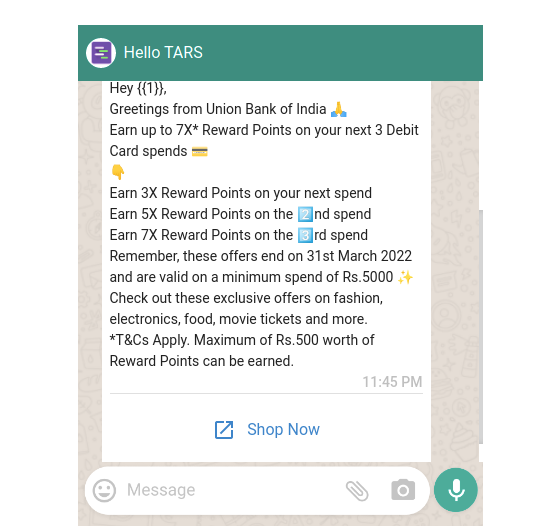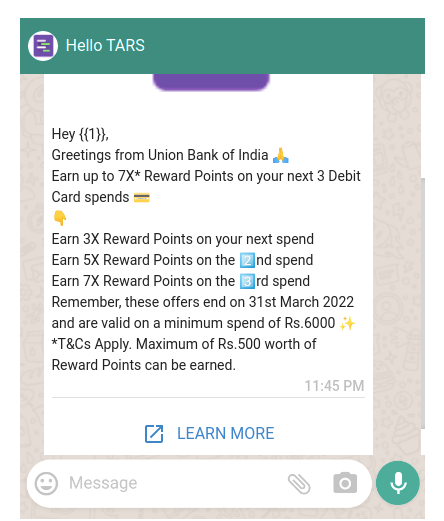 SBI partnered with Dell and thus, Loylty offered all the SBI credit card holders a no-cost EMI on buying Dell Inspiron laptops ⤵️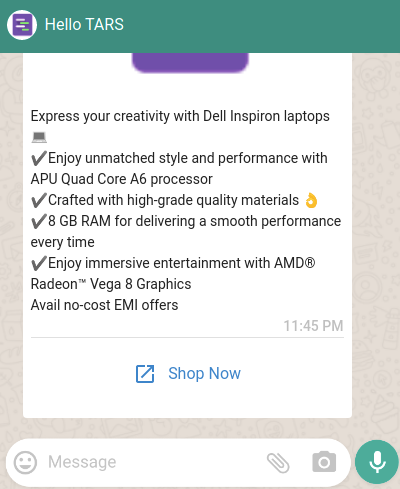 If a customer replied to any of these messages, they would receive a link to the respective bank's website.
What was the Impact?
Though the results were not anything less than a miracle, it is not unheard of in the WhatsApp marketing business. Where SMS and Email marketing gave Loylty open rates as low as 10-15%, the WhatsApp marketing campaign using our automation solution produced some exceptional statistics.
Since we have talked about how getting visibility to their reward campaigns was their main agenda, Tars made sure that this gets ticked first on the checklist. Hence, using our solution Loylty could send the campaigns to more than 16000 SBI customers and 776000 Union bank customers.
While SBI received an open rate of 87%, Union Bank enjoyed an open rate of 88%, much higher than what Loylty got from their previous marketing channel. Furthermore, these open rates could have higher considering the people who have their read receipts off are not accounted for in the statistics.
What value did Tars provide to Loylty?
Apart from the value of visibility that we have been harping on since the beginning of the article, Tars had something extra and special in store for Loylty's rewards campaigns.
Now, in SMSes, for a particular message template, Loylty could have only 60 characters and if the content exceeded the limit, it was counted as more than one message which became a little too expensive for them, seeing the number of customers they had to send the messages to. On the other hand, our platform kept the deal fair and proved to be cost-effective for them.
In addition to this, the final value that we had to offer to them was making these messages transactional. SMSes and Emails don't usually contain an interactive button for customers which might help customers, in case they want to learn more about the program. Whereas, we added a CTA button ("Learn More" and "Shop Now") at the end which landed the customers on the homepage of the banks.
Want to get started with Tars for your business?
Seeing the astonishing results above, you might want the same for your business. Don't waste time and book a demo with us today. One of our in-house experts will personally explain the whole process to you step-by-step, right off the bat.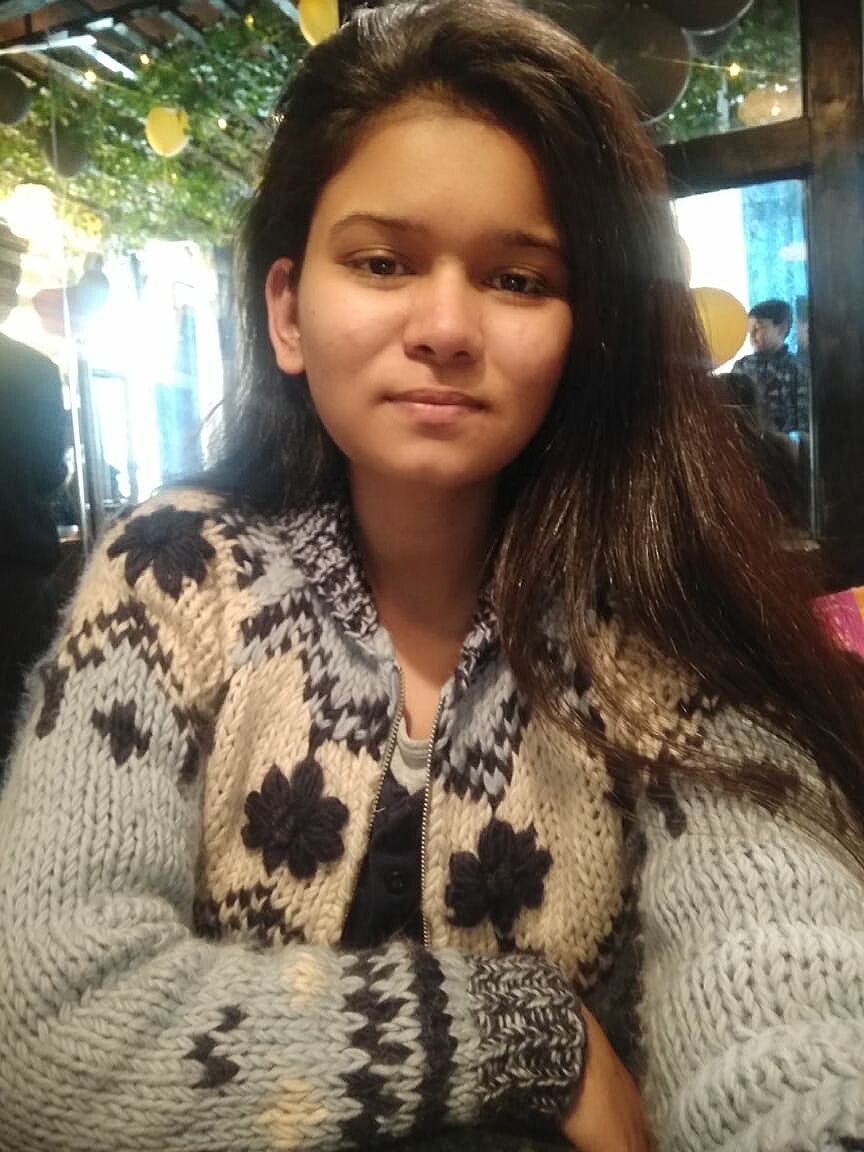 I am a content creator intern at Tars. Besides writing and reading for the most part of the day, I love listening to music. When I'm not doing any of these, I reinforce my quarter-life existential crisis.