Key Takeaways
Hearing Solutions operates India's largest network of professional hearing clinics.
They run digital marketing campaigns on Google, Facebook, SMS and retargeting.
They used Tars Chatbots to increase their conversion rate on these campaigns by 50%.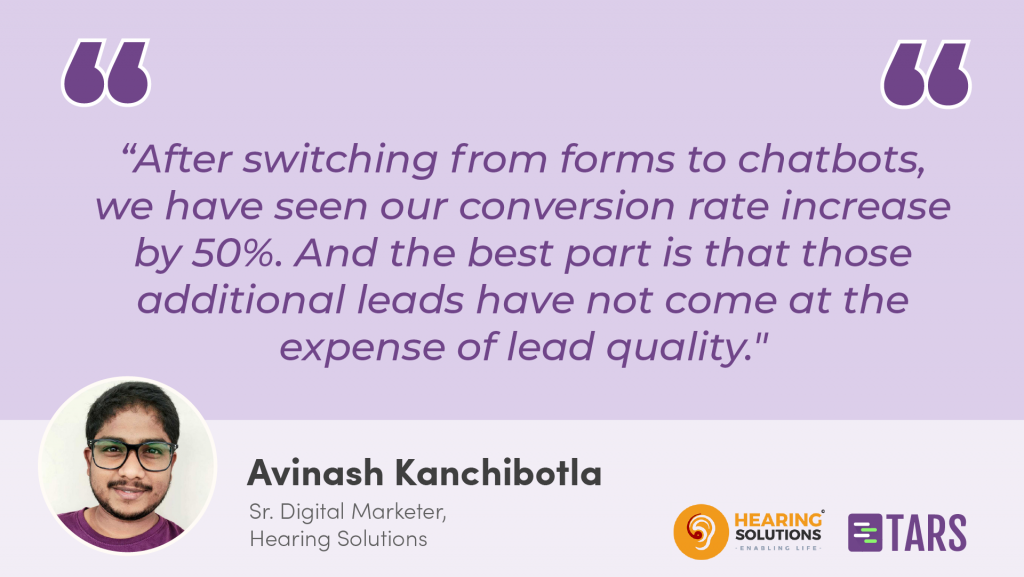 Hearing Solutions is a leading audiology organization in India. They operate the country's largest network of professional hearing clinics and are a premium hearing aids provider as well. Since their founding in 1977, they have served over a million customers through their expansive network of 60+ branches and 100+ audiologists. As if that weren't enough, they also invest considerable resources to spread awareness about hearing health to underserved communities.
Like most modern audiology providers, Hearing Solutions relies on a multi-pronged digital marketing strategy to generate new leads for their business. Using Tars chatbots they were able to make their strategy more efficient and convert more leads without increasing their marketing spend.
How Hearing Solutions Generates Leads
A large part of Hearing Solutions success over the years can be attributed to their effective marketing strategy. Avinash Kanchibotla, Hearing Solutions' Sr. Digital Marketing Executive explained to us that to stay ahead of the competition, his team employs a multipronged digital marketing operation consisting of Google Ads, Retargeting campaigns, Facebook marketing, and SMS campaigns.

The value of this omni-channel approach is that Hearing Solutions meets their customers where they want to be met. Where some people might be proactive about their hearing health and search for clinics on Google, others might be more passive and expect information to be delivered to them where they are already hanging out (e.g. SMS and Facebook).
By marketing on a variety of channels, Avinash and his team ensure that they get in front of both these types of customers.
The Conversion Rate Problem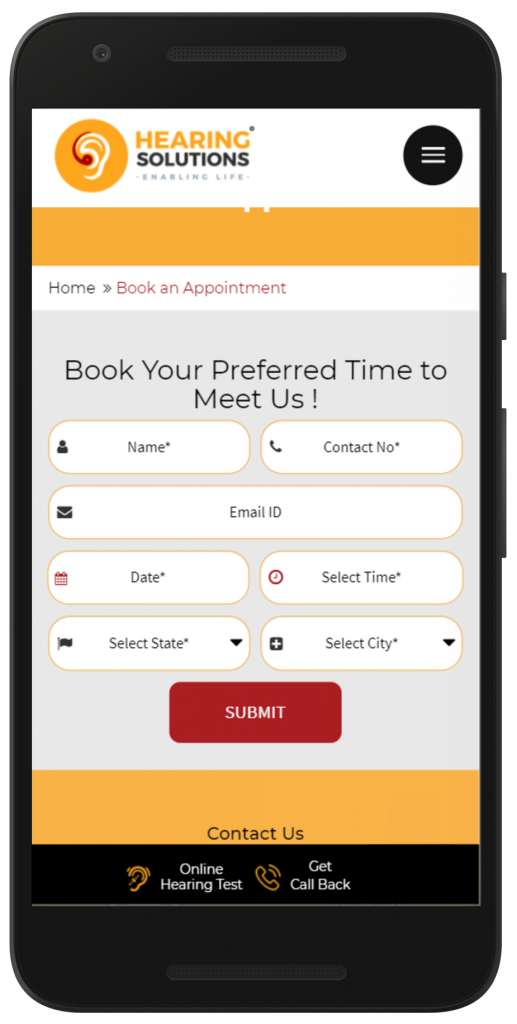 As is the case for most digital marketing teams, Hearing Solutions' issues begin after prospects have clicked onto the page. While they were effective at bringing prospects to their page, getting them to convert once they were there. At the root of their problem: forms.
Lead capture forms have long been a staple of digital marketing campaigns so there is a tendency amongst marketers to think of them as the best way to collect information from prospects.
The unfortunate truth, however, is that forms are clunky, unengaging and absolutely no one likes to fill them out.
Filling out forms is synonymous with tedious bureaucracy and as a result, just their mere sight of them on a landing page causes potential customers to drop without sharing their contact information. This is why, across industries, marketing campaigns like Hearing Solutions', yield a conversion rate of under 10%.
Fixing the Leadgen Process Using Tars
To solve their conversion rate problem Avinash and his team built a website chatbot using the Tars builder. This chatbot essentially achieves the same outcome as the lead capture forms that it competes with. It qualifies prospects based on their individual preferences and captures their contact information. But the way that it does this is completely different.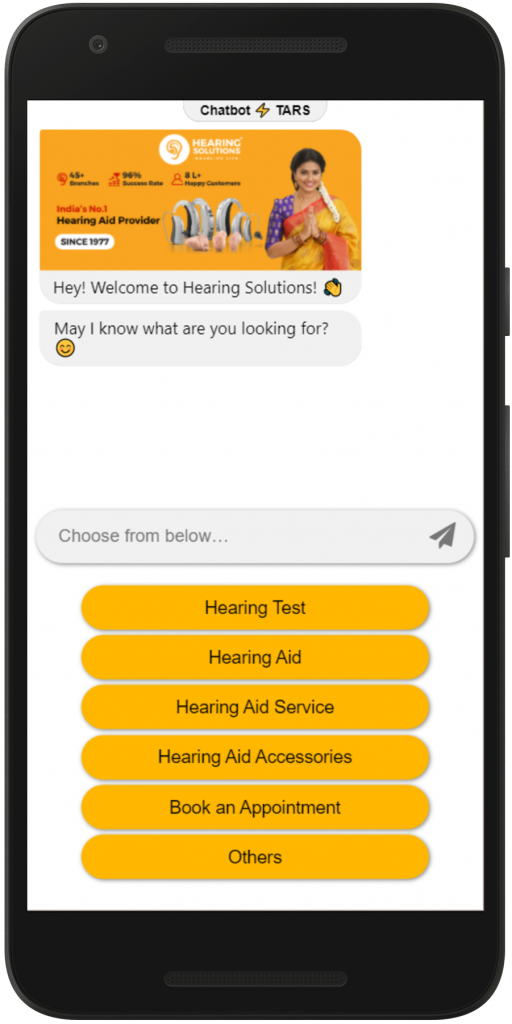 Rather than presenting users with all of the form fields in one go, the chatbot asks for only one detail at a time through a chat conversation. This might seem like a minor change to most but from the prospect's perspective it is a paradigm shift in the way the lead generation process occurs.
Presenting the same form fields as chat bubbles reframes the interaction between business and customers from a tedious form-filling process to a one-on-one conversation with a customer service rep (even if that rep is automated). The outcome is undoubtedly the same as the form, but this reframing alone improves the user experience for site visitors.
The upshot is that when they interact with the chatbot, they are more likely to convert into a lead. In fact, in Hearing Solutions case, prospects are 50% more likely to convert through the chatbot than forms.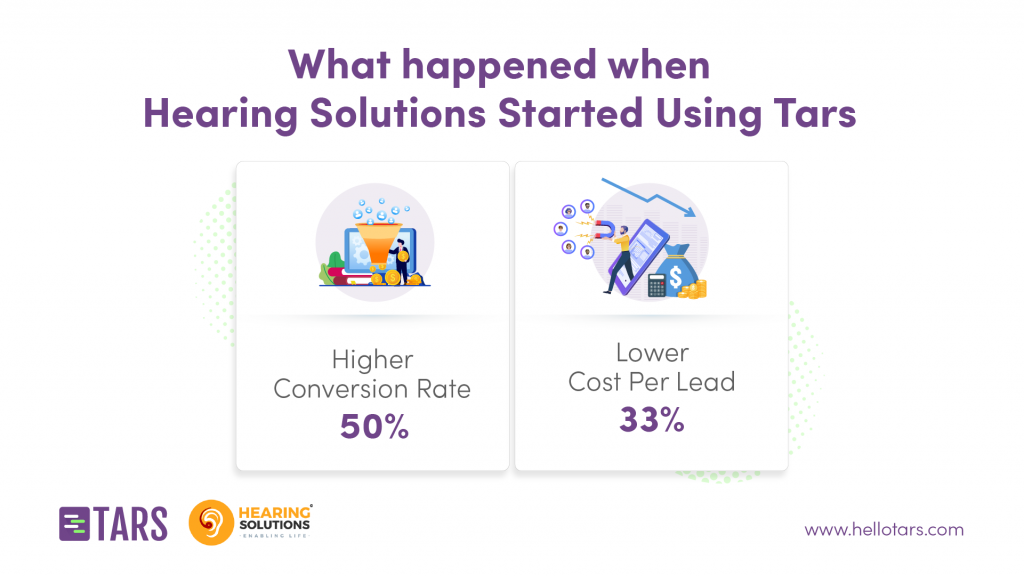 Conclusion
Hearing Solutions' case is a sign of what is to come in the world of digital marketing. As competition for consumer attention increases, marketers across industries will have to look for ways to get more leads without increasing marketing spend. With 50% conversion rate increases the norm, chatbots are the lead capture solution of the future.
If you want to take your leadgen game to the next level like Hearing Solutions did, book a demo with us today.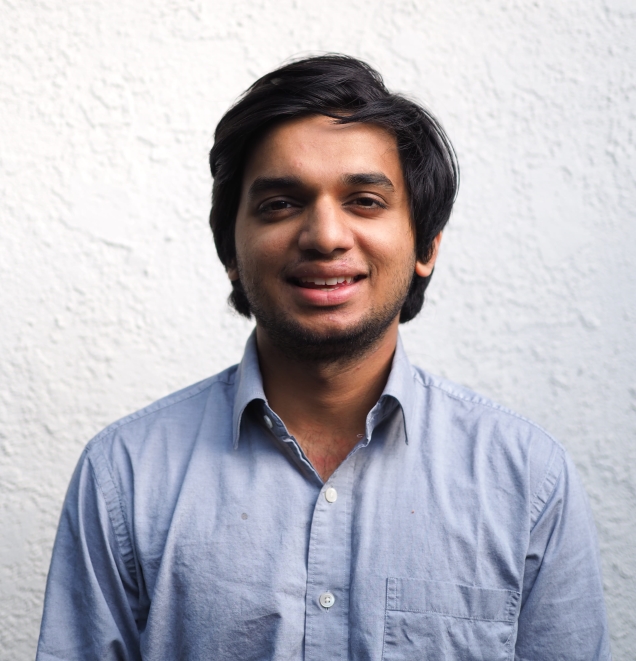 Arnav is the Director of Content Marketing at Tars. He spends most days building bots, writing about conversational design and scrolling through Giphy's trending section looking for the gifs that go into the Tars Newsletter.