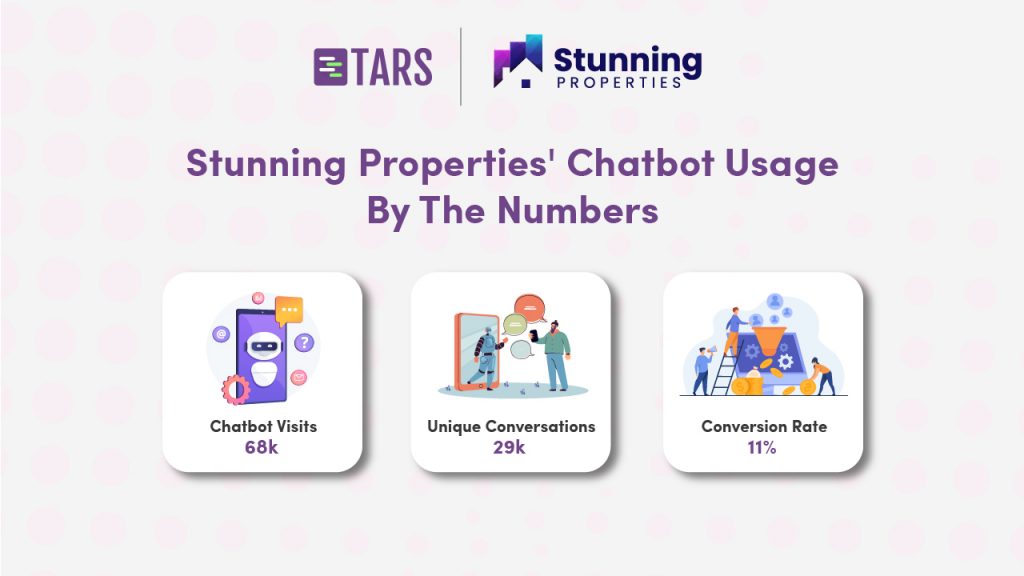 Founded in 1974, Stunning Properties is a leading Indian residential real estate developer. In total, the company manages 25 properties (primarily in Bangalore and Chennai) that account for a staggering 12.86 million square feet of saleable area. Traditionally, the company has focused on the mid-market and affordable housing niches but in recent years they have expanded this scope to premium and luxury properties as well. A key aspect of the company's success, thus far, has been its effective digital marketing strategy. We spoke with Sudhir, Stunning Properties' Marketing AGM about how his team operationalizes this strategy and how they use chatbots to optimize it for better lead quality.
How Stunning Properties' Sells Homes
Like most real estate developers, Stunning Properties organizes its marketing campaigns around specific building projects. When construction on a given property is completed, Sudhir' team begins implementing a digital marketing campaign to get prospective homeowners to sign up for site visits to that property. They adopt a multi-channel approach to these campaigns, engaging prospects through SMS, Google Ads, Instagram Ads, Facebook Ads, and organic Facebook engagement.

Leads captured through these campaigns are sent to Stunning Properties' Salesforce dashboard, where their lead nurturing workflows kick into action. A member of the Stunning call center team follows up with every lead to provide them with more information about the property (amenities, square footage, etc.) and more importantly book them for a site visit to the property. After leads actually show up for a site visit, the Stunning sales team follows up with them with information about home financing to convert them into buyers.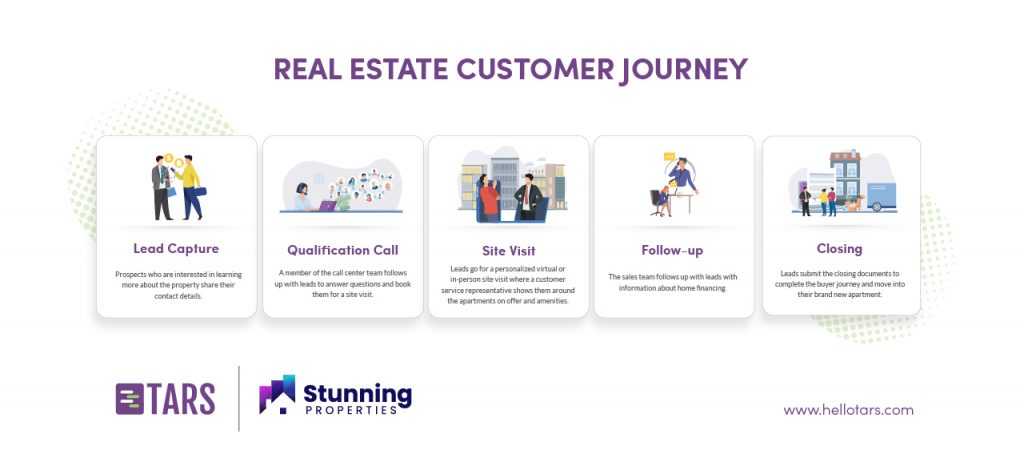 Within this process, there are several factors that contribute to the success of a campaign, but perhaps the most important one, according to Sudhir, is lead quality.
The Importance of Lead Quality
Lead quality is a subjective metric. Depending on the product, vertical, and industry you are marketing for, the definition of quality that a marketer uses to assess their leads is going to be different. In Stunning Properties' case, they defined lead quality as the rate at which leads who booked a site visit actually showed up for their site visit.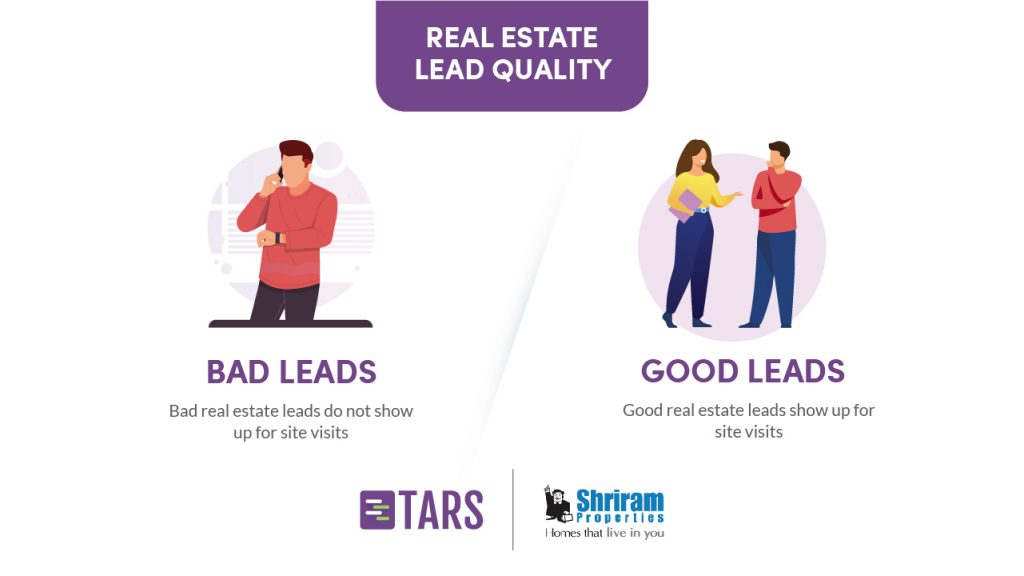 Site visit no-shows are a problem that most real estate developers face. Prospects will often sign up for a site visit and just not show up for it, and this is a problem because site visits dramatically increase the likelihood of a lead turning into an actual buyer. Or put differently, the fewer people show up for site visits, the fewer homes Stunning Properties sells.
Approaches to Lead Quality Optimization
With this KPI in mind, real estate marketers have several levers at their disposal to optimize their campaigns for better lead quality. Most marketers resort to one of two tactics on this front. Either they try to optimize their targeting so that they reach more high-intent prospects, who are actually serious about buying a home (and consequently more likely to show up for a site visit). Or they tweak the lead nurturing process to be more proactive about following up with leads after they've booked site visits so that they are less likely to miss the appointment.
Sudhir and his team decided to go with a third, less common approach to this problem. They decided to improve the user experience of the lead generation process.
How The Lead Generation Experience Affects Lead Quality
To understand how the lead generation experience affects lead quality, you need to understand the behavior of home buyers. Many prospective homebuyers who are serious about buying a home will book site visits at multiple properties over the course of their buyer journey, and often, they will prioritize the properties whose site visits they've booked earlier. For example, if a prospect books site visits at five different properties, and they really like the third property that they visit there is a good chance that they will proceed with that property and not show up for their fourth and fifth site visits.
Given this behavior, real estate marketers need to make a memorable impression with prospects well before the site visit because that will excite prospects about the property, which in turn negates any inclination that the prospect might have to commit to another property before completing the site visit. In other words, they are more likely to actually turn up for a site visit.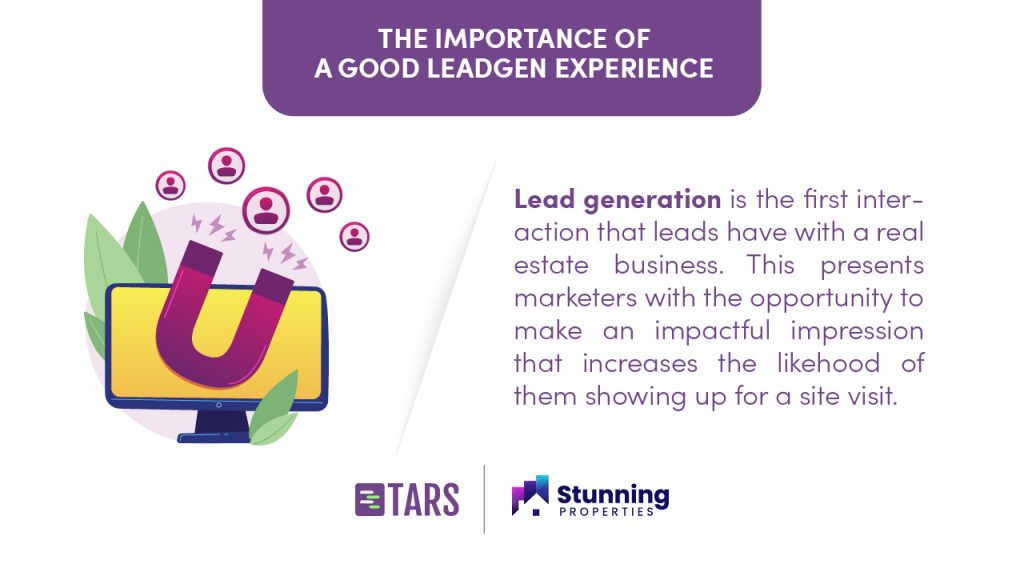 That memorable impression is where the lead generation experience comes into the picture.
Like the common adage says, first impressions are lasting impressions. In the context of real estate marketing, the lead generation experience is the first impression that prospects get about a real estate company. As such, to effectively excite prospects, real estate companies need to make the most of those few minutes that prospects spend checking out renders, perusing floor plans, and even filling out information request forms.
Revamping Lead Generation Using Chatbots
To improve Stunning Properties' lead generation experience, Sudhir and his team decided to add a conversational element to their landing pages. They used the Tars drag-and-drop builder to create a basic lead generation chatbot that could provide information about properties, collect basic lead information for a callback, and even book site visits without the assistance of the call center team.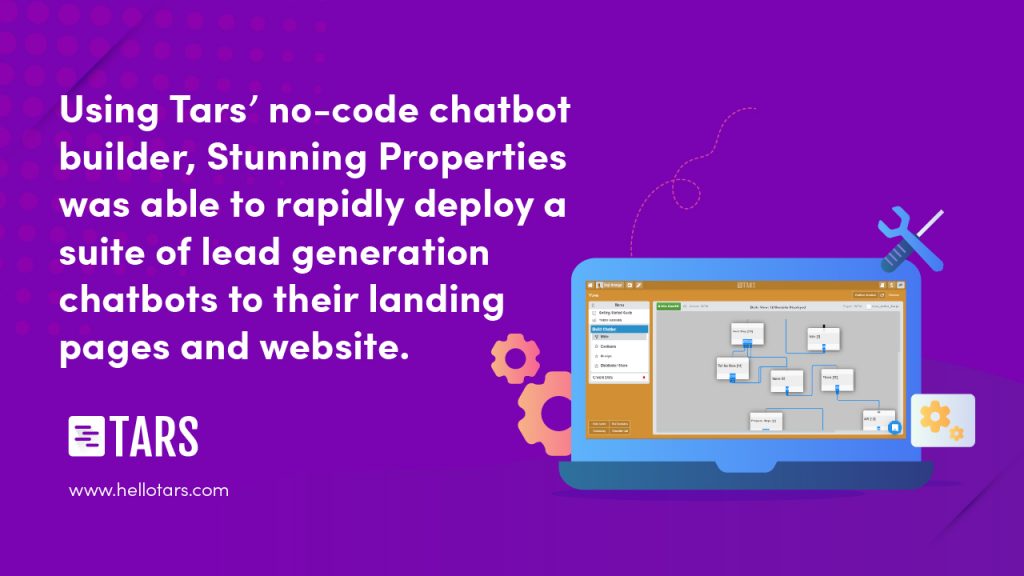 The chatbot was deployed to their campaigns in two ways. First, it was deployed as a conversational landing page. This method of chatbot deployment involves sharing a direct link to the chatbot's webpage through your marketing channels. When users click on the link they are dropped onto a landing page that looks and feels like a chat conversation as opposed to a traditional, forms + blocks of text, landing page. While this method of chatbot deployment yields benefits across device types, it is a particularly effective way to capture leads on mobile devices as chat interfaces are inherently more mobile-friendly than traditional landing pages.
Second, it was deployed as a widget to their traditional landing pages and website. In this incarnation, the chatbot served as a sort of escape hatch for prospects who did not want to read through the mountains of text and images on the webpage and wanted to skip ahead to the part of the buyer journey where they talk to someone from the Stunning team to set up a site visit.
Why Chat-based Lead Capture Is Better Than Form-based Lead Capture
Think about it this way. If you walk into a real estate agent's office to inquire about apartments and they hand you a brochure and a paper form to book a site visit, the entire interaction turns into a bureaucratic chore. You don't want to read the text in the brochure, and you most certainly aren't excited about filling out a form. This does not make for a positive first impression, which in turn would decrease the likelihood of the prospect showing up for a site visit.
If, on the other hand, the agent, personally explained the information from the brochure and asked you for the information that goes into the form, the entire experience would be reframed to a personalized customer service experience.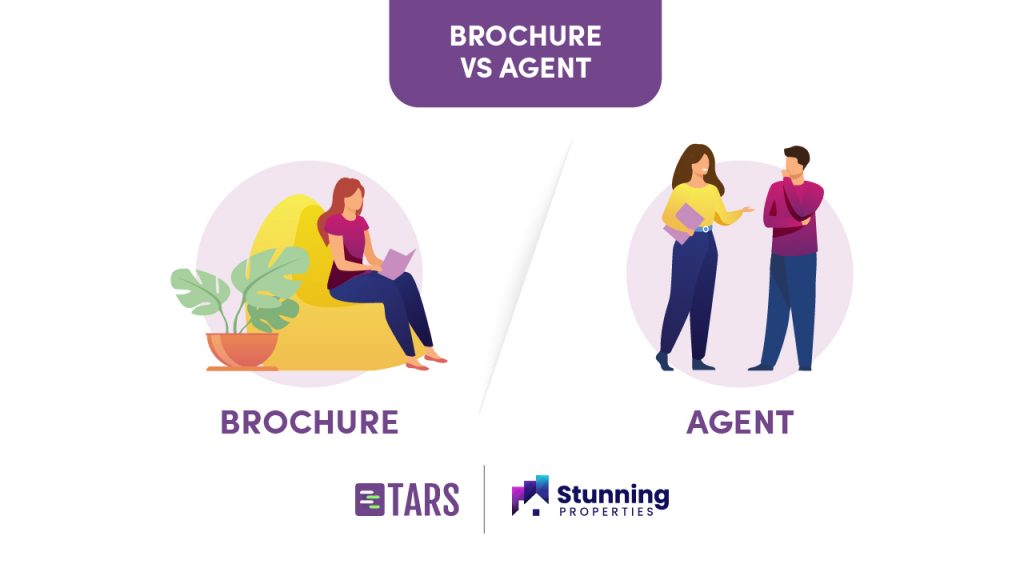 This same principle applies to online marketing experiences as well. For decades marketers have taken the lead capture process for granted. You throw a landing page and ask prospects and if your targeting is good, they'll give you their email id or phone number. But that's not how prospects think. Landing pages are essentially digital brochures and forms. They're just as cumbersome to interact with and they do not deliver the impactful first impression that real estate marketers need to make to get people to show up for site visits.
Chatbots, on the other hand, are the digital equivalent of the real estate agent that personally walks the visitor through the lead capture journey. Similar to the real estate agent, they transform the otherwise bureaucratic experience (of filling out forms) into a personalized customer service experience.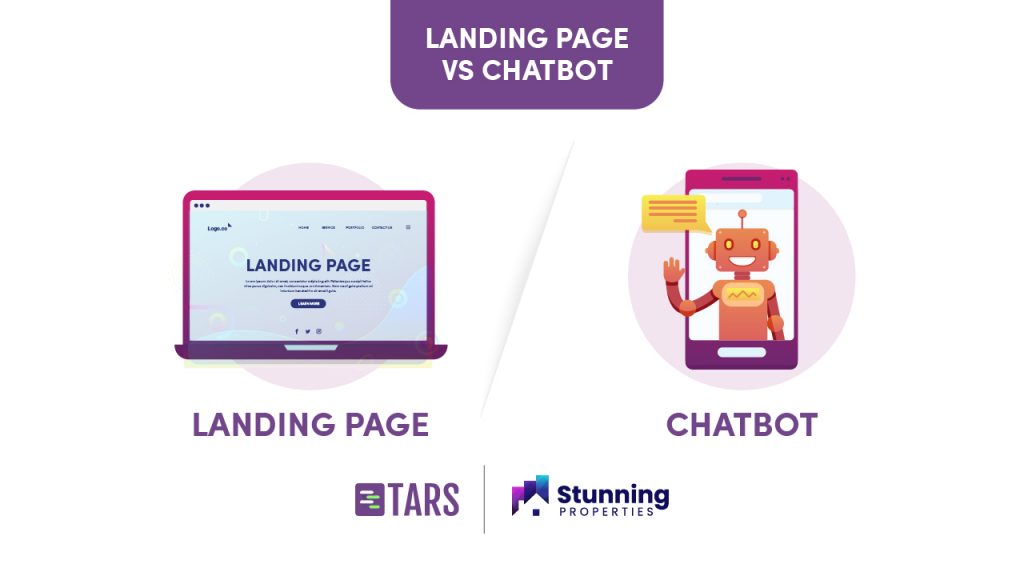 This added customer service conveys a degree of care to the lead capture experience that makes it stand out from traditional lead capture experiences, which in turn creates the impactful first impression that real estate buyers want.
Unsurprisingly, after making these improvements, Stunning Properties saw an uptick in the rate at which leads were actually showing up to site visits, which in turn translated into more sales.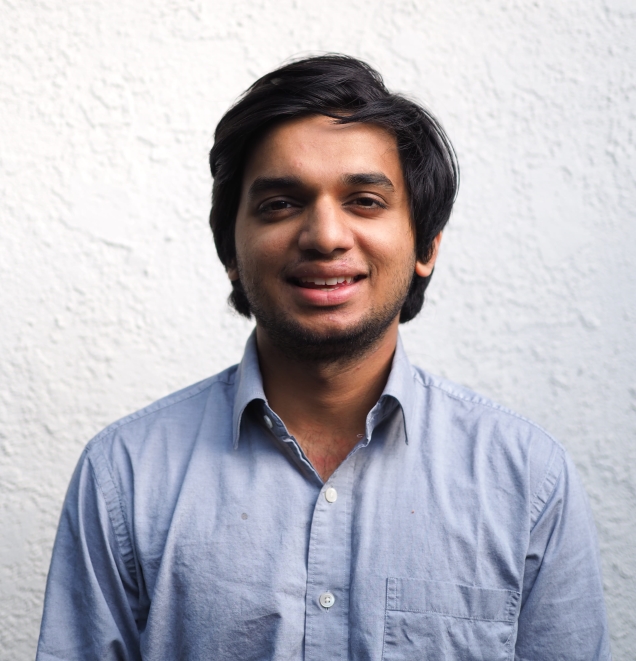 Arnav is the Director of Content Marketing at Tars. He spends most days building bots, writing about conversational design and scrolling through Giphy's trending section looking for the gifs that go into the Tars Newsletter.