Overview
The growing trends in online shopping over the course of all these years have created a stir in the ecommerce industry to such a great extent that retailers had to come up with ways that could enhance conversational commerce.
With the advent of conversational interfaces such as a natural language AI chatbot in the digital world, retailers have been able to drive in more online sales. Conversational interfaces can also improve the shopping experience of a user by making the conversation personalized through chatbots.
Bring into this a messenger app called WhatsApp and you have the best ecommerce chatbot in your kitty. Such bots can act as virtual assistants for your customers, driving greater upsell and cross sell.
In this ultimate guide, you will learn the magic of AI powered conversational interfaces and how they not only improve the shopping experience of a user but also drive sales for a retailer.
Introduction
Over the last decade, online shopping went from a fringe curiosity to an indispensable part of modernity. New fortunes were made and old experiences were revolutionized— until one morning, the idea of buying things at a click suddenly became the new normal.
Since you've arrived here, you're probably considering how to drive online sales and customer retention usingWhatsApp conversational AI to generate real value for your Retail or E-commerce companies. With a step-by-step guide to the TARS WhatsApp Engagement Suite, we are here to help you understand how.
But before we dive in, here's a brief look at what you'll get in our Ultimate Guide To WhatsApp Marketing (For Retail & E-commerce) 👇🏼
The Secret Sauce of WhatsApp Engagement
In the public imagination, WhatsApp is viewed (rightfully so) as the most popular instant messaging service in the world. With more than two billion active users — if WhatsApp was a country, it would technically be the most populous one.
But what's often overlooked in the public discourse is the incredible technical infrastructure that WhatsApp provides for brands to enhance & upgrade their ⤵️

✅ Lead Engagement: Pre-sale; includes lead generation and lead conversion
✅ Customer Engagement: Post-sale; includes transactional messages, customer marketing, and customer support.
Now here comes the big reveal.
Since WhatsApp is free for individual use, it's infact WhatsApp Business& its APIs that generate the lion's share of the company's revenue. Yet, WhatsApp markets itself as primarily a consumer centric company.
This is not by accident, but by design.
By marketing themselves as an instant messaging app to communicate with friends and family, WhatsApp allows brands to position themselves as much more approachable, trustworthy and personal in all its customer interactions.
No wonder WhatsApp Messages have an open rate of nearly 98% and a response rate of nearly 40%! By giving 5x times more visibility and responses than any other channel, WhatsApp blows every other lead & customer engagement channel out of the water.
We knew that going ahead, WhatsApp Engagementwill define the future of conversational commerce. This is why we originally committed to building the TARS WhatsApp Engagement Suite.
Our first order of business? Cracking WhatsApp Automation.
Understanding WhatsApp Retail and Ecommerce chatbots
Imagine a robot employee that never sleeps, never vacations and is always at your beck and call to handle an infinite number of tasks, repeatedly.
Wouldn't that robot be a delight? If you can understand the appeal of a robo-employee, then you already get WhatsApp Automation.
WhatsApp retail chatbot and ecommerce chatbot engages your leads & customers by simulating human conversations based on a predefined set of conditions, that you are free to determine according to your use-case.
Most importantly, it does so at a fraction of the cost you would otherwise spend in hiring an army to manually communicate with your customers.
But it's not just about the numbers. It's about processes. WhatsApp Automation fundamentally transforms how businesses view customer journey, by enabling:
WhatsApp Virtual Assistants
Personalized Service
Order, Shipping & Delivery Updates
Wishlist & Cart Abandonment Reminders
Instant Support to Customer's queries
In other words, we are entering a world where Marketing, Sales, and Customer Support communication will no longer be siloed in neatly separated categories.
They will all become different parts of a giant Engagement Engine, being run on WhatsApp.
WhatsApp Use-Cases For Retail & E-commerce
1. WhatsApp Virtual Assistants
Key Benefit: Lead Conversion, Ease of Discovery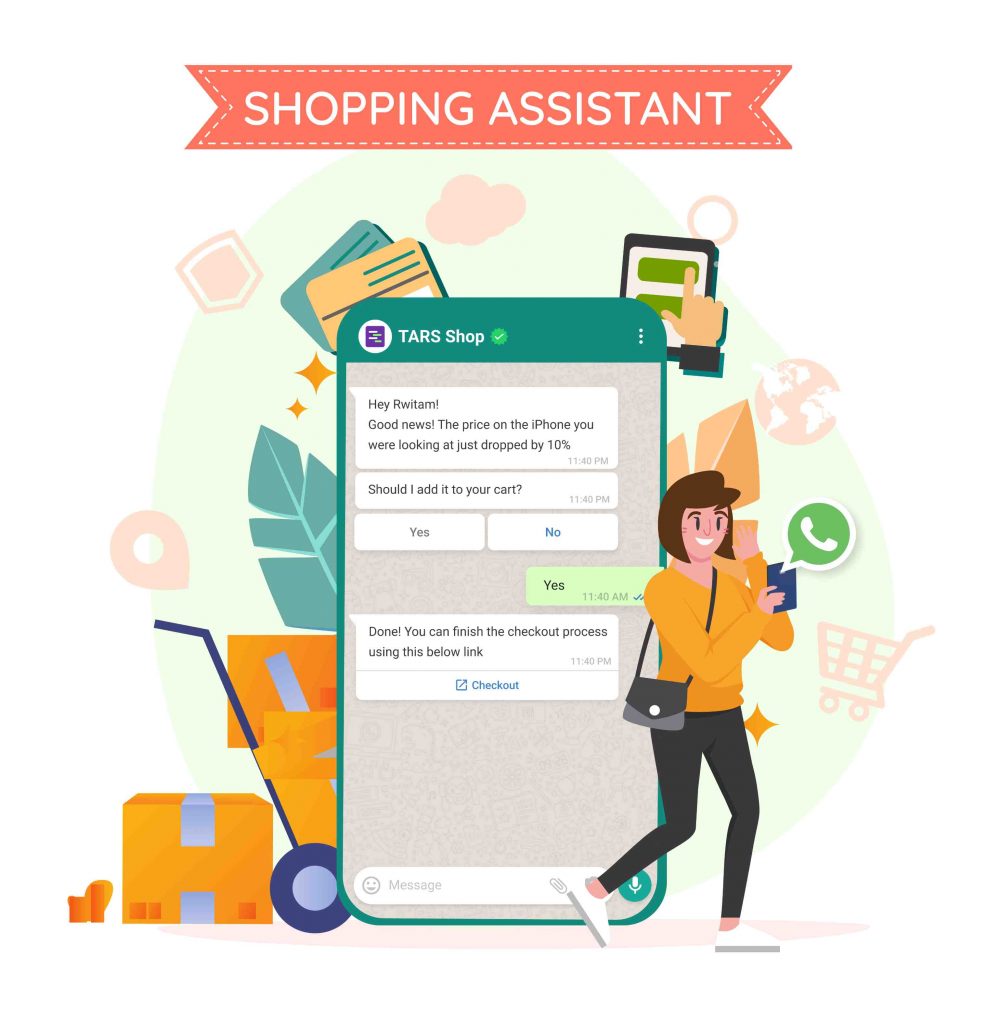 In the bygone age of traditional, brick & mortar stores, a friendly chat with a lovely 'retail clerk' was enough to ensure a guided shopping experience and resolve a buyer's decision-making uncertainty.
From product recommendations and aisle directions, to introducing brand new merchandise and clarifying the store's returns policy — retail clerks were a one-stop solution for all things customer 🛒
However, in the age of hybrid retail & e-commerce businesses, an army of retail clerks is hardly a feasible option. That's where WhatsApp Shopping Assistants come in and automate two key process:
Product Discovery
Lead Conversions
Instead of trying to sell you on a million things at the same time,Tars WhatsApp Engagement Suite presents your consumers with a clean interface with list menus, where they can direct the product discovery process, and learn more about the same, without ever leaving the WhatsApp chat.
But that's not the only way you can use our WhatsApp Engagement Suite to improve your conversion rate! If your business already runs Facebook / Instagram ads you can seamlessly redirect your high-intent leads into the WhatsApp Shopping Assistant to re-engage and convert them into happy, happy customers. Running Offline Advertisements too? Just add a QR code and you are good to redirect your offline leads into the funnel of WhatsApp Engagement.
2. Personalized Service
Key Benefit: More Revenue from Existing Clients.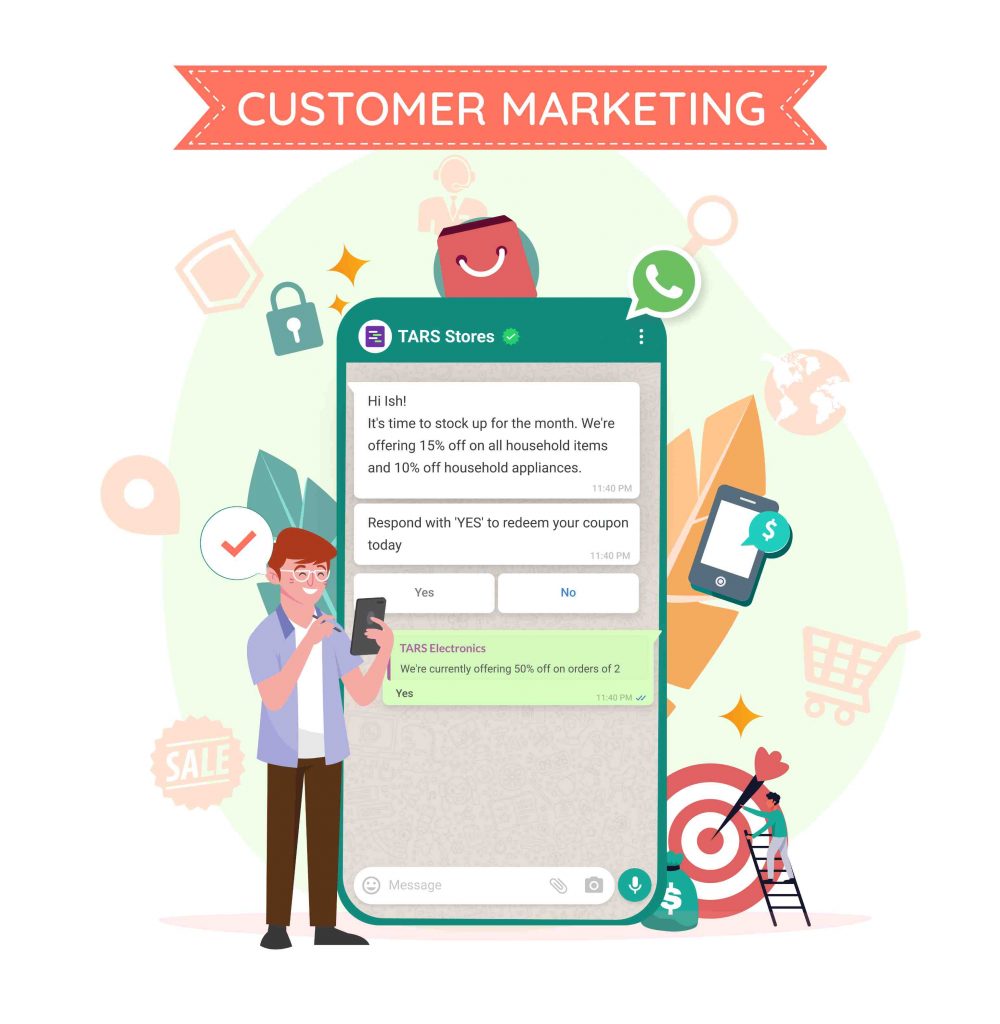 Customer marketing is a term that refers to any marketing activity that's aimed at your current customers. While channels like Email & SMS have been traditionally used for customer marketing campaigns, they tend to have extremely low open rates and non-existent response rates.
Where Emails & SMSes fail, WhatsApp shines. Using the One-Time Campaign feature in the Tars WhatsApp Engagement Suite – any retail or ecommerce business can drive more revenue from their existing customers by sending personalized offers, product launches, discounts, coupons, product recommendations, and referral codes to segmented audience lists; just like Big Bazaar did.
3. Order, Shipping & Delivery Updates
Key Benefit: Engaging Customer Experience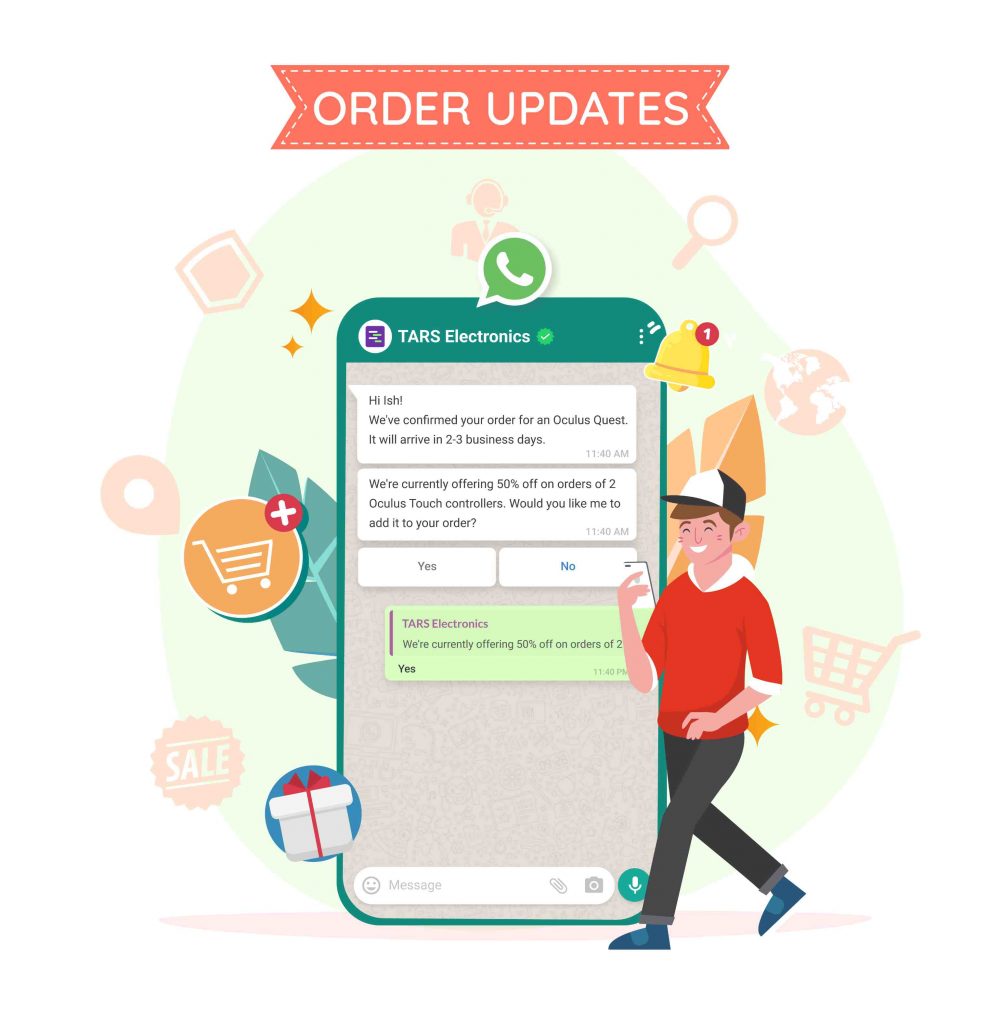 We all know the boring transactional messages that tend to pile up in our SMS or Email Inbox. They are cold, impersonal and serve little purpose other thank ticking a checkbox in customer communication.
What if we told you that not only can these transactional messages be turned into engaging chat-based conversations — but they can also be triggered automatically, straight from your CRM!
That's right, using the Tars WhatsApp Engagement Suite — your Retail/E-comm enterprise can automatically trigger a smart notification for:
Order Update (for when a product is ordered)
Shipping Update (for when a product is shipped)
Delivery Update (for when a product is delivered)
Delay Update (for when a delivery is delayed)
Invoice Update (for when an invoice is generated)
4. Wishlist & Cart Abandonment Reminders
Key Benefit: Lower Cart Abandonment Rate, Discover Hidden Value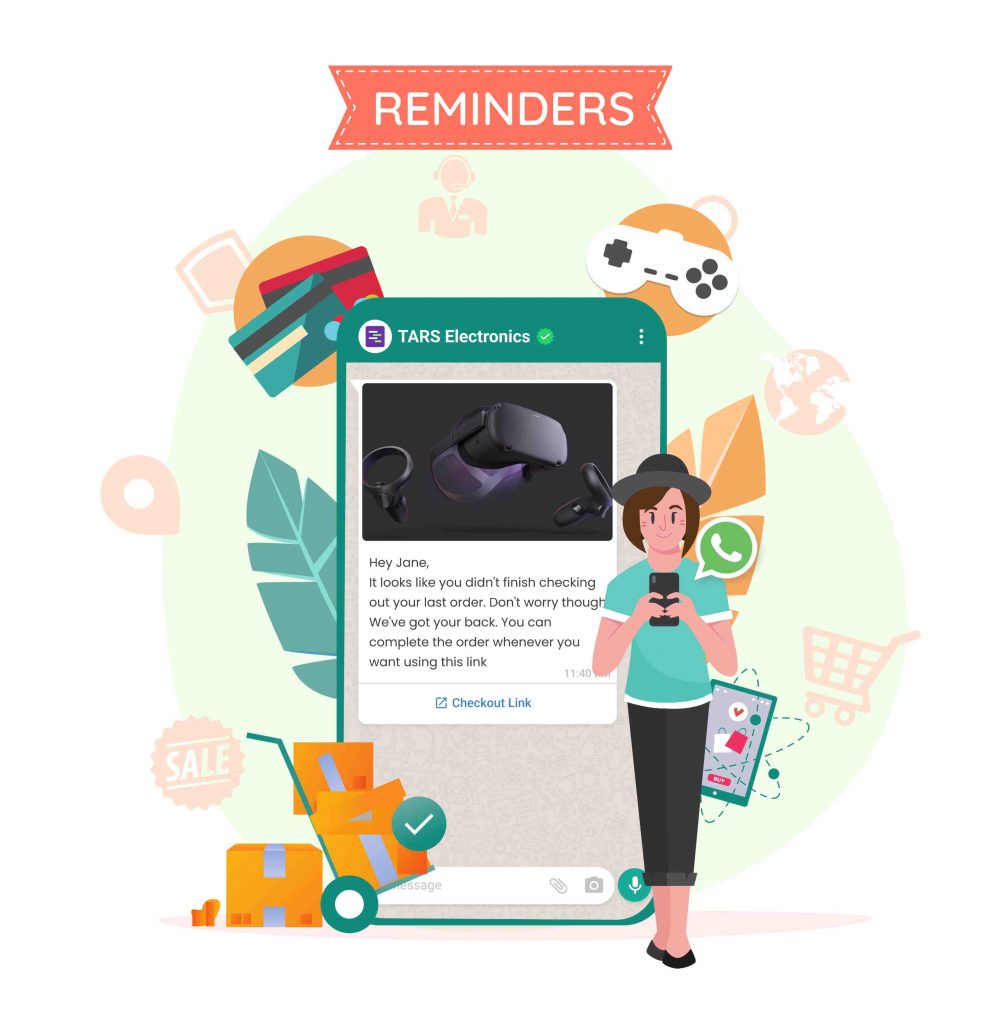 The retail & ecommerce space tends to have lower net margins which in turn necessitates a higher volume. This naturally translates to every retail brand aiming for:
big cart sizes
low cart abandonment
In both cases, customers need to periodically re-engaged, such that they receive
wish-list reminders
cart abandonment reminders.
That's where the Tars WhatsApp Engagement Suite comes in. Using our Ongoing Campaign feature not only can you automatically trigger wish-list and cart abandonment reminders that customers actually read, but most importantly — you can bring customers back into the buyer journey and uncover hidden value in your funnel.
5. Instant Support to Customer's queries
Key Benefit: Improved Customer Experience, Low Turnaround Time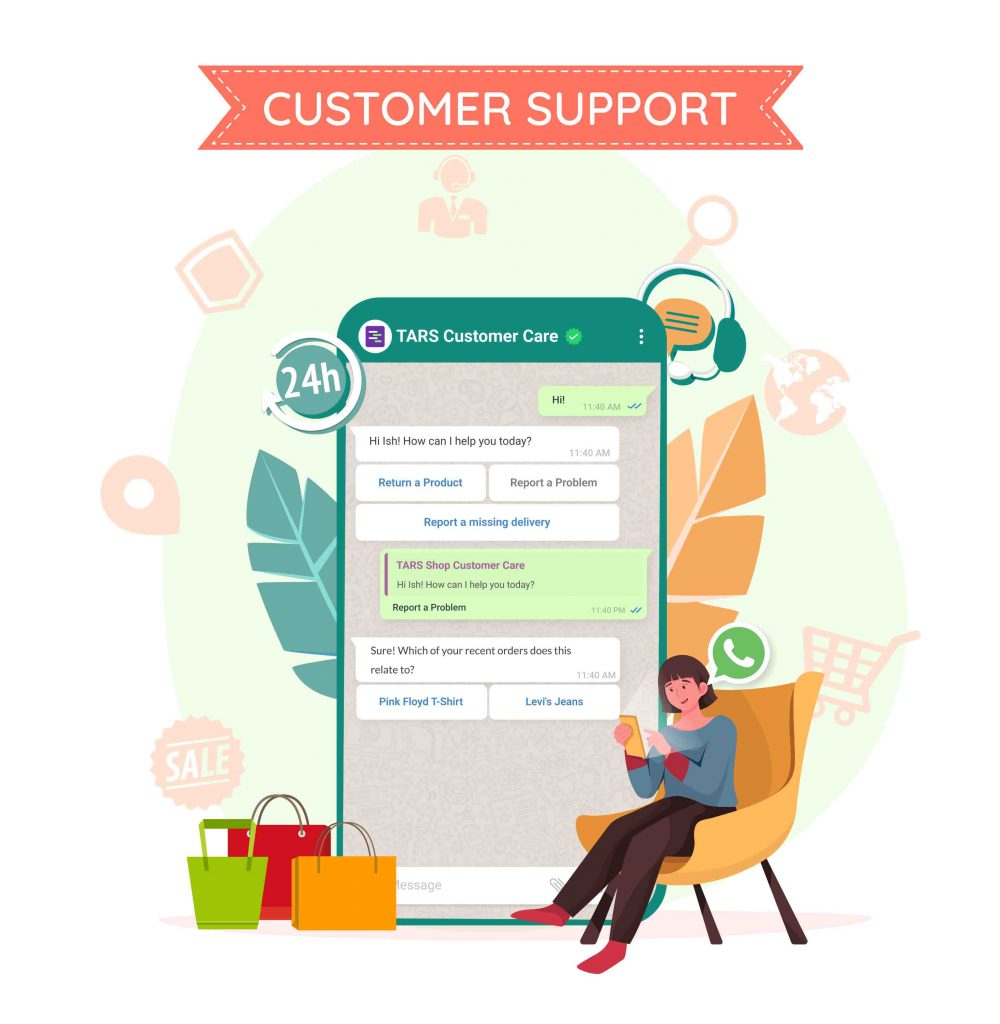 In the e-comm or retail space, customer support queries tend to typically involve:
refunds,
returns
subscription payments
Since hiring an army of live agents is cost-ineffective and leads to annoying wait times, you can get all your commonly-asked customer queries answered automatically, 24×7, through the Tars WhatsApp Engagement Suite.
What Are The Features Of Tars WhatsApp Engagement Suite?
🔐Key Features
1️⃣ Conversation Automation
At its core, Tars is an innovator in the Conversational Tech space. Naturally, we ought to begin by highlighting the role of Conversation Automation in the Tars WhatsApp Engagement Suite.
To start with, conversational automation engages your customers by simulating human conversations based on a predefined set of conditions that you are free to determine according to your use-case. Moreover, it does so at a fraction of the cost you would otherwise spend in hiring an army-sized team, for manually communicating with your customers.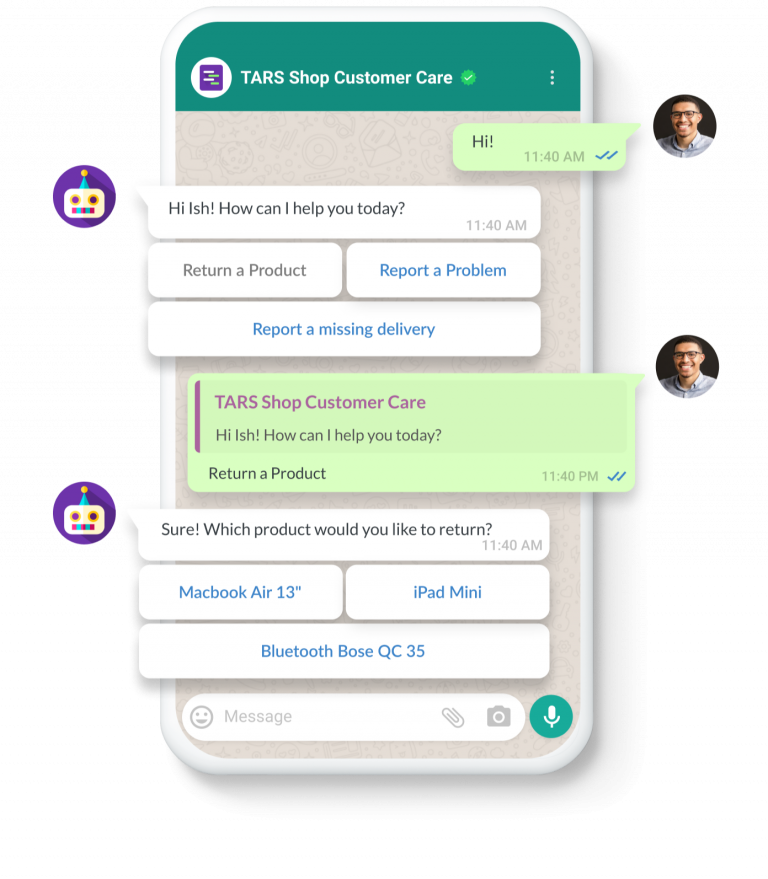 But what makes the combination of WhatsApp + Conversational Automation special is that it allows you to reimagine ANY customer touchpoint as an engaging conversational, which in turn 🚀🚀🚀 both your CSAT and Customer Experience.
2️⃣ No-Code Chatbot Builder
While the hype around no-code tools has been rather recent, we at Tars had recognized the immense potential of no-code from right when we started.
That's why with the Tars No-Code Chatbot Builder, your marketing or customer success team can take chatbots from ideation to deployment to optimization without ever involving the IT department.
Isn't that awesome?
Be it fixing a grammatical error in your chatbot copy or completely overhauling the chatbot, our builder will enable you to make and deploy changes to your conversational flow without ever meddling with even a line of pesky code.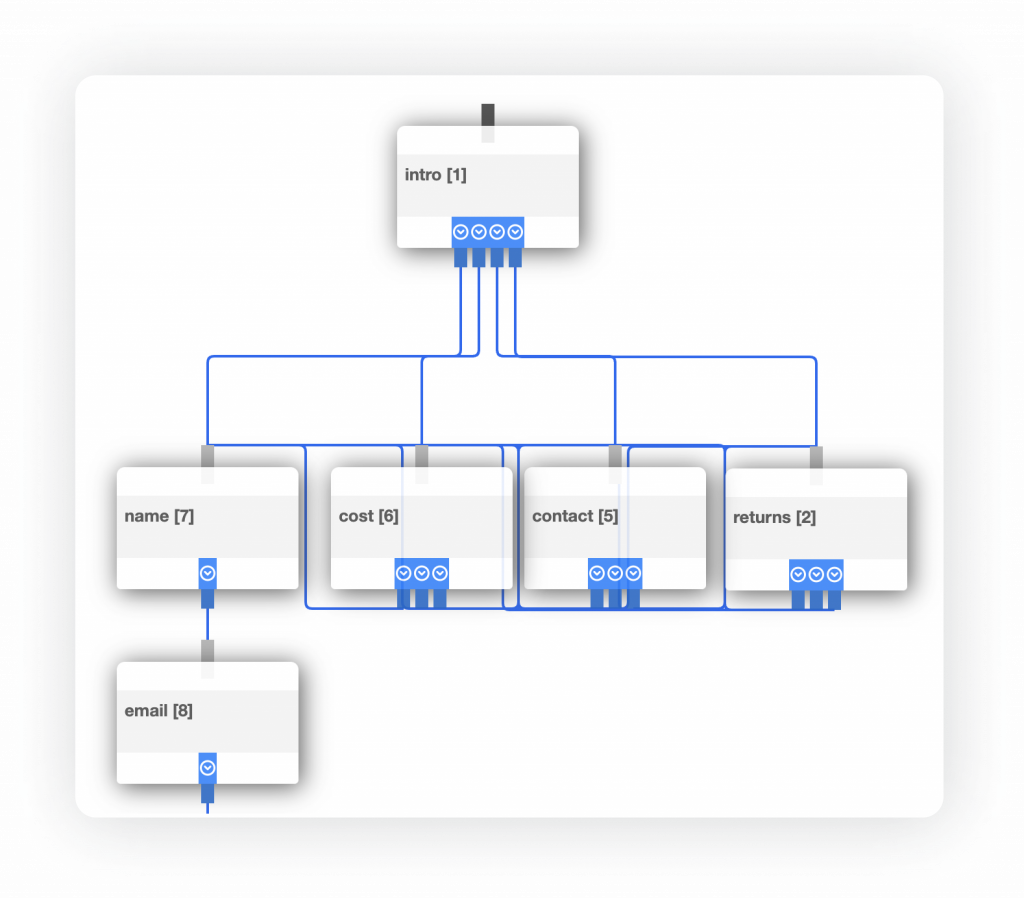 3️⃣ One-Time Campaigns
Using the One-Time Campaign feature in the Tars WhatsApp Engagement Suite, businesses like yours can send customized template messages to segmented audience lists so as to drive more revenue from your existing customers through latest offers product launches; all while consistently hitting 80%+ open rates.
With this feature in your bag, you can finally bid a permanent farewell to low-engagement, one-size-fits-all message blasts to your whole list.
Why? Because your business can now create custom audiences for your campaign in our campaign audience manager, thereby leveraging segmentation to achieve unparalleled open and response rates.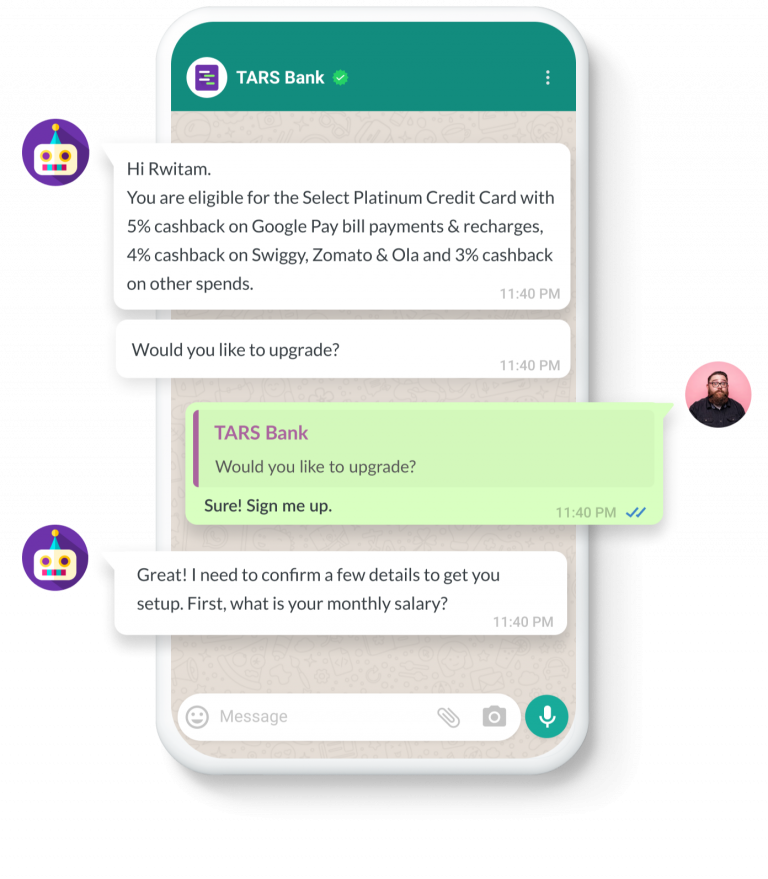 4️⃣ Ongoing Campaigns
Ever received a WhatsApp Notification confirming your flight/hotel bookings, along with the necessary attachments? If yes, then you have already experienced the magic of Ongoing Campaign.
WhatsApp Ongoing Campaign feature lets businesses trigger automatic WhatsApp messages from their CRM, based on a set of predefined conditions and logic that determine the nature of the conversational flow.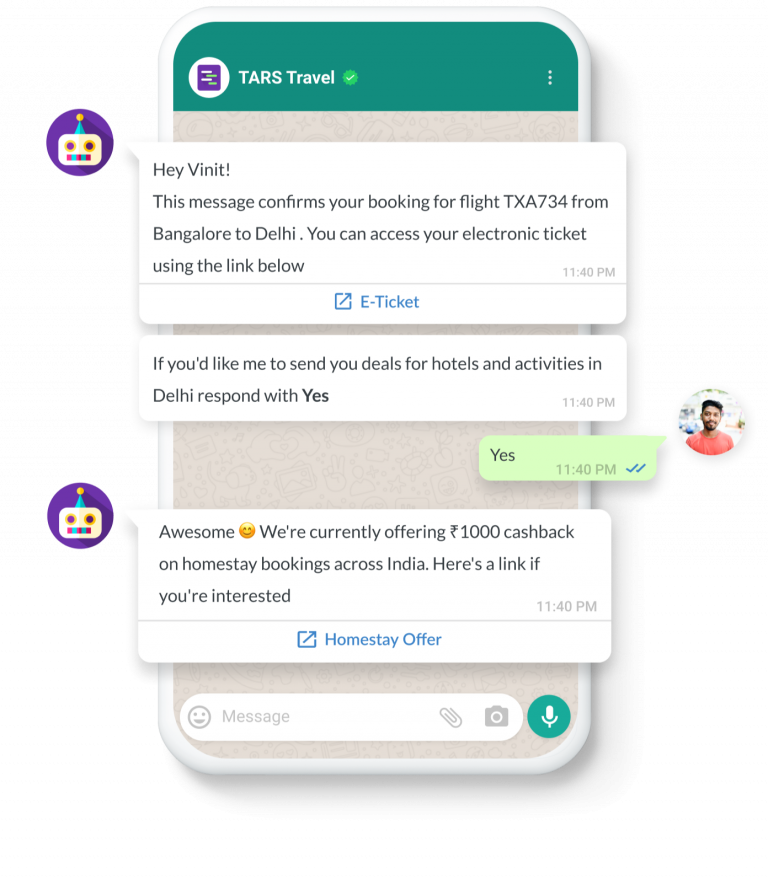 For example, if you run an e-commerce site and want to reduce incomplete orders at the payment stage, you can set up an Ongoing Campaignthat will automatically send a notification to your customer the moment a failed payment order shows up as being delivered in your CRM.
How do you set this up?
First, generate an ongoing campaign API endpoint in our campaign manager and embed it at key touchpoints of your customer journey. Then, when users reach that point of the journey, the API will be triggered and your notification will be sent.
For example, once the user responds to the previously mentioned 'payment failed' message, they can then be automatically guided through a conversational flow that leads to payment completion along with feedback collection.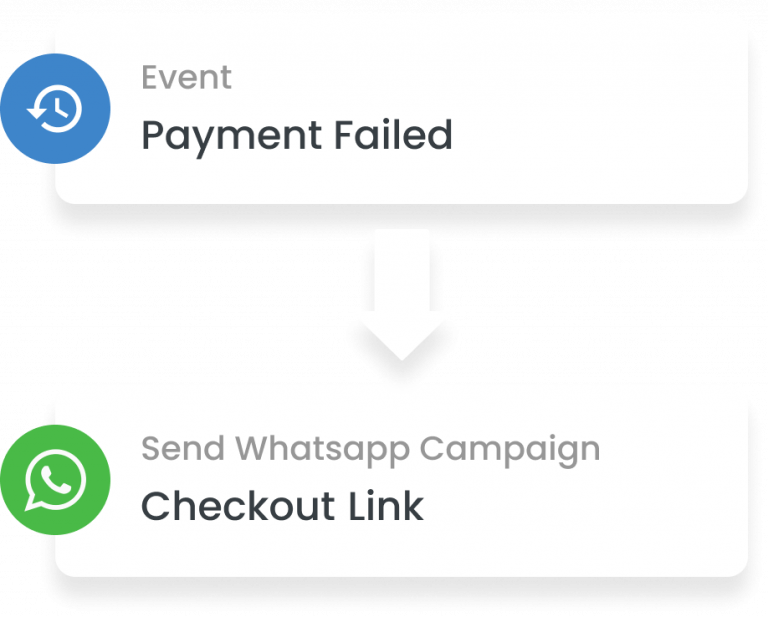 And that's just scratching the surface!
Think about it this way. You already send these sorts of messages today over SMS and Email. WhatsApp Ongoing Campaignslets you do the same thing, but instead of SMS or Email, these are smart messages going through WhatsApp, that your customers can actually interact with.
FAQs
What is an ecommerce chatbot?
An Ecommerce chatbot is a fully automated piece of software that has a conversation with your prospects to capture and qualify leads.
What is a conversion rate?
Your conversion rate is the percentage of visitors to your landing page that gives you their contact information or makes a purchase on the spot.
For example, if 200 people visit your page per month and 100 give you their contact info, then your conversion rate for the month is 50%.
Can I use an ecommerce chatbot template for free?
Yes you can. Website chatbots can live on the bottom right of your website, ready to capture and qualify leads for you all day, everyday. In fact, we use a chatbot on our website ourselves and it generates 100s of leads for us per month! If you want to build a chatbot for your website, sign up for the Tars Chatbot Builder over HERE or book a free call with a Tars conversational design expert over HERE (they can help you get set up).
How chatbots will transform the retail industry?
Ecommerce chatbot saves a lot of time for the shoppers and ecommerce companies, reduces the price that companies spend on human agents, improves shopping experiences so much so that the customers make frequent purchases. Successful ecommerce chatbots can help companies analyze consumer behavioral patterns and provide a personalized service to the customer.
What is the most popular chatbot?
Tars WhatsApp messenger bot offers everything that retailers hire a human agent for. Our natural language processing retail chatbots help brands drive more sales by generating qualified leads, automating customer service queries, turning transactional messages into an engagement engine by embedding an ongoing campaign API endpoint at any point of contact in the customer journey.
What other software (e.g. CRMs, ESPs) can Ecommerce chatbots integrate with?
Using Tars' powerful API integration feature and Zapier integration, your Tars chatbot can integrate with thousands of your favorite brand management apps.
If you need help setting up, or want a Tars conversational expert to design a bot for you for FREE, book a time slot with us over HERE.
How do chatbots help eCommerce?
Ecommerce chatbot saves a lot of time for the shoppers and ecommerce companies, reduces the price that companies spend on human agents, improves shopping experiences so much so that the customers make frequent purchases. Successful ecommerce chatbots can help companies analyze consumer behavioral patterns and provide a personalized service to the customer.
Do I need to know how to code to build an Ecommerce chatbot?
You do not need to be an expert programmer to build a chatbot. We built the Tars Chatbot Builder first and foremost for the marketer with NO CODING EXPERIENCE in mind. Sign up and start creating over HERE.
Can I change the language of this Ecommerce chatbot template?
Yes. Ecommerce chatbot templates created in the Tars Chatbot Builder function like regular webpages. This means that they can support every single language that your browser supports.
5 Best retail and ecommerce chatbots
How To Get Started With Tars WhatsApp Engagement Suite?
First the prerequisites that you will need:
A Facebook Business Manager Account. Click here to to know how
A WhatsApp Number that is not linked to any consumer or business app.
Done? Now here are the actual steps to get started: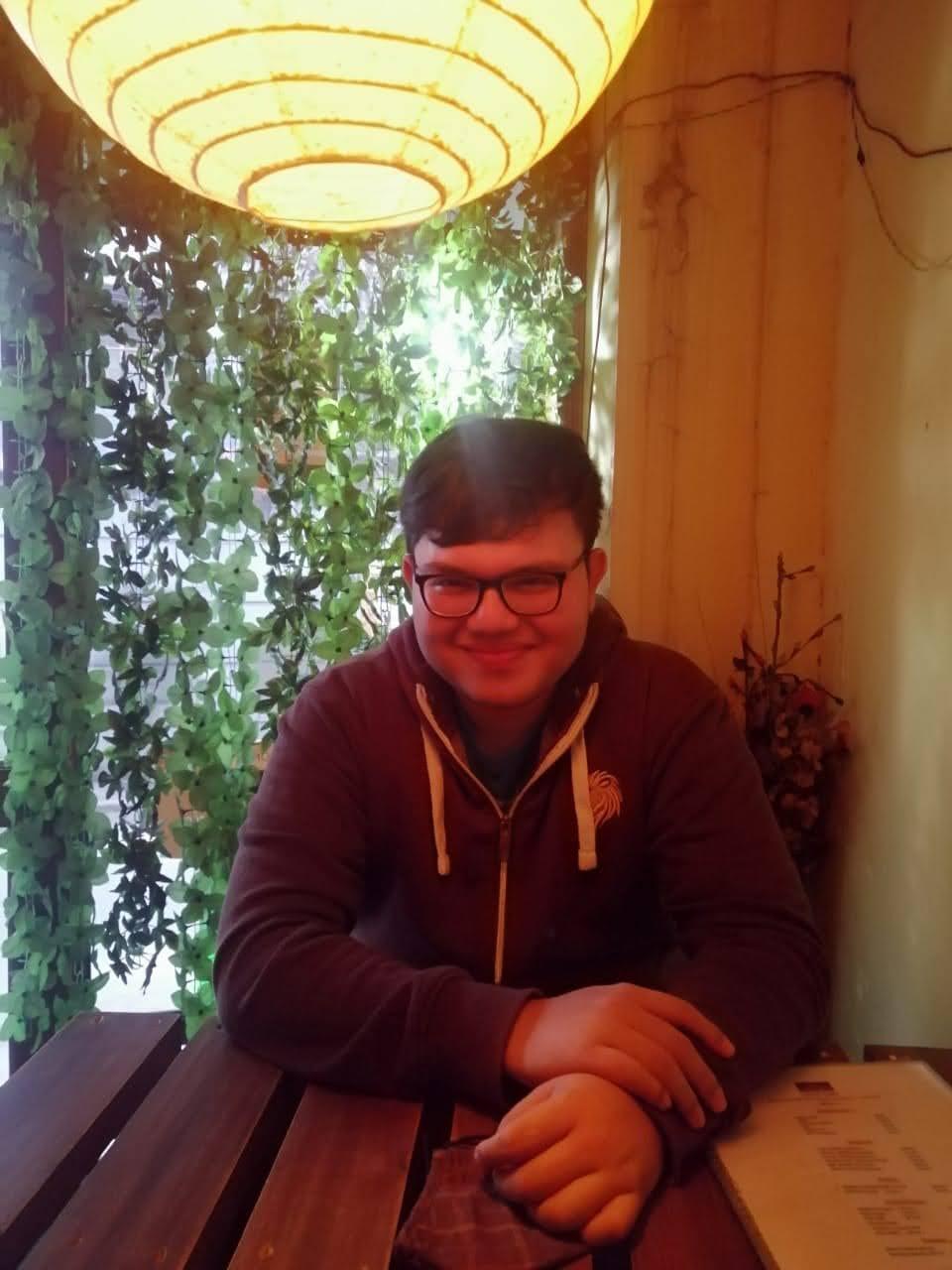 Soham is a content marketer on the Tars team. When he's not writing kickass blog posts like the one you just read he's reading obscure articles from history's foremost anti-enlightenment thinkers and writing treatises to send to his 3 substack subscribers.