We've learned over the past year that remote access to medical services has become necessary for patients. There are several new technologies making this easier and in this post we will explore one of them: the automated hospital virtual assistant.
Automated hospital virtual assistants help hospitals stay on top of the thousands of customer service queries that they get daily and deliver a more delightful patient experience. In this post, we will give you a full run down of the why, what and how of this technology.
The Non-Urgent Customer Service Query Problems in a Hospital
The primary purpose of a hospital is to provide healthcare. However, a hospital receives thousands of non-urgent customer service patient queries every day.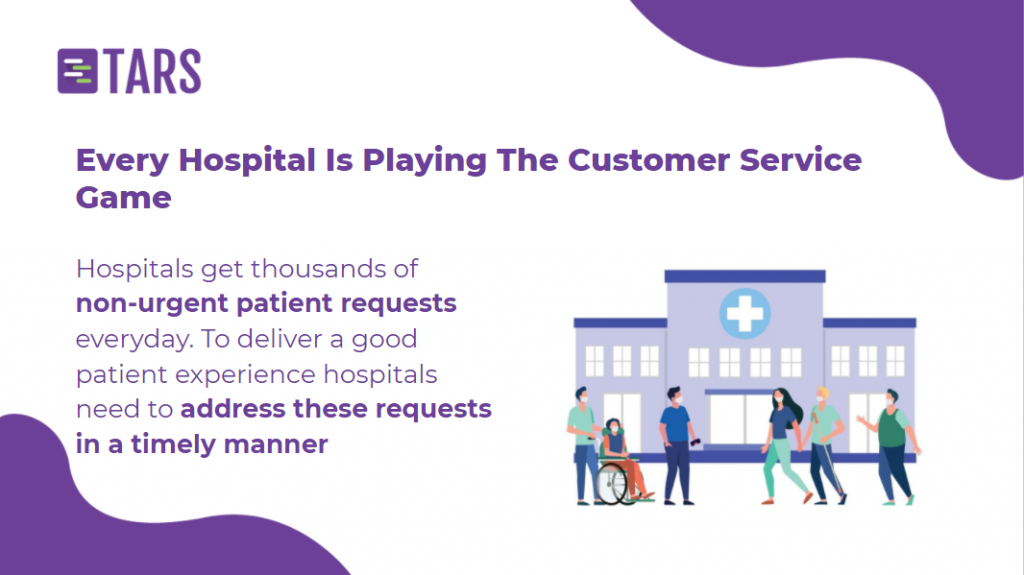 These requests usually do not require the patient to see a doctor and can often be handled by a receptionist or a call center operator (e.g. booking an appointment, rescheduling an appointment, checking a report).
Of course, while these queries might not be urgent, they still need to be resolved promptly. In a healthcare setting, patients do not like friction. They expect a quick response regardless of the urgency of their query and that's where hospitals often run into problems.
To address non-urgent queries, most hospitals have a front desk or a call center. Unfortunately, in most cases, the sheer volume of queries that hospitals get on a daily basis far outstrips the call center operators or receptionist's capacity.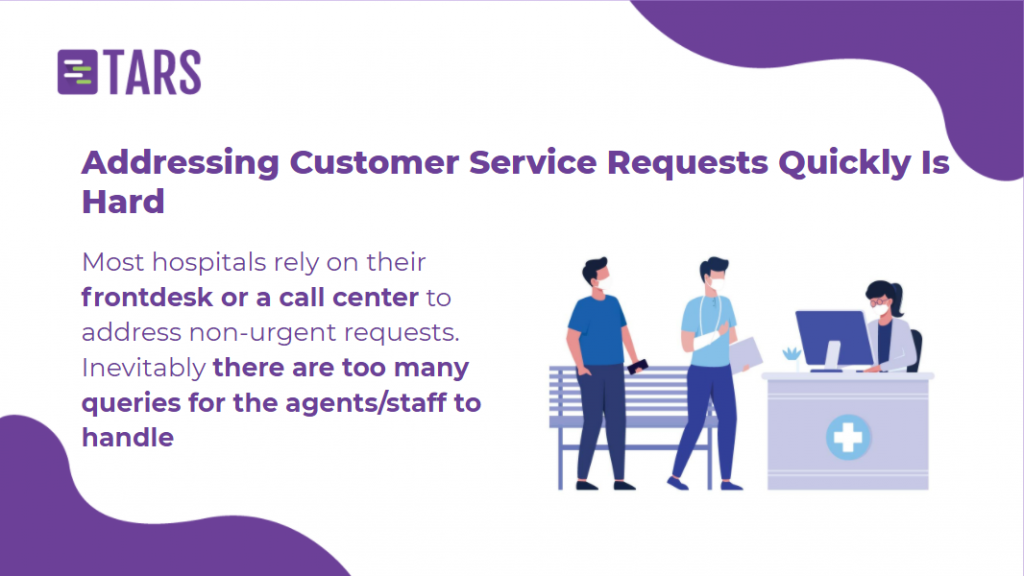 This causes problems for both patients and staff. Patients are either forced to wait on hold or they get stuck navigating through mind-numbingly boring IVR trees. Hospital staff get overwhelmed by the volume of calls that they need to answer, particularly during peak hours, causing productivity to tank and morale to drop.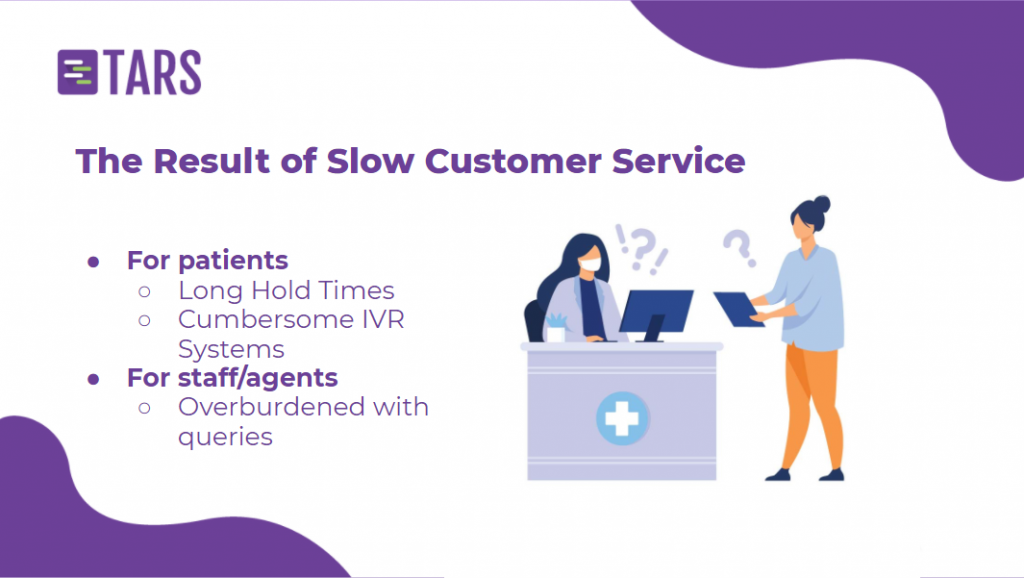 What is an Automated Hospital Virtual Assistant?
Automated hospital virtual assistants are tools to solve the non-urgent query problem. They are virtual customer service agents that can answer repetitive non-urgent queries over chat before they reach a human agent.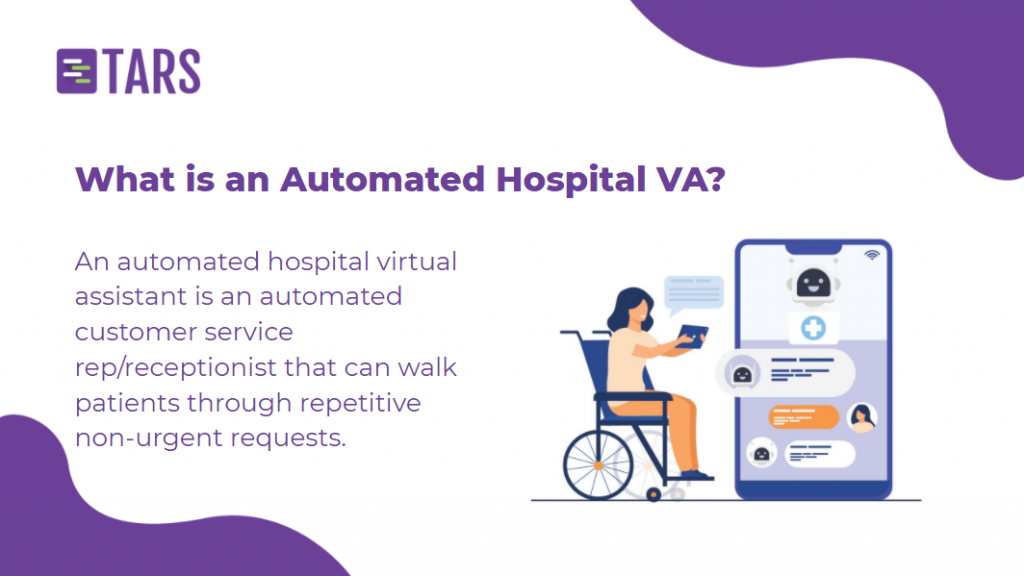 An automated hospital virtual assistant is versatile in its use. Some of our customers at Tars have tasked their hospitals virtual assistants with tasks such as: Managing appointments, providing answers to FAQs, pulling up medical reports and pulling up prescriptions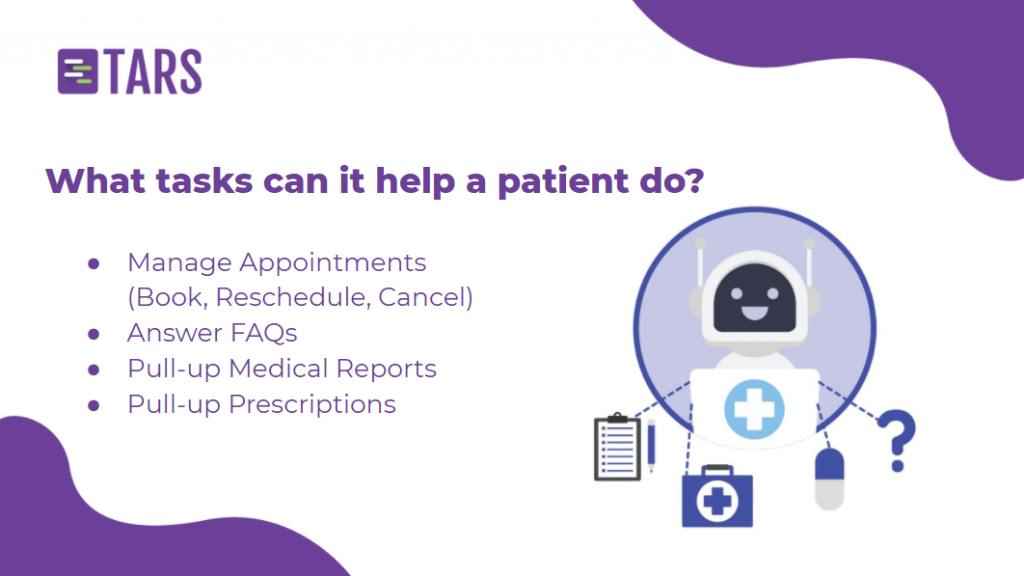 Patients usually do all of the above by calling the hospital's phone number and have a human staff assist them, but with a hospital virtual assistant, these queries can be resolved without human involvement.
This has a twofold effect. Patients get instant access to the answers that they need and no longer have to wait for longer holding times or directing them multiple times to different numbers to reach the specific person they need to ask. Hospital staff have deal with fewer queries (up to 80% fewer in our experience) giving them more time to deal with the more complex issues that actually need their attention. In other words, productivity goes up.
Where does a Hospital Virtual Assistant Live
So automated hospital virtual assistants are here to solve your productivity and patient experience woes. Great! But where do they actually live and how can patients access them?
We've encountered four deployment methods👇
Website Widget
The most common way to deploy your automated hospital virtual assistant is as a website widget.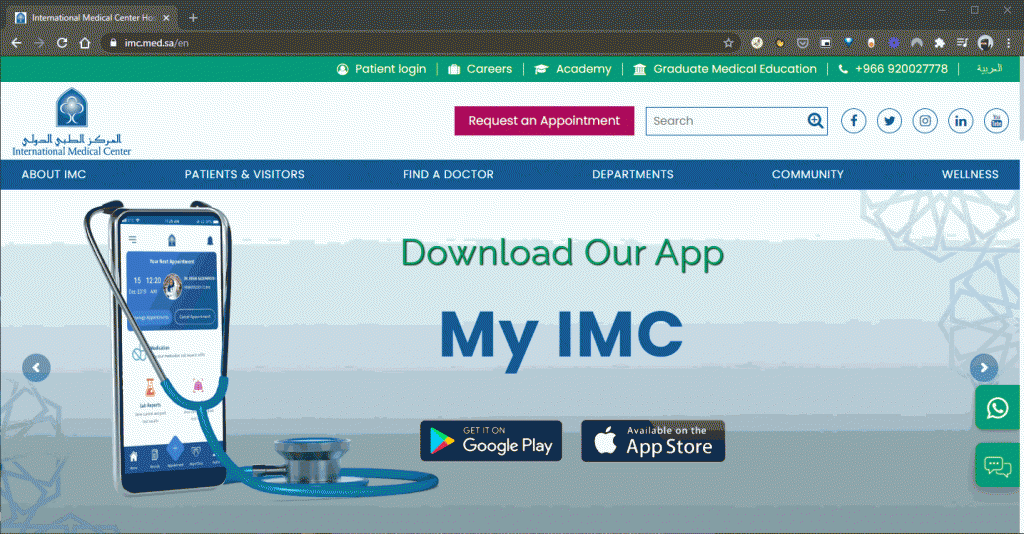 To access the assistant patients need to visit your hospital's website, click on the box that appears in the bottom right corner and they get dropped directly into a chat with the assistant.
Once the chat begins, the patient provides their medical record number (or any other credentials to confirm their identity) giving the assistant the ability to access their patient information from your hospital management system. This let's the assistant pull up the necessary information when the user asks for it.
iFrame
A second way of deploying an automated hospital virtual assistant on their website is through an iframe.
In this deployment method the chatbot is embedded directly into a webpage and is ready to chat as soon as the page loads. The patient does not need to click on a widget to initiate the conversation.
The functionality of the assistant remains the same as the widget with the patient verifying identity before the assistant can access their information.
In-App
The third way we've seen hospital virtual assistants deployed is in-app. If your hospital has a mobile application, the assistant can be embedded into the application through a webview (don't worry your tech guy will know what this is).
Some of our customers have done this, and found that it is a great way to increase app interactions.
WhatsApp Chatbot
The final way for Hospital Virtual Assistants to be deployed is through WhatsApp Chatbot.
In this deployment method, the assistant is accessible through a WhatsApp business account. Patients can access the assistant in a number of ways. They can either be dropped into the chat from a web widget or they can directly message the number linked to your assistant to start the conversation. We've seen our customers driving visits to their WhatsApp assistant by dropping their number on all of their informational and promotional materials (e.g. brochures).
Either way, the functionality remains largely the same as the web-based version. The only differences are that WhatsApp does not support quick replies or buttons so all the communication will be done over text messaging.
Getting Started With a Hospital Virtual Assistant
Now that you have a sense of what exactly automated hospital virtual assistants are and where they get deployed, you're probably in one of two camps. You either want to know more about the technology (find out pricing, navigate compliance, maybe even see a demo in action) or you want to get started right away. Either way, the best course of action is to book a consultation with one of our chatbot experts.
They've helped hospitals the world over deploy automated virtual assistants and they can walk you through any additional questions that you have, keeping in mind the specific regulatory, technical and logistical circumstances of your hospital.
You can book a demo with us to understand more about how you can get started with a virtual assistant for your own business.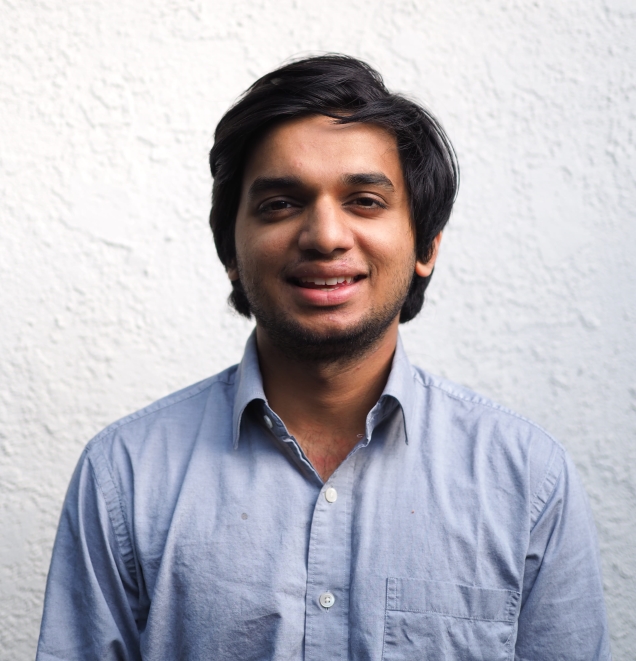 Arnav is the Director of Content Marketing at Tars. He spends most days building bots, writing about conversational design and scrolling through Giphy's trending section looking for the gifs that go into the Tars Newsletter.