So you want to get your business onto WhatsApp…
Well, as of May 2020, there are two options for how you can do this:
WhatsApp Business Number
WhatsApp Business API
These two options differ in four key ways!
If you're in a rush, you can check out this table that explains the differences cursorily: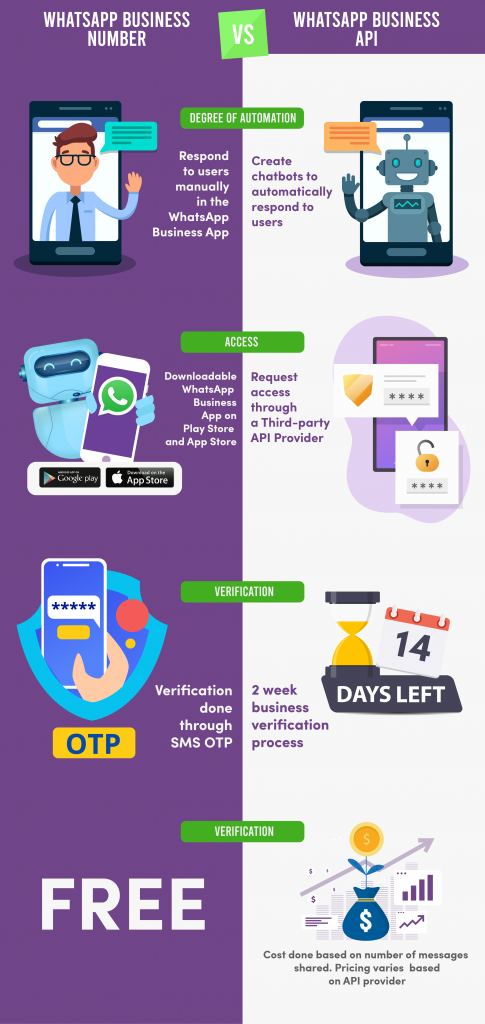 If you want to jump into the weeds a bit more, here are some more detailed explanations:
1. Degree of Automation
With a WhatsApp Business Number, you can only respond to your customers manually in the WhatsApp Business App.
With the WhatsApp Business API, you can create chatbots that can talk to your customers without human assistance. The TARS builder relies on this API to make your WhatsApp Chatbots work.
2. Access
All you need to do to message customers with a WhatsApp Business Number is to download the WhatsApp Business App and start typing.

To communicate with your customers through the WhatsApp Business API, you need to request API access from a third-party vendor (e.g. Twilio, Karix) and then build a conversational flow to handle messages that users send (you can check out our guide on how to do this over here).
3. Verification
WhatsApp Business Numbers are super easy to get. Just download the app, enter your number, enter the OTP that they send to you via SMS and you're all set! Your number will be transferred to a WhatsApp Business Account immediately.
WhatsApp takes the power to send automated messages on their platform seriously. As such, they have a more thorough vetting process to ensure that your business is legitimate and that you aren't going to misuse their API (You can read our full guide on the topic here). The whole process takes about 2 weeks. If this seems intimidating, don't worry we'll help you with this as well, and most applications get accepted).
4. Pricing
Downloading the WhatsApp Business app and creating a WhatsApp Business Number is completely free.
Sending messages through the WhatsApp Business API is priced based on the number of messages you send.
So which should you choose?
Both options have their advantages and disadvantages, but your choice will really depend on the size of your business.
If you run a small business, then stick to the WhatsApp Business Number. You probably aren't going to get enough messages from users on a daily basis to justify the cost and hassle of the Business API.
If you are a medium-large business that gets a lot of customer engagement every single day, then the WhatsApp Business API is your best bet. It's harder to get and more expensive, but it is the only way for you to respond to a lot of customer messages quickly.
Interested in building a WhatsApp Chatbot?
That's where we come into the picture.
We've gone to the trouble of learning everything there is to know about building WhatsApp chatbots so that you don't have to and we've packaged all of our knowledge in a variety of different forms for you to consume.
If you like watching videos, check out our webinar on WhatsApp Chatbots.
In it, we cover literally everything there is to know about the technology in a little less than an hour, so if you have the time I highly recommend that you check it out.
If you prefer reading, you can check out the other posts that we have created about WhatsApp Chatbots:
How to build a WhatsApp Chatbot
What is a WhatsApp Chatbot?
WhatsApp Business API vs WhatsApp Business Number: Which option is best for you?
How to automate customer service using a WhatsApp Chatbot
How to generate more leads using a WhatsApp Chatbot
How to book more sales calls using a WhatsApp Chatbot
How to increase Facebook Ad ROI using a WhatsApp Chatbot
How to conduct User Engagement Quizzes through a WhatsApp Chatbot
4 Ways to bring users to your WhatsApp Chatbot
Download "The Ultimate Guide to WhatsApp Chatbots" Ebook👇🏻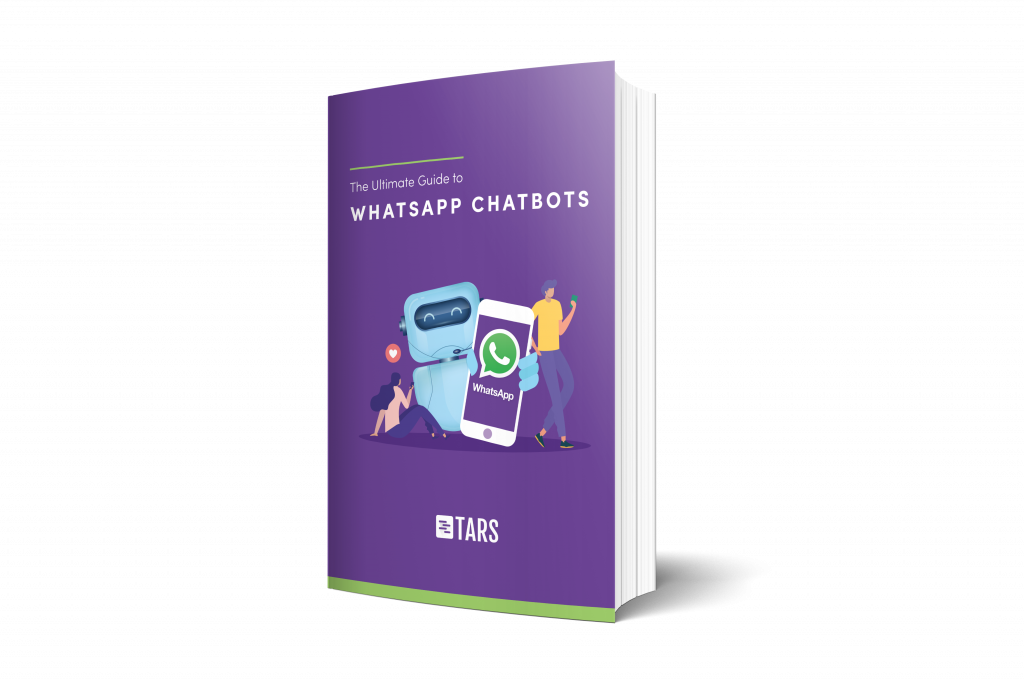 If you're already convinced and want to start the process of building a WhatsApp Chatbot, you can either signup for our WhatsApp Chatbot builder or book a free consultation with one of our conversational designers.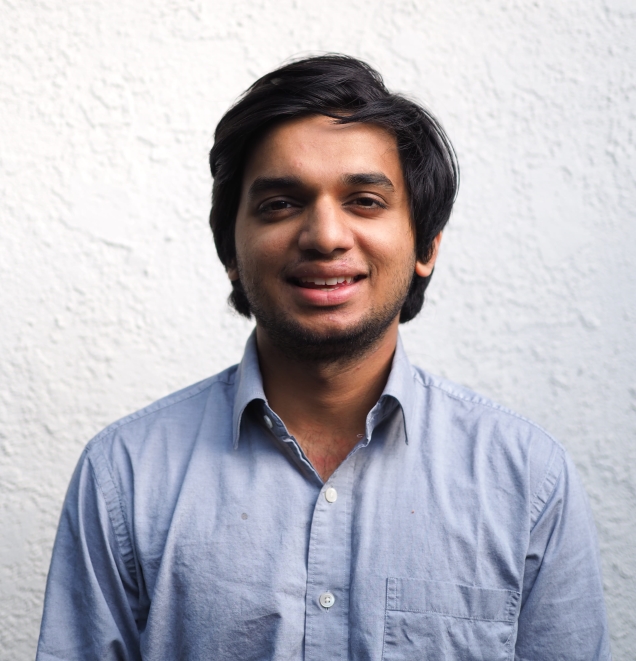 Arnav is the Director of Content Marketing at Tars. He spends most days building bots, writing about conversational design and scrolling through Giphy's trending section looking for the gifs that go into the Tars Newsletter.