Bertling is a global logistics and shipping company, renowned for managing complex project forwarding, GFF and resupply transports as well as offering ship-owning, chartering, and brokerage services to its global clients.
When Bertling was founded, 157 years ago — it was meant to provide shipping links throughout Scandinavia and the Baltic Seas. Since then it has transformed into a global B2B logistics & shipping leader, employing over 700 employees & dedicated sub-contractors, operating in an international network of 50 offices, with in-house resources & assets in every relevant transport hub worldwide.
What's Bertling's USP? They specializes in the safe, effective, and timely delivery of specialist cargo to challenging or remote locations, for major clients in the energy, mining, renewables, construction, and chemical sectors. You know, incredible stuff like 👇🏼

Since its core business is at the extreme limits of the industry's capabilities, Bertling has a long history of listening to and investing in innovative, tech-enabled client solutions. For example: Bertling's own IT Company has built a software application that combines all the modules required for project management — with a heavy emphasis on seamless reporting and tracking.
So when a tech-fuelled business like Bertling decided to automate their lead generation + customer support using a multipurpose Tars Chatbot Assistant, they were doing what they've always done: leveraging technology for growth.
Here's the amazing story behind how Bertling used a Tars Chatbot Assistant to convert 2 out of every 5 conversations into new business opportunities ⤵️
Understanding Lead Generation In B2B Logistics & Shipping
To understand lead generation in B2B Logistics & Shipping, one must begin with two fundamental truths:
🚀 The long-term success of logistics companies, including international carriers & complex freight forwarders, lies in recurring, high-volume business.
🚀 The average ticket size for B2B logistics companies is substantially more than their B2C counterparts.
Taken together, both of these point to the same conclusion: every lead matters. Therefore any lead generation strategy must be tailor-made to capture & convert every lead possible. While every business cares about lead gen, B2B Logistics companies can in particular, ill-afford to lose a potentially new source of recurring, big-ticket business.
When high opportunity-costs make high lead conversion rates a pre-requisite for being competitive, lead-capture technologies take centre-stage for businesses like Bertling.
Yet despite the recent emphasis on technology-led growth in the sector, according to recent PWC Study, the lack of a 'digital culture' and training is the biggest challenge for transportation and logistics companies today.
Understanding Customer Support In B2B Logistics & Shipping
For businesses like Bertling, due to large orders being transported in bulk, shipments tend to have longer delivery times than players in the B2C logistics space. Factors like harsh weather, parts availability, regulatory challenges and fluctuating inventory availability can create uncertainty about delivery dates and times.
This naturally means that clients expect the following throughout the order journey 👇🏼
Accurate & Real-Time Tracking
24 x 7 Customer Support
Immediate Responsiveness
The objective here is therefore to instil customer trust & confidence by accurately (and promptly) responding to any and all client requests for information and intervention. Especially for a business like Bertling, that is renowned for delivering to the most challenging & distant locations on the globe, the importance of accurate, effective, 24×7 customer support — cannot be overstated.
Why Bertling Needed A Multipurpose Chatbot Assistant
While Bertling has multiple-channels of customer-acquisition, its website draws a substantial amount of traffic and contributes significantly to their lead generation strategy. Moreover, many clients also use the website as quick-resource for tracking the delivery status of their orders.
Yet before Tars, the primary method of lead enquiry and customer communication on their official website, was the following web-form 👇🏼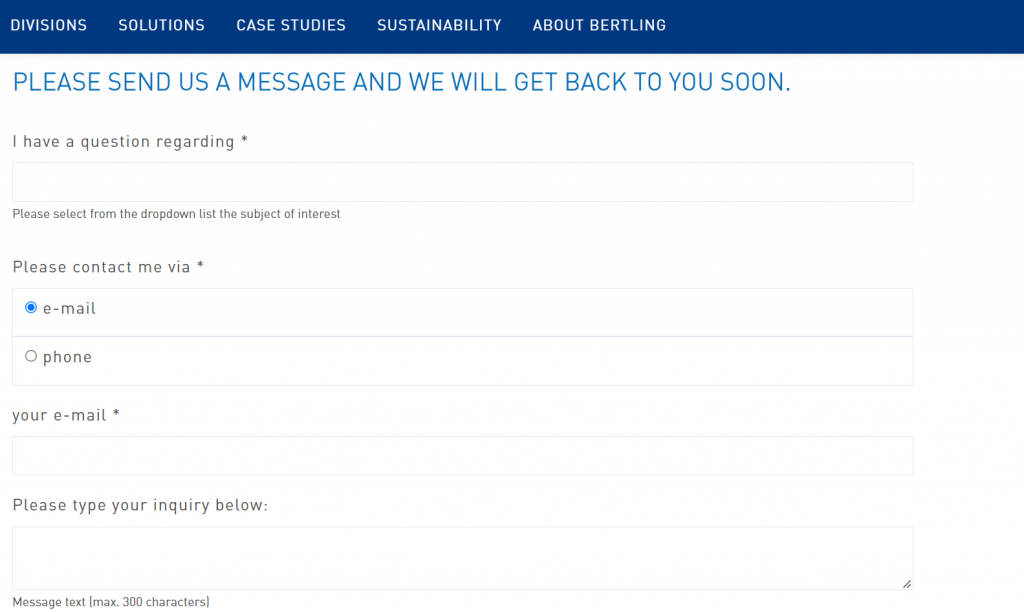 Bertling knew that in 2022, the web-form experience is not only dated, but also uninviting for immediate lead enquiries. When combined with the fact that customers in the B2B logistics & shipping industry expect higher levels of user friendliness and comfort; Bertling knew they had a problem on their hands.
Meanwhile, for order-tracking, Bertling customers need to typically login to the proprietary BLU-tracking system to check the status of their deliveries 👇🏼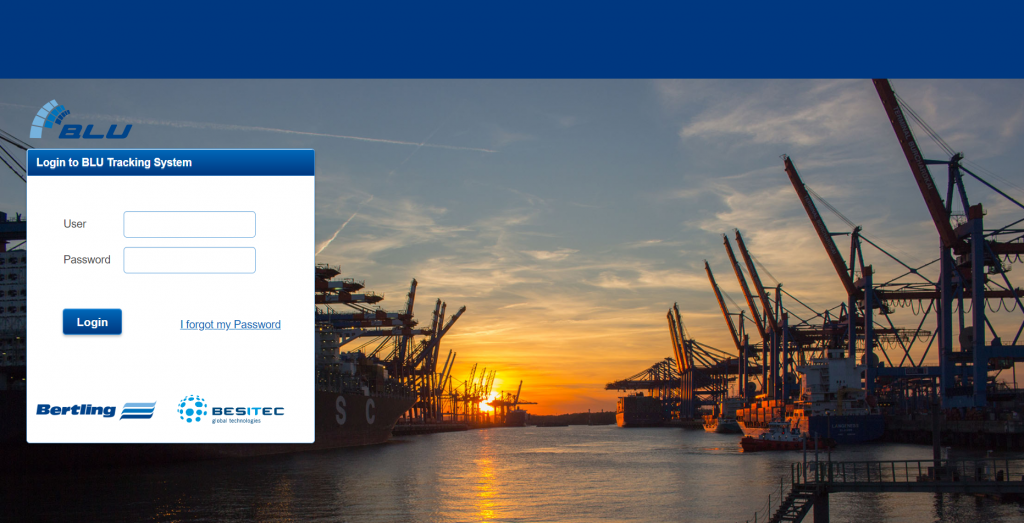 While tracking on their proprietary application is undoubtedly flawless, customers wanted a way to quickly and engagingly access the status of their orders with minimum friction,
What Bertling needed was multipurpose engagement solution for responding to both lead generation and customer support enquires — a solution that was 👇🏼
🤖 Automated
🤖 Scalable & Affordable
🤖 Available 24 x 7
In other words, what Bertling needed was a Multipurpose Tars Chatbot Assistant to automate lead generation + customer support! An intelligent and engaging conversational solution like chatbot would ensure that there is no loss of potential leads and customer satisfaction remains high.
What Does A Conversation With Bertling's Chatbot Assistant Look Like
Lead Generation Conversation
Step1️⃣: Right after landing on the Bertling Home Page, one can see a small widget on the bottom right 👇🏼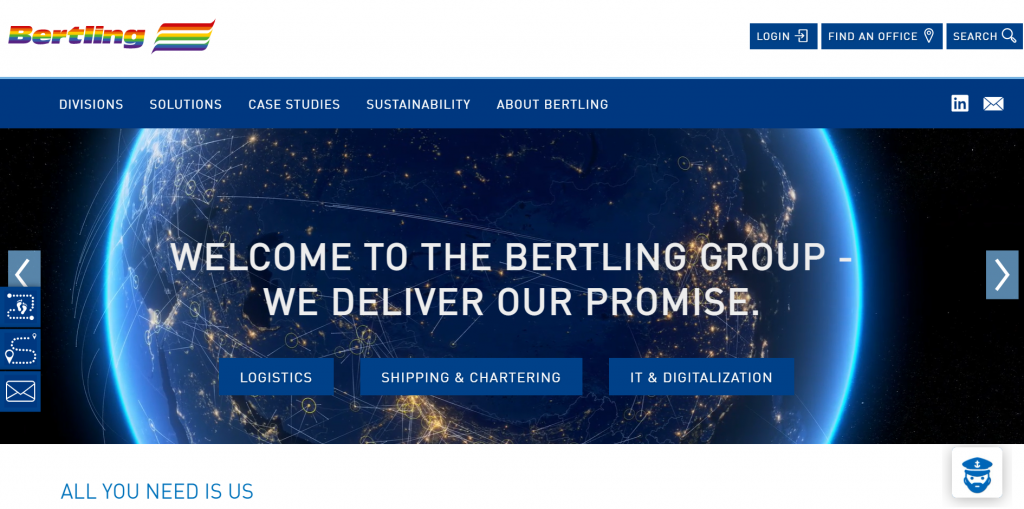 Step 2️⃣: Once one clicks on the widget, a chatbot opens up with the following message and options 👇🏼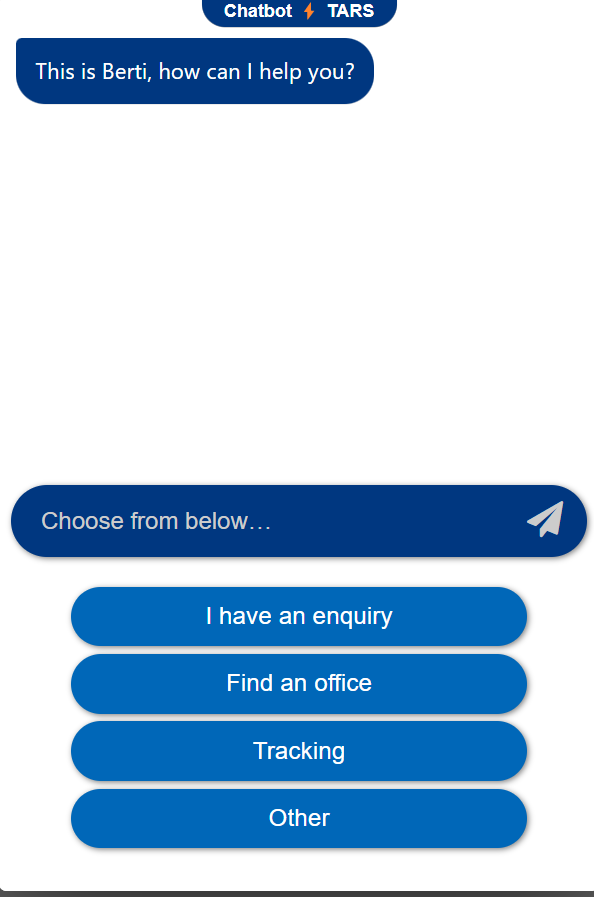 Step 3️⃣: Depending on their requirement, one can either choose the lead multipurpose options (i.e. – "I have an enquiry" or "Find an Office") or the customer support option (i.e. – "Tracking"). Lets say we click on the "I have an enquiry" button.
Here's what we would see next 👇🏼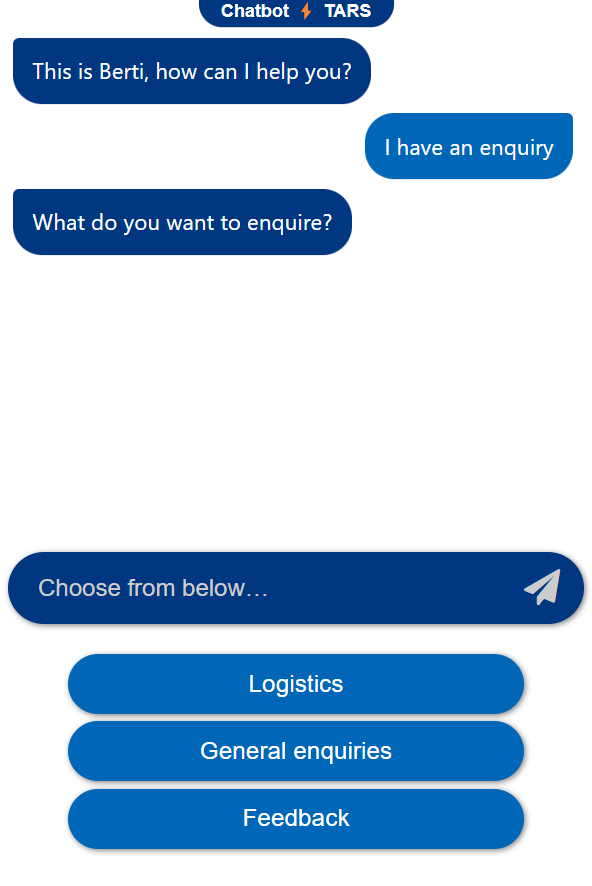 Step 4️⃣: Let's say our enquiry is with regards to Logistics, and we click on the corresponding button. The bot would then ask us to give our preference between 👇🏼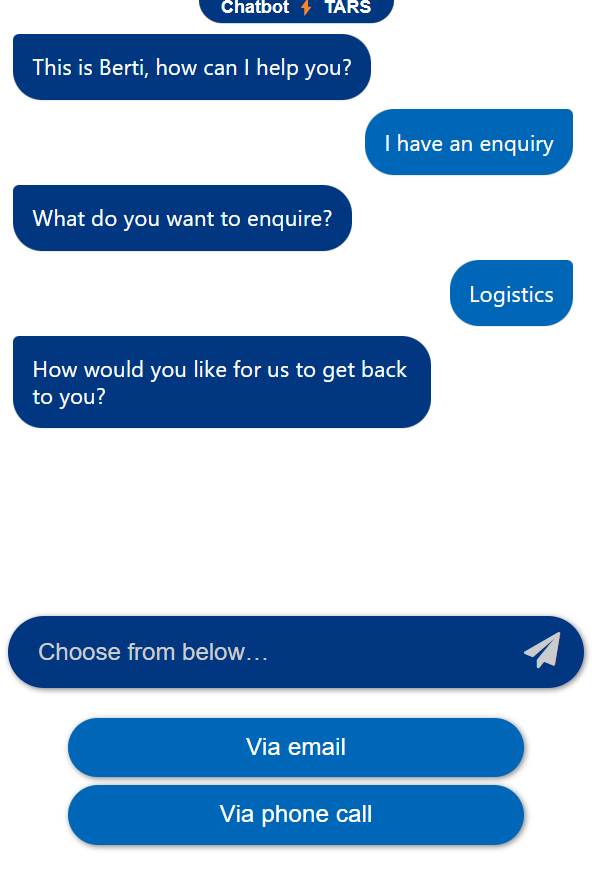 Step 5️⃣: Lets say you choose the email option, and then provide your email. Next, the chatbot will automatically request you to type out your query 👇🏼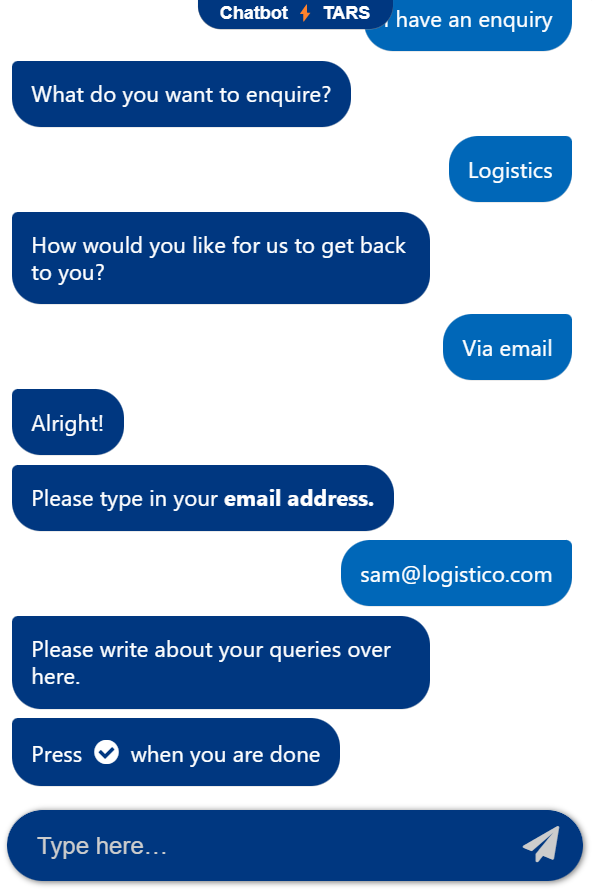 Step 6️⃣: Once you enter your query, the bot presents you with the following final 'end-of-conversation' options 👇🏼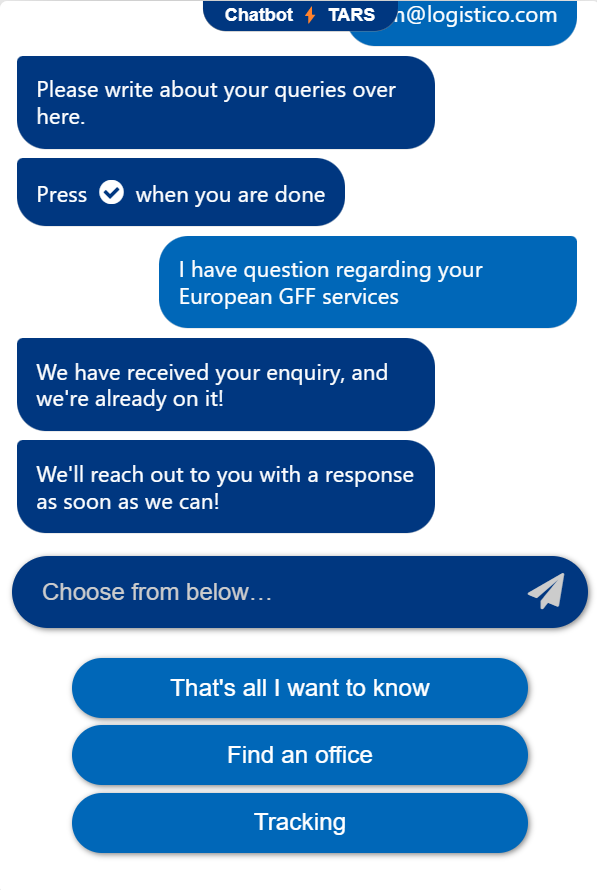 What Was The Impact Of Bertling's Chatbot Strategy?
By deploying a multipurpose Tars Chatbot Assistant, Bertling was able to automate conversations with an incredible interaction rate of 40.31%. But the most mind-bending statistic?
Our Tars Chatbot Assistant was able to convert 2 out of every 5 conversations (a whopping 40%) into new business opportunities for Bertling! Now that's what we call a real transformation in Customer Experience (CX).
How Do I Get Started?
Book a demo with us today and one of our in-house chatbot experts will personally explain how you can use chatbots to supercharge engagement at every stage of your customer journey!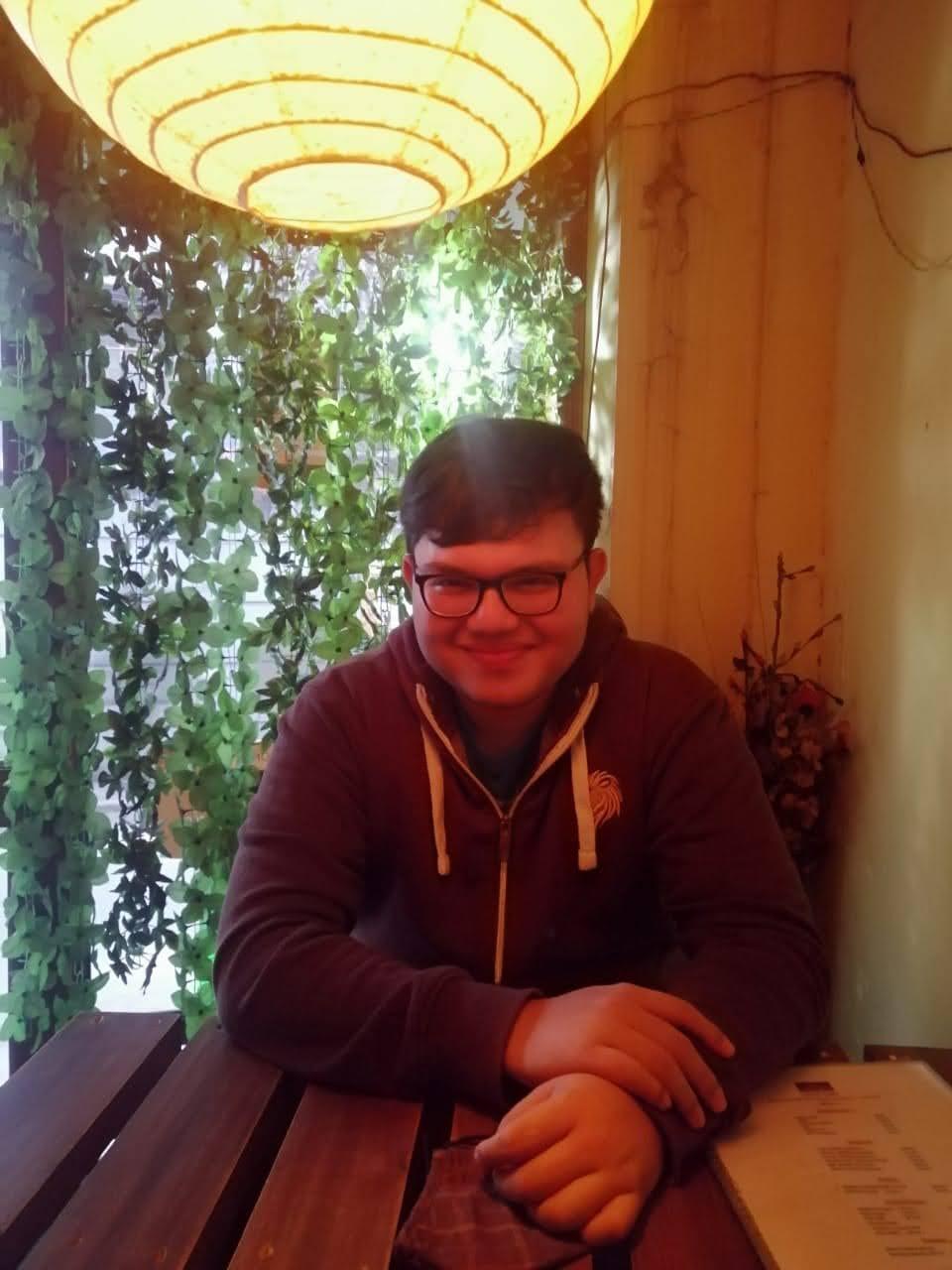 Soham is a content marketer on the Tars team. When he's not writing kickass blog posts like the one you just read he's reading obscure articles from history's foremost anti-enlightenment thinkers and writing treatises to send to his 3 substack subscribers.