The Avec Group is a leading global healthcare operator, with a vision of providing multifaceted support to patients throughout their treatment & care journey — ensuring continuity between consultations, hospitalizations, stays in various establishments and home-care.
Bringing together 245 health and medico-social establishments located throughout France, Avec is the largest group of care and support services in the country. Up-till now, the Group and it's 12,000 employees have supported over 1 million patients by ⤵️
💊 Creating Quality Treatment Plans: Avec sets up a holistic course of treatment, which combines medical solutions, care practices, and support for aging.
💊 Coordinating Unique Care Pathways: By decompartmentalizing the actions of different professionals, Avec helps create trackable care pathways; with a richer, more informed context for healthcare decisions. This is fully consistent with the French Govt's Ma Santé 2022 plan — which makes quality, coordination and relevance of care the red thread of the transformation in the nation's healthtech.
💊 Innovating In E-health Services: Avec uses technological solutions like teleconsultation, medical databases, image recognition, biometrics, remote sensing, speech recognition and automatic translation to make e-health accessible to as many people as possible, using a 5P approach 👇🏼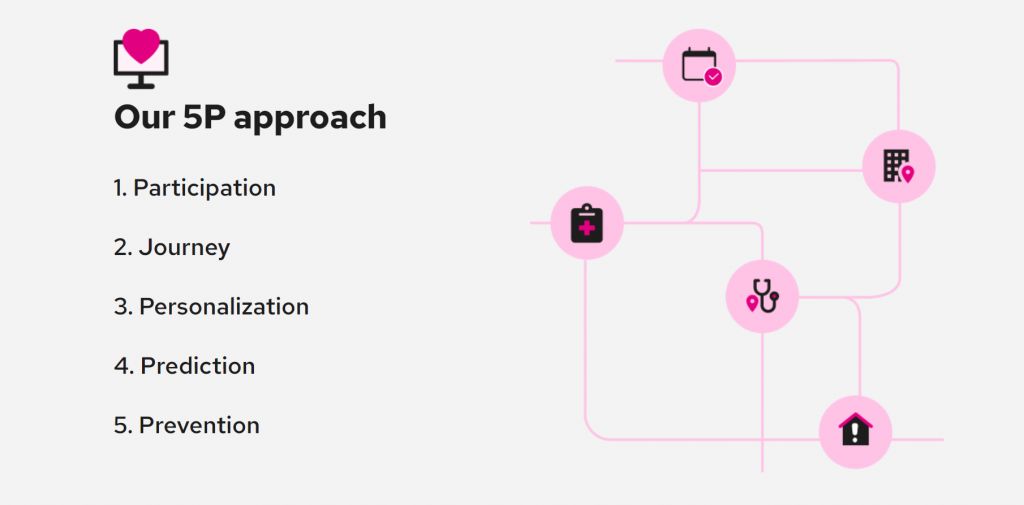 Put simply, Avec is really particular about their applications of technology. So when a healthtech leader like Avec, collaborates with another SaaS business to upgrade the patient experience of their E-health Services, they have to be sure that it's of the highest possible quality.
That's why we at Tars are so proud that Avec chose us to automate their Symptom Checking with AI-powered Healthcare Chatbots. Here's the full story ⤵️
Understanding The Rise Of Healthcare Chatbots
With questions of scalability, 24 x7 availability & patient engagement taking priority over all others for medical professionals, the world is witnessing a rapid upsurge in the development and implementation of various AI solutions in the healthcare sector. Prime among them, are healthcare chatbots.
A healthcare chatbot is a simple widget that hospitals (and other healthcare providers) can add to their websites (or web-apps) to dramatically improve their patient experience. Using a conversational AI, these bots can effectively automate medico-administrative tasks, like ⤵️
⚙️ Appointment Bookings
⚙️ Symptom Screenings
⚙️ Answering Medical Queries
⚙️ Collecting Patient Feedback
By automating these tasks conversationally, chatbots free up doctors & healthcare professionals to focus on the big picture: saving human lives. No wonder, the Global Healthcare Chatbot Market is expected to grow at a CAGR of 21.56% from 2021-2027 to reach $967.7 million by 2027.
The Coronavirus pandemic has accelerated the existing trend, with many prominent institutions like the US Centers for Disease Control and the World Health Organization (WHO) rolling out chatbots that provided critical & timely information about the virus & its vaccines.
What type of chatbots dominate the industry? According to Allied Market Research, Symptom Checkers occupy the largest share of healthcare chatbot market, owing to the rise internet usage and surge in the level of medical information available at the patient level (thanks to companies like Avec).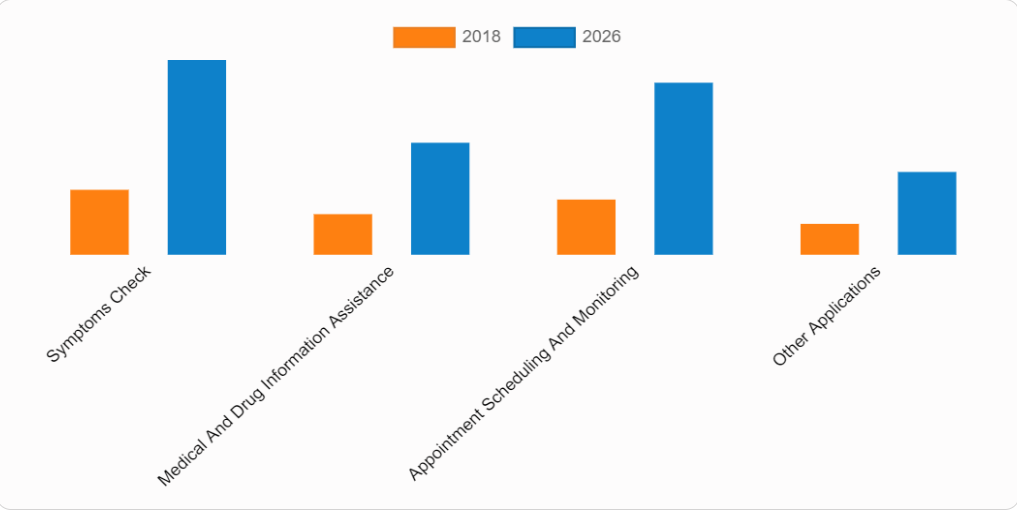 Why Avec Needed An AI-powered Symptom Checking Chatbot
With an overarching emphasis on tech-enabled healthcare, Avec is heavily invested in their Artificial Intelligence (AI) capabilities. It positions itself as a pioneer in the field, using AI capabilities to help patients in 👇🏼
Finding Doctors / Establishments
Scheduling Hospital Appointments
Booking Teleconsultation
Reservation of Home Services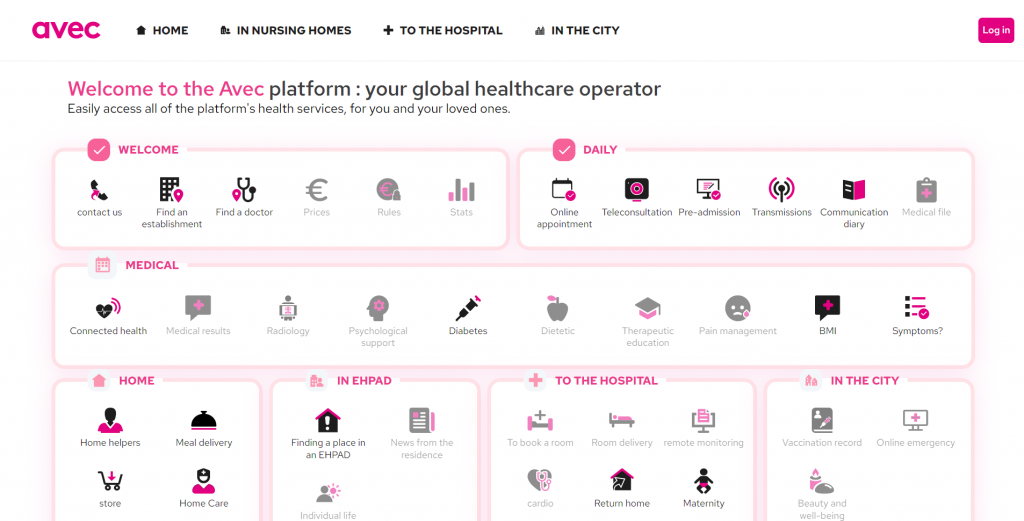 What's common in these different points of patient access? It is that all of them necessarily require collecting patient information about symptoms first to provide an initial diagnostic assessment. Without that data, patients cannot be reliably directed to the right healthcare provider 😲
While Avec could have chosen to collect this information with web-forms, this lead-capture method is infamous on the internet for being 👇🏼
Unresponsive & Cold
Unengaging in Real-Time
Uninviting & Outdated
Limited In Integrations
On the other hand, Live Chat software too didn't fit Avec's use-case. Despite being known for its engaging qualities, Symptom Checking through Live Chat would require hiring entire army of qualified diagnostic experts, skyrocketing the recurring costs and creating other problems like 👇🏼
Lack of 24 x 7 Availability
Long Wait Times
For company like Avec, that prides itself on its technical innovations, each of these were a dealbreaker.
With web-forms & Live Chat out of the picture, what Avec needed was an interactive, scalable & affordable Symptom Checker that could simulate the personalized experience of being guided by a human professional to an initial diagnosis.
That's where the Tars Chatbots and our Google Dialogflow integrations came in! Using our AI-powered Natural Language Processing (NLP) Chatbots, Avec could deploy a symptom checker that understood & responded to patient input in their own words!
How Does Avec's Symptom Checker Chatbot Actually Work
[Note: The conversation has been translated from the original French, to make it more accessible]
Step 1️⃣: After logging onto the Avec.fr Platform, a patient sees a great many services that are offered 👇🏼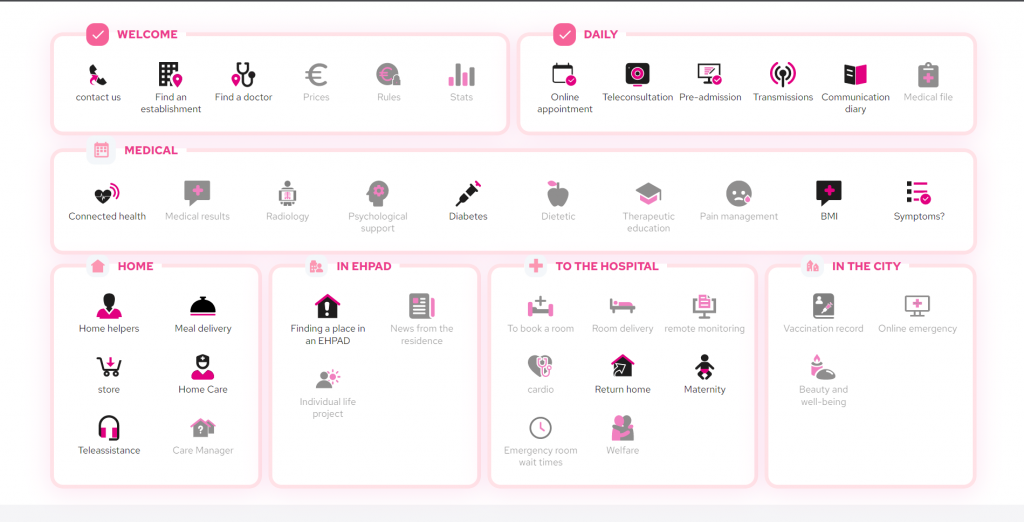 Step 2️⃣: The patient clicks on 'Symptoms?' and is then directed to the following page 👇🏼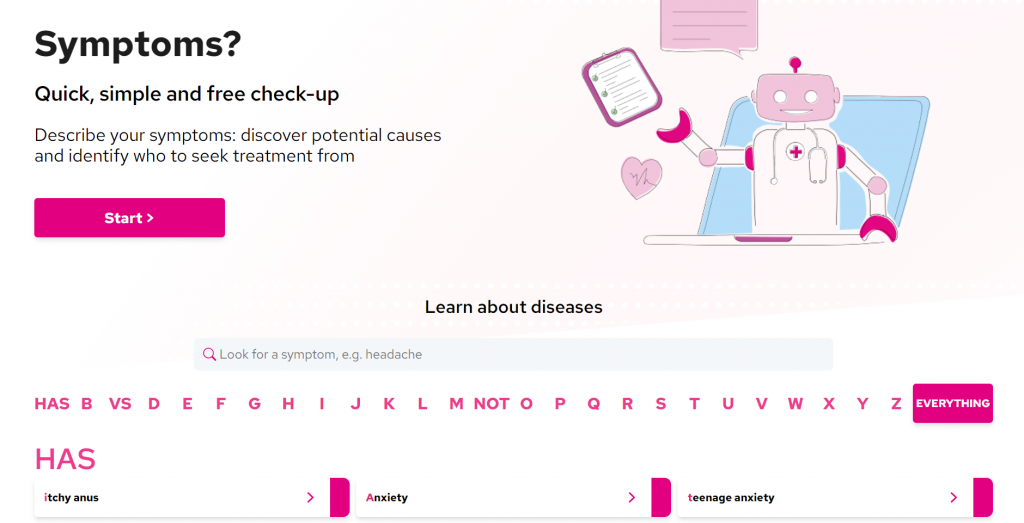 Step 3️⃣: Once the patient clicks on 'Start', he or she is directed to a web-page with a symptom checker chatbot, embedded in it 👇🏼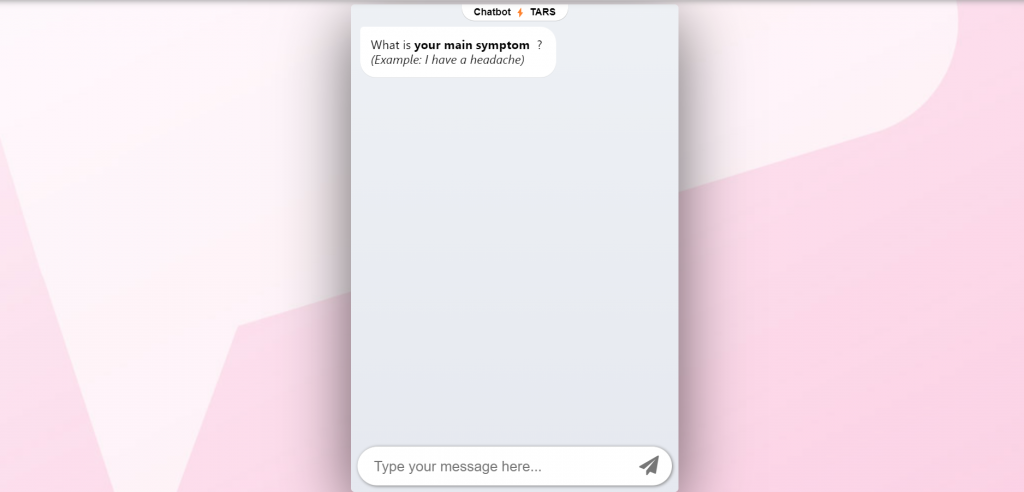 Step 4️⃣: The patient can in their own words type out their symptoms. Because this is an NLP Chatbot with it's intent based branches already mapped out in Google Dialogflow, the bot quickly picks up on what the patient is trying to say.
Next, it will ask the user to confirm the same 👇🏼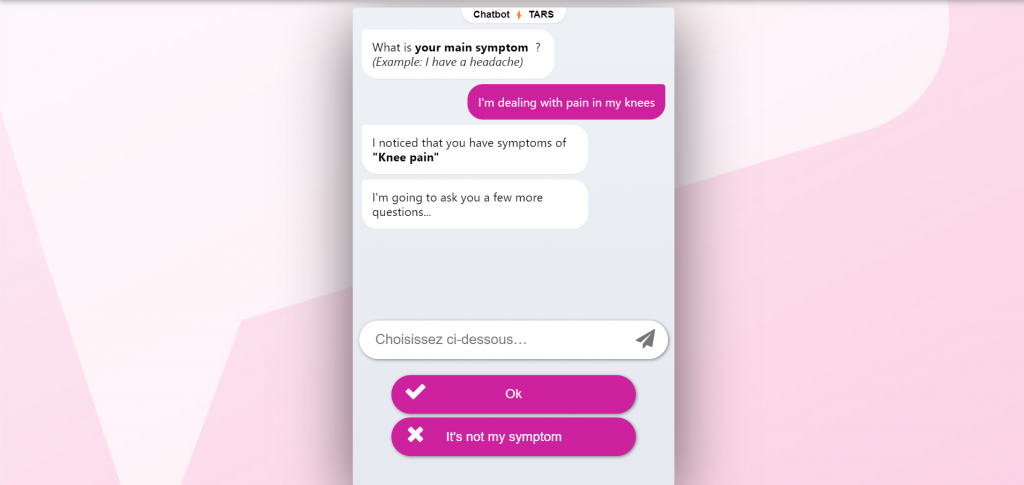 Step 5️⃣: Once the main symptom is confirmed, it will ask the user to choose whether it's 'Homme' or 'Femme', i.e. Male or Female👇🏼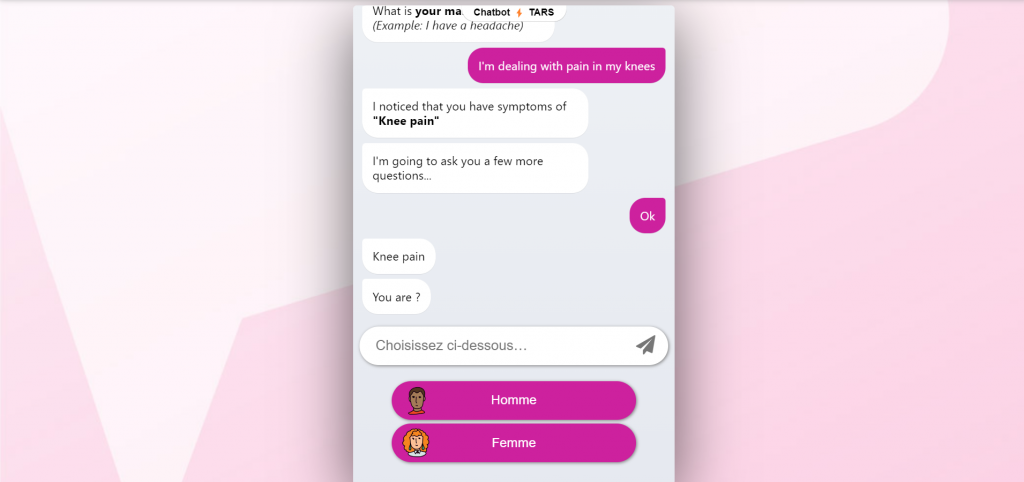 Step 6️⃣: Next, the patient will be asked their age, and once provided, the chatbot will ask the patient about their height and weight – to ensure a better diagnosis of their symptoms👇🏼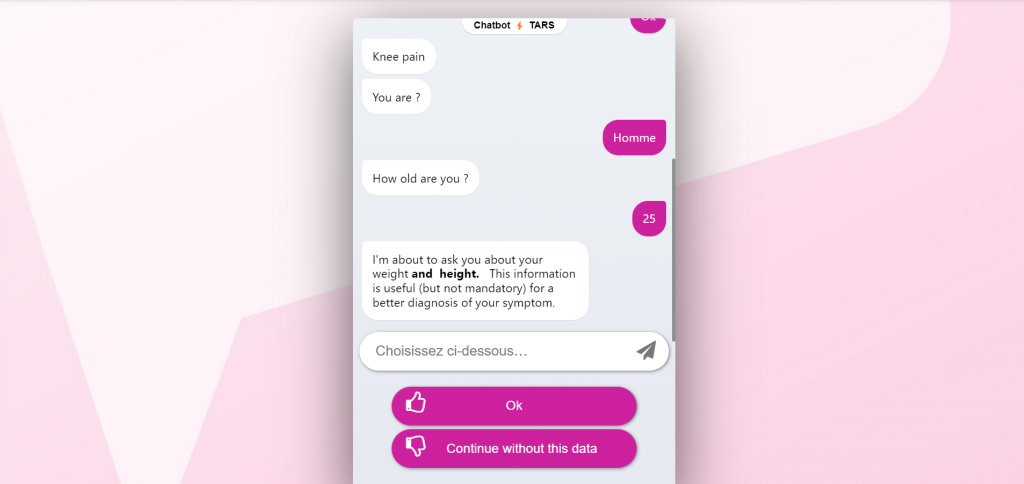 Step 7️⃣: Once height & weight data is collected, the chatbot will get into its 'knee pain' section of the conversational flow, by asking a series of 7 questions regarding the nature of the patient's symptom, that look something like this 👇🏼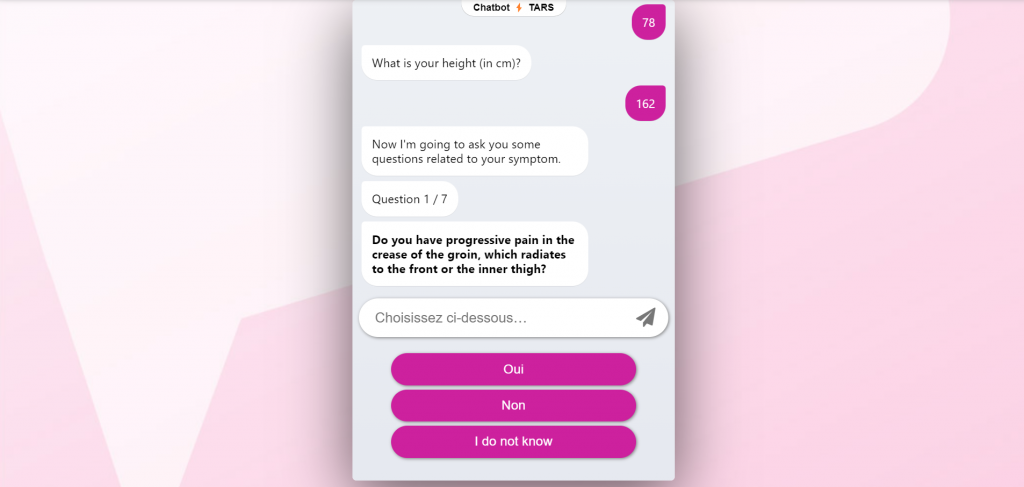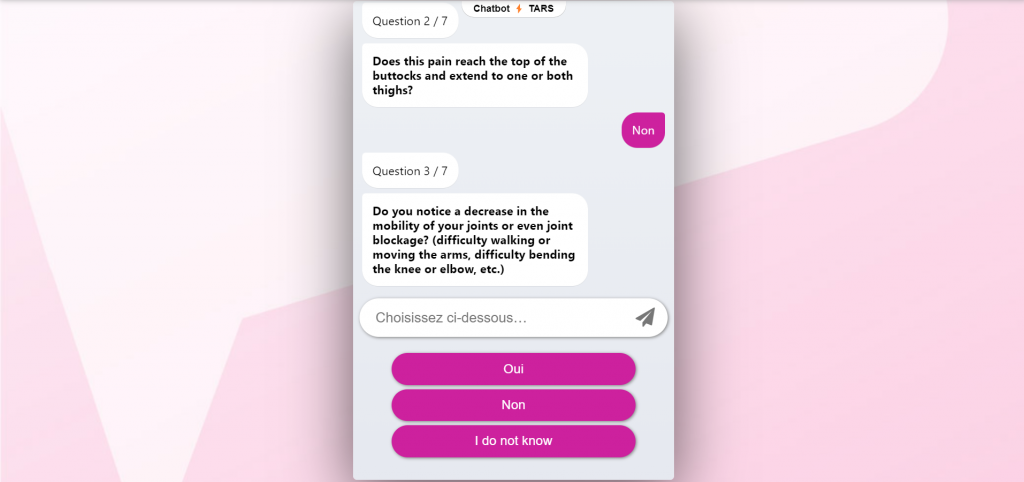 Step 8️⃣: Based on your responses to the 7 questions, taking into consideration your height-weight & gender, the AI Chatbot will recommend the following diagnosis 👇🏼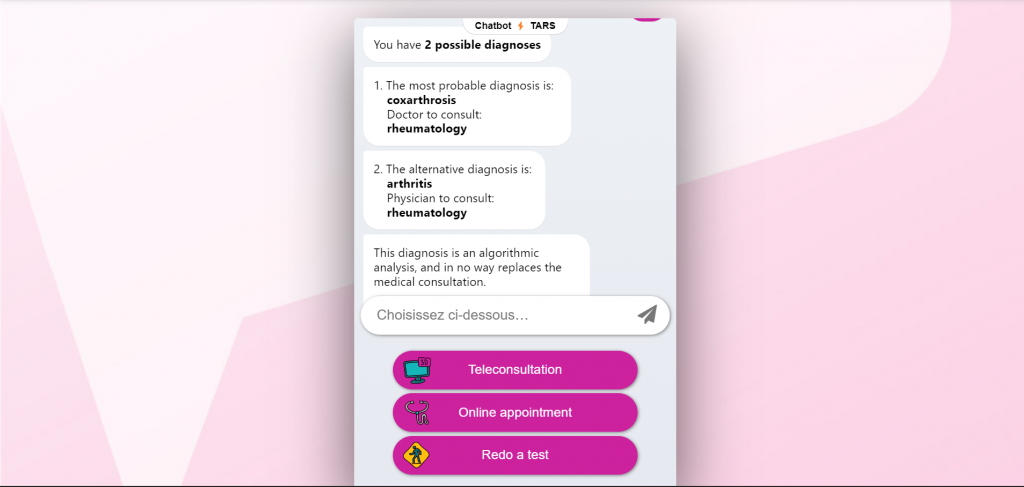 At the end of the conversation, the patient can either choose to book a teleconsultation, an online appointment or redo the test. If the patient chooses to book a teleconsultation, they are redirected to the appropriate page 👇🏼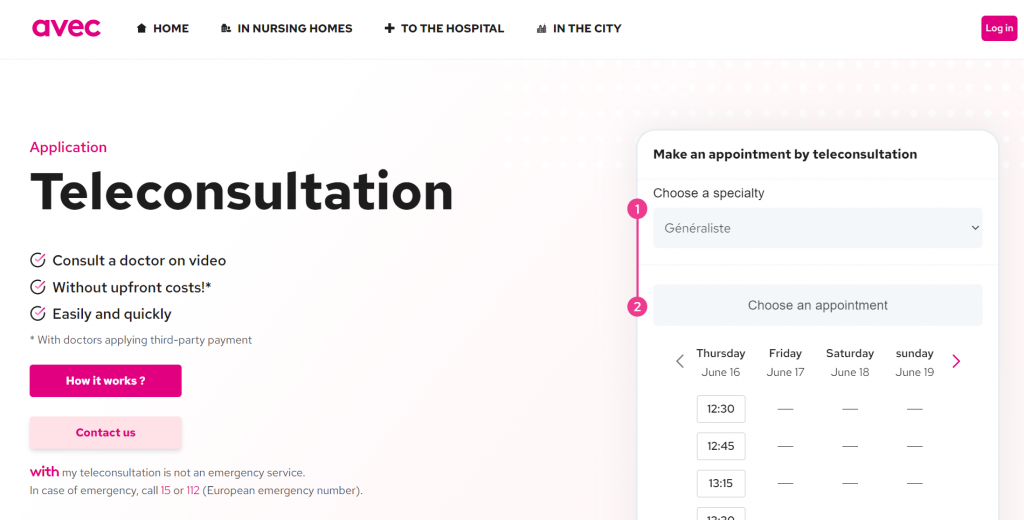 What Was The Impact Of Avec's Chatbot Strategy
The impact was incredible!
With a 90% + interaction rate, the symptom checker chatbot helped thousands of Avec's patients in automatically & conversationally doing a pre-diagnosis of their medical problems. This data in turn helped Avec provide more context to physicians & doctors, cut administrative costs and provide an upgraded patient experience!
How Do I Get Started?
Book a demo with us today and one of our in-house chatbot experts will personally explain how you can use chatbots to supercharge engagement & automate tasks at every stage of your patient or customer journey!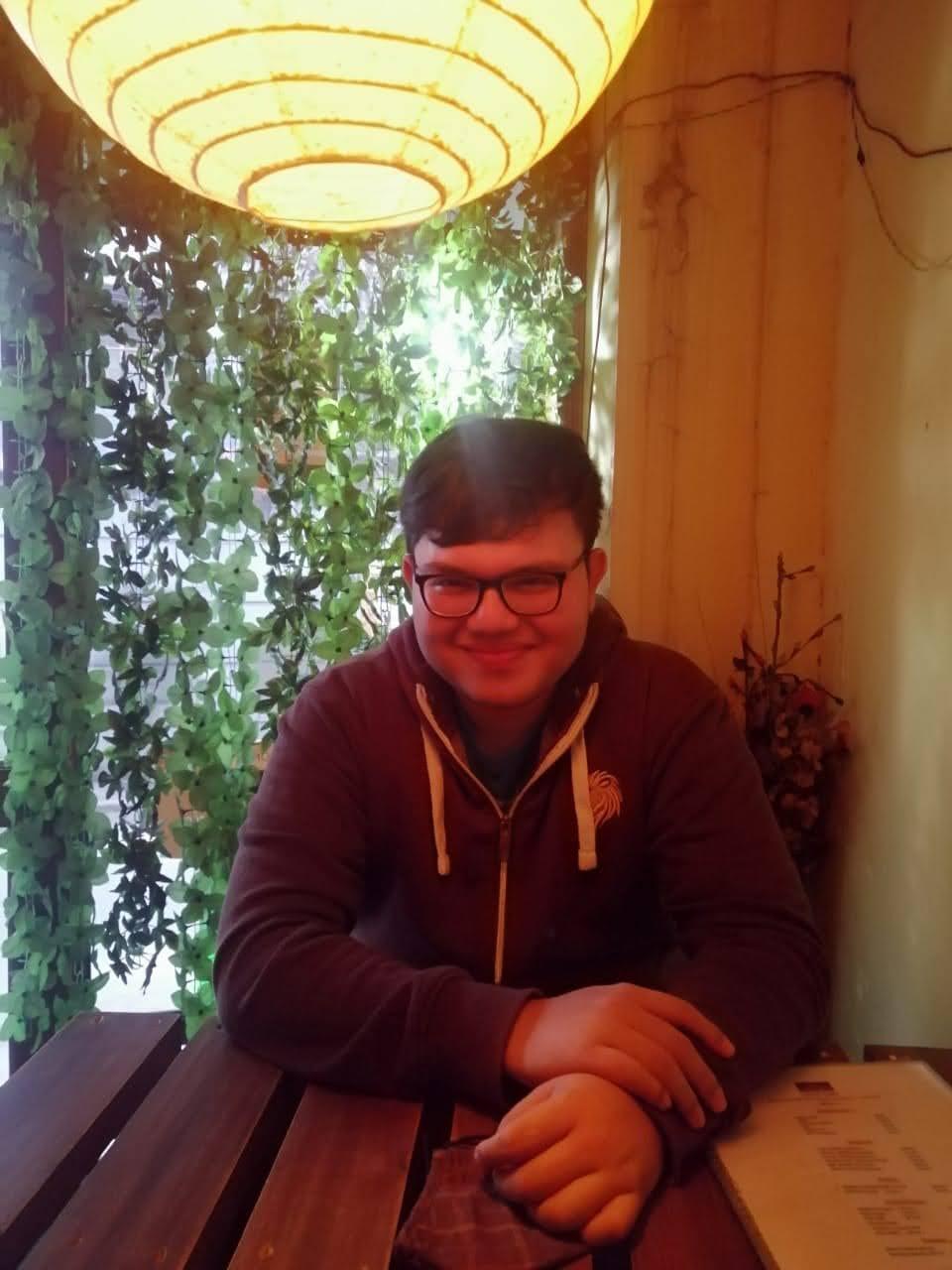 Soham is a content marketer on the Tars team. When he's not writing kickass blog posts like the one you just read he's reading obscure articles from history's foremost anti-enlightenment thinkers and writing treatises to send to his 3 substack subscribers.