Executive Summary
As the entire auto finance value chain dramatically shifts toward the digital, lenders worldwide must digitally transform to be where their customers are. Tata Motors Finance (TMF) — one of India's biggest institutions in the auto finance industry — was acutely aware of this challenge.
In a tech-first move to fundamentally transform their digital lending experience, Tata Motors Finance undertook a comprehensive website revamp. The deployment of the Tars AI Agent 'TIM' played a pivotal role in this transformation, yielding outstanding results. Through TIM's assistance, Tata Motors Finance not only generated an impressive 69,000+ leads but also expedited the disbursement of over 4,200 loans, growing their loan book in the highly competitive Commercial Vehicles segment.
How did TMF reap these rich dividends of CX Automation? This case study highlights the strategic positioning of the Tars AI Agent 'TIM' as the digital front-desk on TMF's website, and its subsequent impact on customer journeys, lead conversion and loan facilitation.
Customer Background
Tata Motors Finance Limited (TMFL) is an one of India's oldest and most preeminent auto-finance enterprises and a key part of one of the world's leading conglomerate groups. Its extensive financing solutions are designed for the entire range of commercial and passenger vehicles sold by Tata Motors – with most of its portfolio comprising of small & heavy, new commercial vehicle loans.
The Challenge
Pre-Tars, Tata Motors Finance were challenged along two distinct yet intimately connected axes – Customer Experience & Lead Conversion. While their internal analysis had revealed as much, they needed a more granular diagnosis before integrating any proposed fixes within their enterprise systems. In other words, they weren't merely hunting for a tool, but an actual 'solution'.
This is why TMF was a perfect fit for a Tars Consultation. With the help of our experienced automation consultants, they were able to further break down their overarching challenges into the following specifics:
🎯Leads lacked a Single Source Of Truth (SSOT), while making inquiries.
🎯Customer journey was sluggish, while navigating the top of the funnel.
🎯Lead conversion was low despite brilliant engagement KPIs.
🎯Online loan eligibility checks weren't simulating in-branch deal-making.
🎯Customer Support Agents were struggling to maintain accuracy & speed.
The Solution: Tars AI Agent 'TIM'
To address these challenges head-on, Tata Motors Finance introduced 'TIM' – a Multilingual Tars AI Agent with advanced deal-making capabilities. TIM was meticulously integrated within the Lentra CMS, and then introduced to the website as a 'Loan Expert', targeting key touchpoints of the customer journey to optimize & expedite lead generation, loan eligibility checks, document collection and customer support. Here's what these use-cases entailed:
💡Loan Eligibility Check and Application: TIM was seamlessly embedded in TMF's loan eligibility check process, offering a user-friendly, human-like conversational interface. Prospective customers were guided through the eligibility criteria, significantly reducing errors, improving lead quality and enhancing the clarity of information as a customer-side SSOT (Single Source of Truth).
💡Document Collection: TIM emerged as a valuable agent in the document collection process. Through interactive human-like conversations, customers were given expert guidance on the required documents, simplifying and expediting the process. This efficiency boost further elevated customer delight while simultaneously compressing the timeline to complete the first meaningful stage of the loan cycle.
💡Customer Support: TIM's consistent role in providing instant customer support meant that queries could be resolved 24x7x365; thereby increasing the customer satisfaction of those who otherwise would have to wait for human agents to become available on other channels.
An Enterprise Integration Map of Tars AI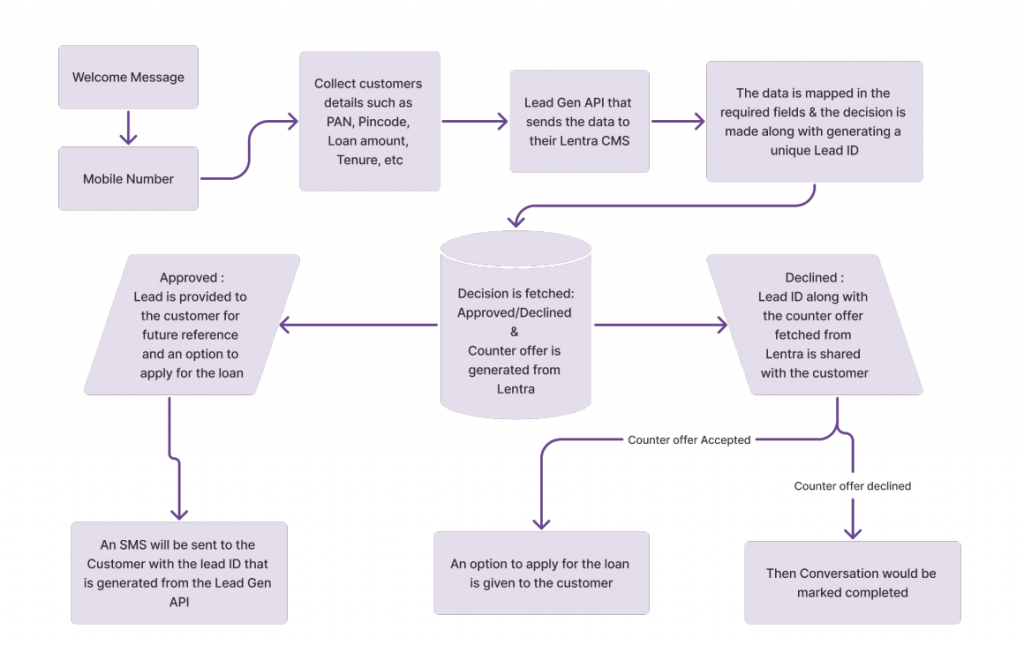 The AI Automated Customer Journey
Step1️⃣: A helpful AI Agent named 'TIM' draws lead attention 👇🏼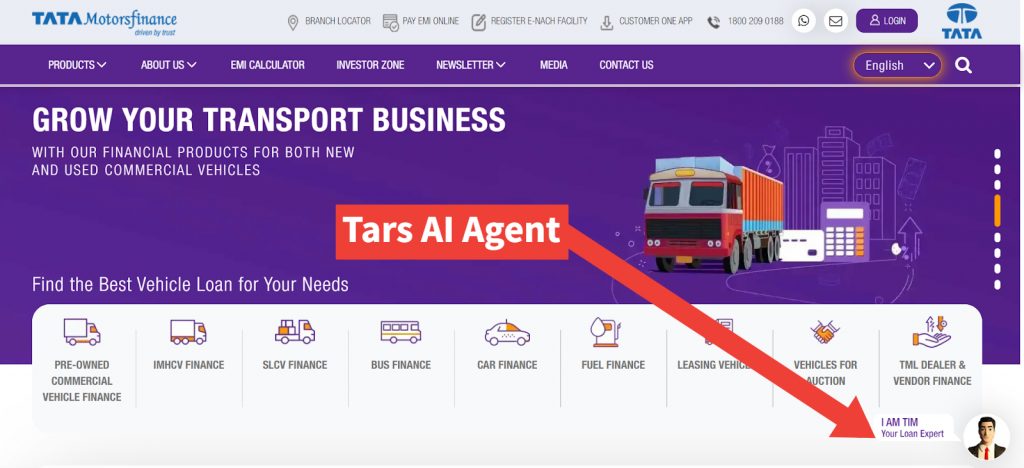 Step 2️⃣: 'TIM' greets the lead, introduces himself and then smoothly guides them towards one of three key conversational flows – 'Check Eligibility', 'Apply For Loan' or 'Customer Service'.
Let's assume the lead chooses to check for eligibility. In that case, 'TIM' asks the lead to specify whether the query is for a passenger or commercial vehicle. This journey segmentation is key in ensuring that the customer is offered exactly what he/she is looking for.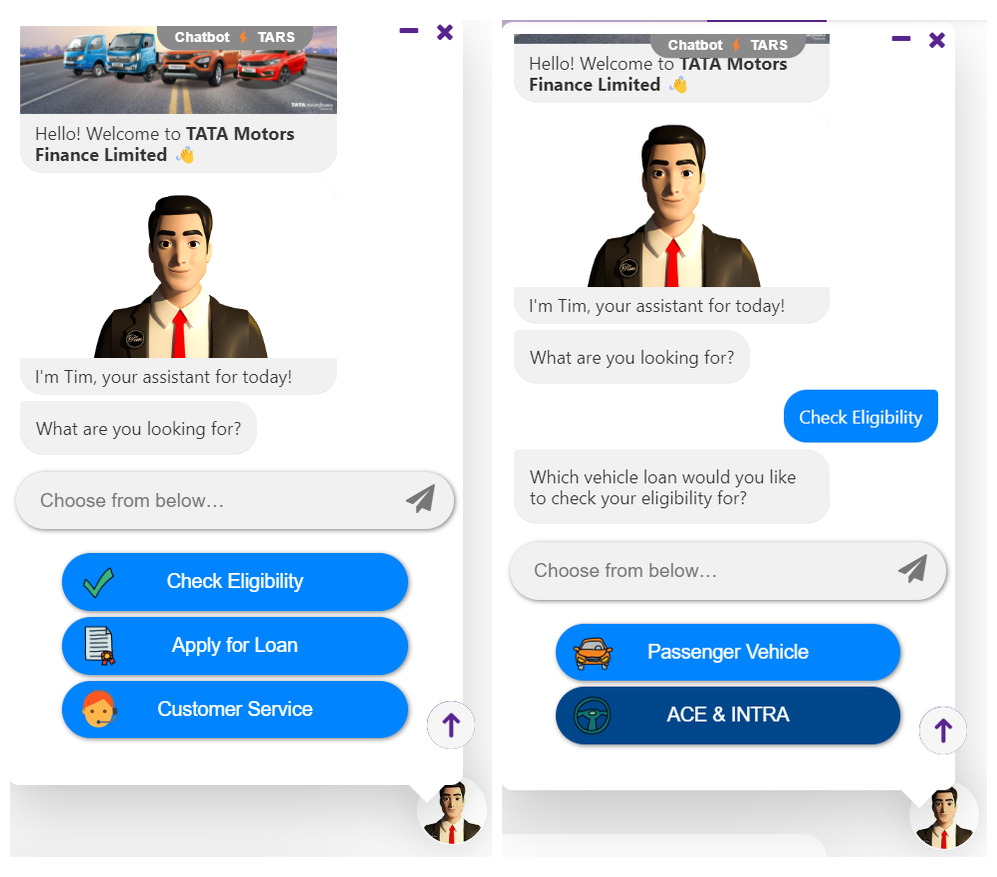 Step3️⃣: Once the lead specifies the type of vehicle he's looking to finance, the chat to check for 'eligibility' is then redirected to another secure & encrypted conversation to ensure an added level of security.
As the images show, 'TIM' is programmed to not only collect the necessary lead data, but to also offer precise suggestions regarding Dealer & Branch Code so as to expedite the conversion journey.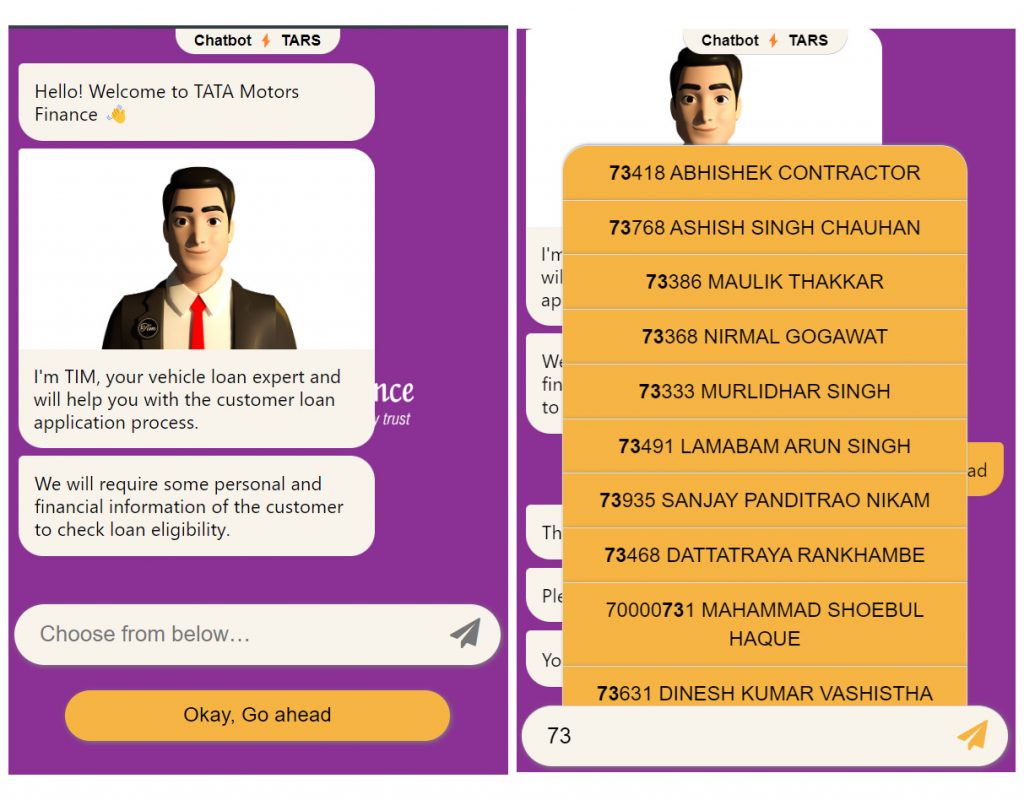 Step 4️⃣: To ensure lead quality and get the appropriate authorization, the lead details are authenticated via an OTP message. This is made possible via deep integration with not only Lentra CMS but also TMF's overall enterprise architecture.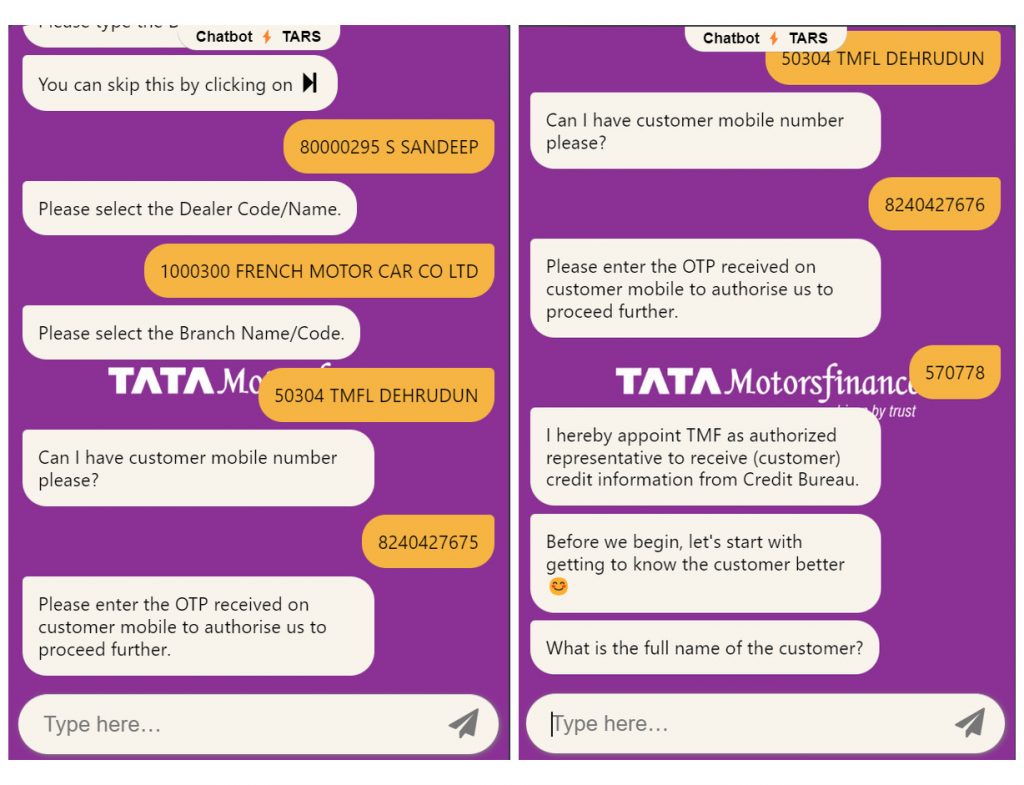 Step 5️⃣: Finally, based on all these collected details, a loan offer is made to the customer!
The Tars Impact
Tata Motors Finance harnessed the power of Tars AI Agent 'TIM' to generate a staggering 69,000+ leads, each accompanied by authenticated phone numbers. These leads emerged as a treasure trove of potential customers eager to be actively engaged in the TMF auto finance journey.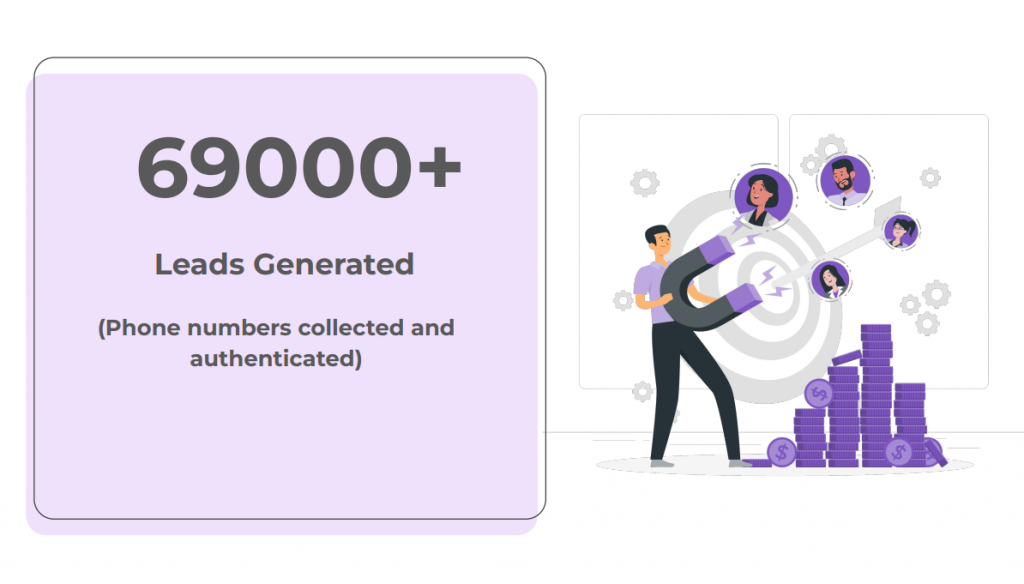 Of these 69,000+ leads, nearly 25,000 leads completed their loan applications – submitting all the necessary details (Loan Requirement Info, PAN Number, etc) to the Tars AI Agent. The integration of 'TIM' with the Lentra CMS allowed for seamless data transfer and organization, ensuring that lead information was efficiently captured, recorded, and made accessible for further engagement and conversion efforts.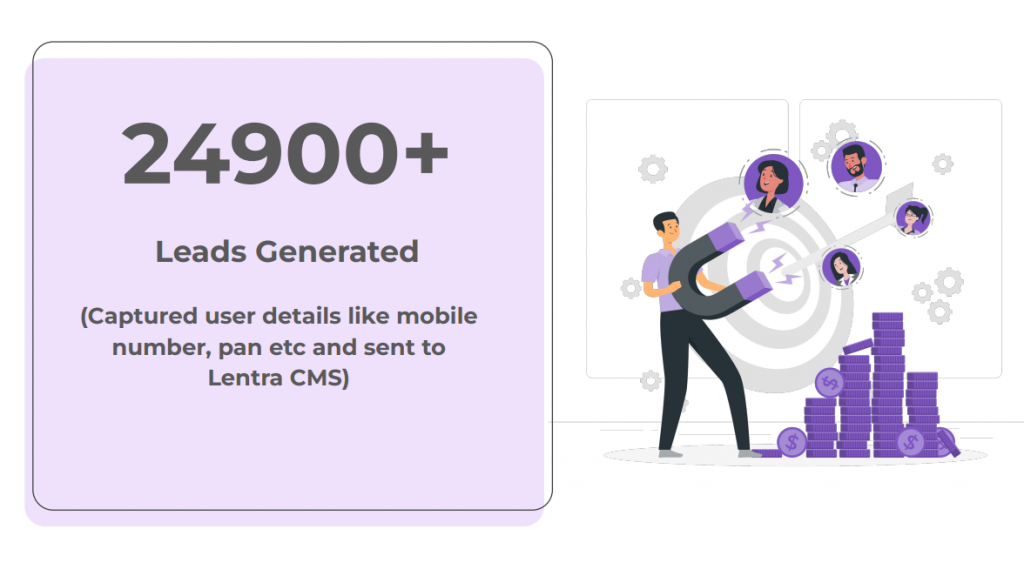 But that wasn't all! 'TIM's' strategic deployment meant that these 25,000 applications directly led to over 4,200 successful loan approvals – a staggering 16.8% loan conversion rate. This bottom line impact stands as testament to the efficiency, accuracy, and customer-centric approach brought forth by the Tars AI Agent.
Conclusion
In conclusion, Tata Motors Finance's AI-powered CX collaboration with Tars helped them rapidly transition from digitisation hurdles to best-in-class customer journeys & conversion rates. The implementation of the Tars AI Agent 'TIM' was a perfect fit for TMF's enterprise architecture and this strategic collaboration stands as a vivid testament to the immense potential of CX automation in digital auto finance worldover.
Lets Have A Quick Chat
Book a demo with us today and one of our in-house Automation Consultants will present you with a custom-plan for implementing strategic CX automation within your enterprise.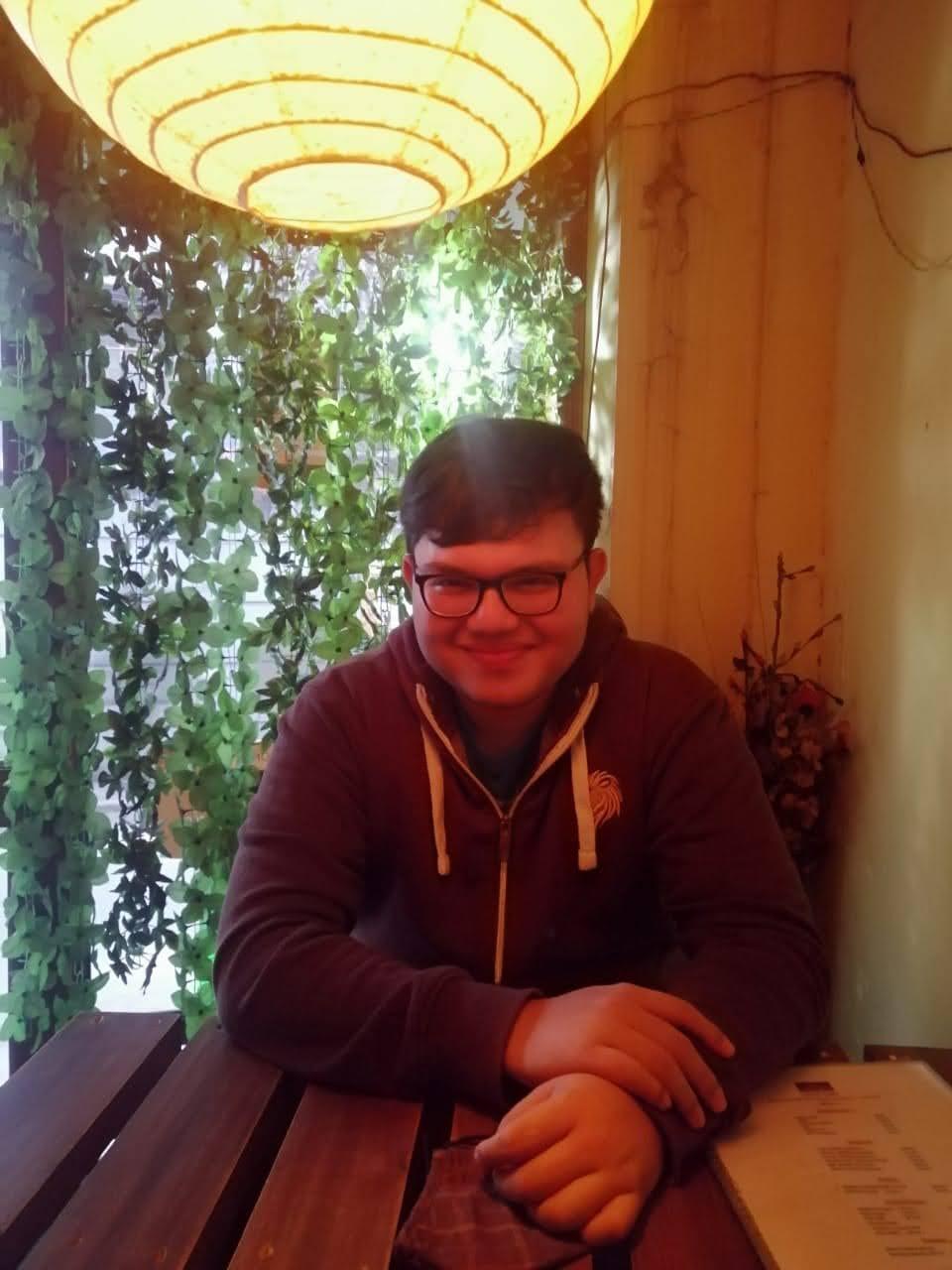 Soham is a content marketer on the Tars team. When he's not writing kickass blog posts like the one you just read he's reading obscure articles from history's foremost anti-enlightenment thinkers and writing treatises to send to his 3 substack subscribers.