Today, you can hardly find a business that doesn't have a chatbot. And there are quite a few good reasons for that.
Did you know that 67% of consumers worldwide interacted with customer support through the chatbot over the past year?
Yes, and the growing demand for chatbots doesn't seem to lose height any time soon. So, it's time for you and your business to take advantage of this trend as well.
Of course, having a chatbot doesn't guarantee its success in the interactions with your customers. A lot of chatbot's functionality depends on its script.
Many companies build a chatbot without paying much attention to writing a proper script.
What's the result?
In this case, customers have to interact with a boring, not optimized and hardly helpful chatbot, and will likely do everything not to have this experience again.
We know you wouldn't want to lose customers because of poor chatbot experience. That's why we created a list of don'ts to avoid when writing chatbot scripts.
Are you ready?
1. Not Using Your Brand's Uniqueness
First of all, to know how to build a chatbot script is to understand its marketing value.
A chatbot is not only a way to connect your business and your customers but also a tool to promote your brand.
Diana Adjadj, a marketing consultant and a writer at TrustMyPaper, says that "only 20% of brands recognize the marketing potential of a chatbot." Yet, many customers form the opinion of a brand after interacting with its customer service, including the chatbot.
That's why you shouldn't miss out on this opportunity to make your brand more memorable and 'zhuzh up' your chatbot's script by adding some unique features of your brand.
Moosend nailed their chatbot in terms of uniqueness and used their 'cow' branding to greet the customers: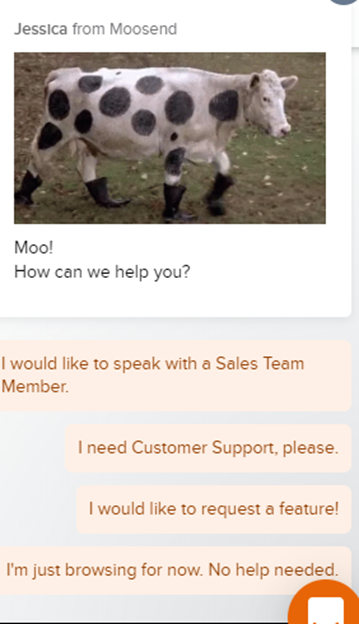 Why not do the same for your business?
It will make your chatbot script less boring and will create the right atmosphere to start the conversation.
2. Overcomplicating the Script
Have you talked to a chatbot that blew off your head with too many questions?
Yes, it's quite an unpleasant experience.
Plenty of companies invest in chatbots to reduce the workload of their customer support teams. Angela Baker, a content manager at Subjecto, says that "chatbots solve over 60% of all the customer support tickets," which is huge if you think about how many conversations an average customer team representative would have without the help of a chatbot.
Having a chatbot as your little helper is a good practice. But you shouldn't rely on it completely.
Companies that do it usually write overcomplicated chatbot scripts that usually give a lot of information that provides little value.
What do we mean by 'overcomplicated'?
A chatbot is too chatty. When a customer comes to speak with a chatbot, they usually don't want a lengthy conversation about how their day is going. Instead, they want a straightforward answer without having to browse the FAQ section on your website.
A chatbot asks a lot of information. On the other hand, some companies write chatbot scripts that ask too many details, and sometimes even sensitive information. This is hardly justifiable, and any customer would feel more confident giving this information to a living, breathing customer support representative.
Here's a good example of both these qualities in action: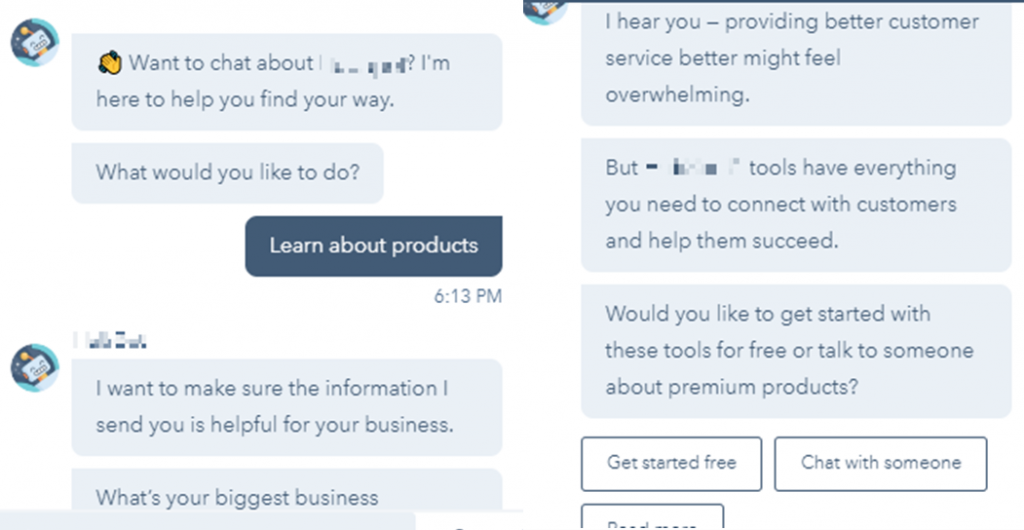 And we just wanted to learn about the cost of the product to improve customer service. Instead, we got a huge lecture.
When writing a script for your chatbot, keep in mind that it should save your customer's time and offer a quick solution. So, avoid overstuffing your chatbot with too many details.
3. Not Proofreading the Script
Imagine your customer has their first interaction with your chatbot. And the chat is full of mistakes, confusing phrases, and unclear wording.
All because you didn't proofread your script. What a shame, right?
It's not just about leaving out small grammatical mistakes, your customer can forgive you that. But sometimes the script can be full of mistakes that distort the understanding of the text, turning your chatbot from a helpful tool into, well, a disaster.
It is important to proofread your chatbot every time you edit it and before you launch it. If it takes too much time, use online writing platforms like Grammarly, GrabMyEssay, or TopEssayWriting that have automated proofreading tools.
The goal of your chatbot is to deliver information quickly and in a clear, concise way. If you skip on proofreading, it will affect how well the customer will be able to understand the chatbot queries.
4. Constantly Redirecting Customers
If you want to not only improve customer experience but also boost conversion rates using your chatbot, don't write a script that redirects customers to a different page or source.
Here's a good example of why you shouldn't do it: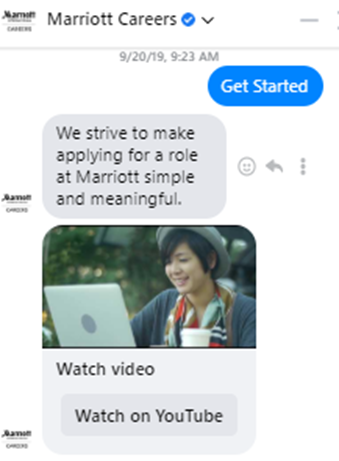 A customer wants to start a career in Marriott Hotels and needs information about the application process in different cities more than watching a promotional YouTube video.
Unless it's absolutely necessary, don't build chatbot scripts around links that tell customers to go to other places for answers. Remember that chatbot's primary goal is to offer a quick solution to a problem, not waste a customer's time.
5. Writing a Script but Failing at NLP
It is important to know the basics of natural language processing (NLP) before learning how to write a chatbot. In fact, without NLP, there will be no chatbot.
Yet, some companies manage to forget about it: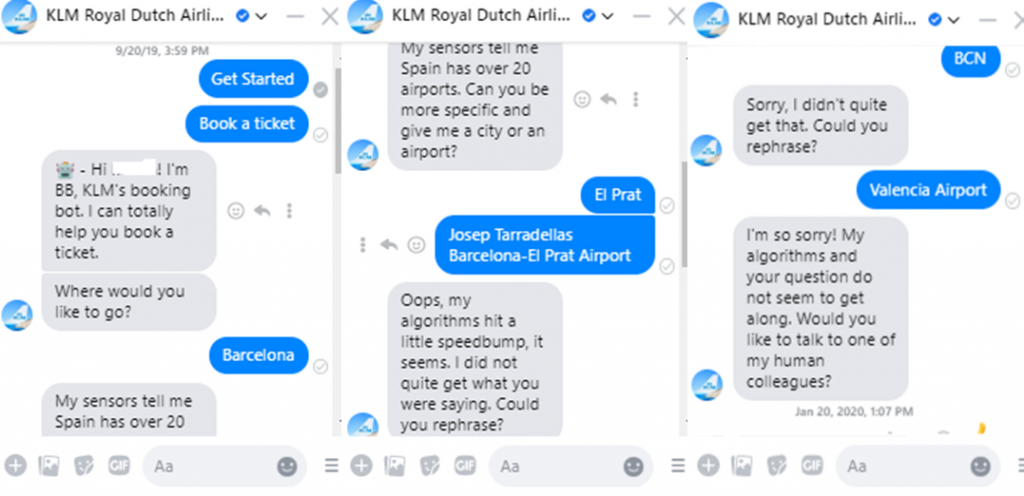 The purpose of this chatbot is to help a customer quickly book a flight. But after trying different names of airports, we still failed at booking a flight to Barcelona.
When writing chatbot scripts, remember that's it's all about creating a natural conversation experience. Different people use different words to express themselves.
This means that your chatbot script should use different keywords for one notion. It will help you make sure that your chatbot caters to the needs of all your customers.
Feeling Powerful to Build a Chatbot?
To solidify your knowledge, let's sum up all the points we covered.
When writing your chatbot script, don't overcomplicate it. While it is a helpful tool, your chatbot is just a mediator between a customer and your support team.
Try not to build your chatbot script around links that send customers looking for answers elsewhere. Make it give short but informative answers right away.
Keep in mind that the conversation should look natural. Diversify your script with keywords to make your chatbot more 'understanding'.
Don't forget to proofread your chatbot. You don't want something as little as a grammatical mistake to spoil your brand reputation.
Lastly, treat your chatbot as a marketing tool. It creates one of the important experiences in the customer journey, so make sure your customers remember it in a good way.
Donald Fomby is a Digital Marketing Specialist with a Master's degree in Advertisement. At a relatively young age, he has already amassed impressive experience as a freelance writer. He partakes in different projects that allow them to grow his list of experiences and expand his interests. Currently, he is a valued member of the writing team at SupremeDissertations. His body of work consists of articles, essays, and news reports on trending topics that aim to help readers with practical advice.